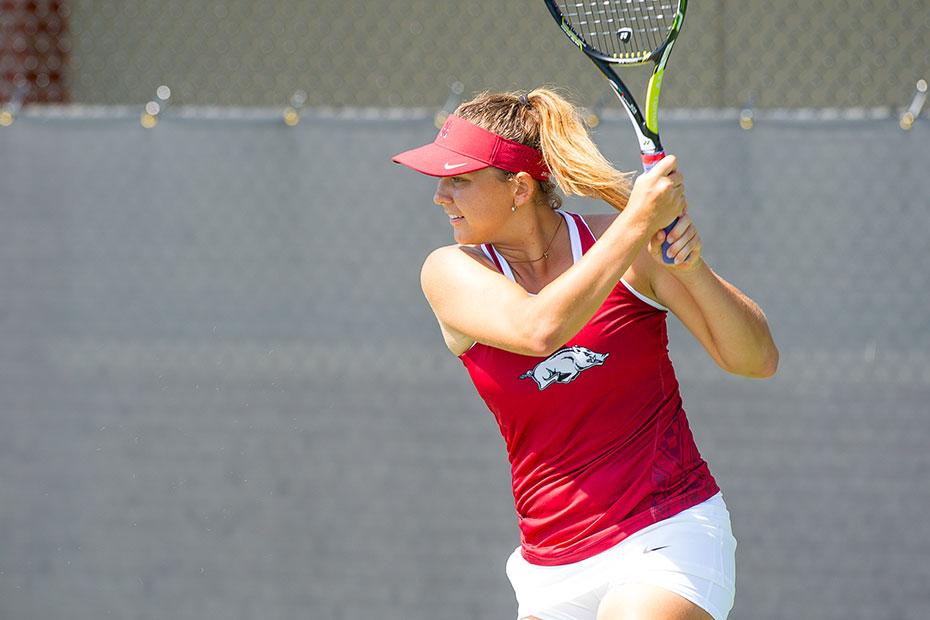 Razorbacks Fall At No. 15 LSU
BATON ROUGE, La. – The No. 26 Arkansas women's tennis team dropped a 5-2 decision to No. 15 LSU at the LSU Tennis Complex Friday.
The setback moved the Razorbacks' record to 14-7 overall and 3-3 in Southeastern Conference action. The Lady Tigers improved to 15-6, 4-3.
"We just got off to a tough start at a couple of spots which dug us a hole," head coach Michael Hegarty said. "I was very pleased with how we responded, and after three hours, we were definitely in position to pull off the comeback."
LSU gained the early 1-0 advantage by claiming a tight doubles point. Joana Vale Costa and Jessica Golovin garnered a 6-1 victory over Arkansas's Yuliya Lysa and Shannon Hudson at the No. 1 position. Skylar Kuykendall and Skylar Holloway edged out Razorbacks Ana Oparenovic and Mia Jurasic 7-6 (4) at No. 3. At the clinch, Razorbacks Makenzie Craft and Flavia Araujo were starting a tiebreaker against Abby Owens and Ryann Foster at No. 2.
The Lady Tigers took a 3-0 lead during singles action. Owens defeated Arkansas's Agne Cepelyte 6-0, 6-1 at No. 5 and Foster bested Hudson 6-1, 6-2 at No. 3. The overall match clincher followed at the No. 4 spot as LSU's Kuykendall held off Craft 6-3, 0-6, 6-3. Play continued on the remaining three courts.
No. 88 Lysa earned a 7-5, 6-4 victory over LSU's No. 19 Vale Costa at the top spot for her second-straight win over a top-25 opponent. The triumph also upped her record to 8-3 in dual matches and 4-2 in SEC play.
No. 83 Oparenovic pushed her match to three sets at No. 2, but LSU's No. 48 Golvin emerged victorious, 7-5, 4-6, 6-2.
Jurasic defeated LSU's Ella Taylor 6-3, 7-6 (0) to close out scoring.
Arkansas next plays No. 17 Texas A&M Sunday at the George P. Mitchell Tennis Center in College Station, Texas. First serve is set for 11 a.m. CDT. Live scoring of the match will be available here.
For more information on Arkansas women's tennis, follow @RazorbackWTEN on Twitter.
MATCH RESULTS
Singles Competition
1. No. 88 Yuliya Lysa (ARK) def. No. 19 Joana Vale Costa (LSU) 7-5, 6-4
2. No. 48 Jessica Golovin (LSU) def. No. 83 Ana Oparenovic (ARK) 7-5, 4-6, 6-2
3. Ryann Foster (LSU) def. Shannon Hudson (ARK) 6-1, 6-2
4. Skylar Kuykendall (LSU) def. Makenzie Craft (ARK) 6-3, 0-6, 6-3
5. Abigail Owens (LSU) def. Agne Cepelyte (ARK) 6-0, 6-1
6. Mia Jurasic (ARK) def. Ella Taylor (LSU) 6-3, 7-6 (0)
Doubles Competition
1. Joana Vale Costa/Jessica Golovin (LSU) def. Yuliya Lysa/Shannon Hudson (ARK) 6-1
2. Abigail Owens/Ryann Foster (LSU) vs. Flavia Araujo/Makenzie Craft (ARK) 6-6, unfinished
3. Skylar Holloway/Skylar Kuykendall (LSU) def. Mia Jurasic/Ana Oparenovic (ARK) 7-6 (4)
Order of finish: Doubles (1,3); Singles (5,3,4,1,2,6)