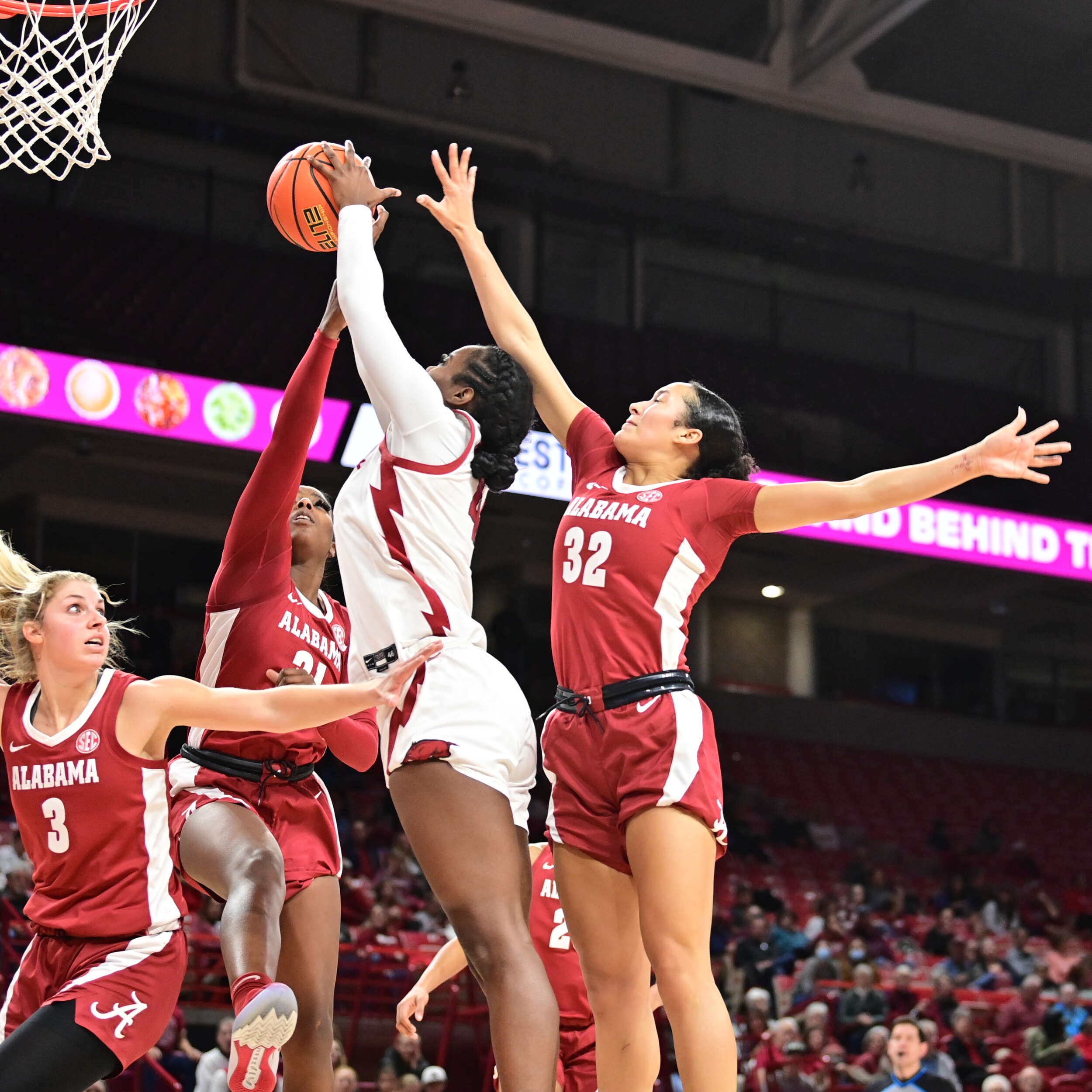 Razorbacks Fall Short to Alabama, 69-66
FAYETTEVILLE – The Arkansas women's basketball team (17-6, 4-4 SEC), fell short to Alabama (16-5, 6-3 SEC) on Thursday night, 69-66, as the Razorbacks dropped its third straight game. Makayla Daniels tied the game with a 3-pointer with 33 seconds left in the game, but Alabama's Hannah Barber hit a go-ahead 3-pointer to pull ahead by three and win the game. Arkansas committed 20 turnovers in the game, which looked to be the deciding factor in the game. Erynn Barnum led the Razorbacks with 20 points and nine rebounds.
Alabama got things started with a 3-pointer, but Saylor Poffenbarger responded with one of her own, which started an 8-0 run for the Razorbacks in less than a minute. Alabama was in a scoring drought for over two minutes but dug out with a layup. That basket initiated a 10-3 run for the Crimson Tide, which elevated Alabama ahead, 13-11, at the media timeout. Arkansas was held in a scoring drought for the remaining 6:50 of the quarter, while the Razorbacks shot 0-for-10 from the field and committed five turnovers that span. Alabama added five unanswered points, as Arkansas' struggles from the field continued, and Alabama led 18-11.
The Tide continued to score, getting a layup off a Razorback turnover. Barnum broke the Razorbacks' nearly eight-minute scoring drought with a layup. After another Barnum layup, Alabama extended their lead with a triple to lead Arkansas 27-15 with 5:16 left in the first half. Daniels got fouled on the basket and knocked down two free throws to put it back to a 10-point game. At the media timeout, Alabama led 27-17. Barnum broke another long-extended field goal drought for the Razorbacks, three minutes and some change, with a layup. That layup sparked a 6-0 run for the Razorbacks to inch within six of the Tide with 3:15 remaining in the second quarter. Samara Spencer nailed a 3-pointer for her first field goal of the game to break another drought for Arkansas from the field, but Alabama responded with another triple to lead 36-26 with less than a minute left in the half. Arkansas scored four unanswered points in the final minute to trail 36-30 at the half.
Barnum made her way to double digits in scoring for the seventh straight game with a jumper and after a Chrissy Carr 3-pointer and a Spencer layup off a steal, Arkansas took the lead for the first time since over six minutes left in the first quarter. That run sparked Alabama to take a timeout, as the Razorbacks now led 37-36 with 8:24 left in the third quarter. Alabama sparked a 5-3 run to steal the lead from the Razorbacks, 41-39, at the media timeout. The Tide made three of their next basket attempts, but after a Maryam Dauda 3-point play, the Razorbacks trailed by two. The Razorbacks cruised on a 7-0 run, which was capped off by a Spencer 3-pointer to retake the lead, 50-49, temporarily until the Tide made two free throws, and it was a 51-50 game in favor of Alabama heading into the final quarter.
Poffenbarger scored the Razorbacks' first basket of the fourth quarter with a 3-pointer. The Razorbacks took a timeout before the media, and with 7:21 left in the game, Arkansas was behind 55-53. Arkansas tried to close in on the lead, but turnovers on back-to-back possessions made that tough. Barnum came up with a big 3-point play to bring the Razorbacks within one point, but Alabama went to the line to make one of two freebies. After two Daniels free throws, the Razorbacks tied the game at 58 with less than five minutes left in the game. The Razorbacks did not make a field goal for three minutes, as Alabama went on a 6-0 run. Barnum came up with a big layup, and with 1:16 left in the game, Alabama led 66-63. With 33 seconds left in the game, Daniels came up clutch once again to tie the game at 66 with a triple. That shot would be overshadowed, as Alabama was able to come up with the go-ahead 3-pointer with eight seconds left in the game. Arkansas had a shot to tie the game with eight seconds on the clock with two chances to do but could not get it done.
HOG HIGHLIGHTS
Barnum logged 20 points, nine rebounds and two steals. That 20-point game was Barnum's seventh of the year and in her career, and she is now three rebounds away from 500 in her career
Daniels followed with 13 points, while shooting 8-of-10 from the free throw line. She added five assists and two steals to her statline
Poffenbarger registered 12 points, five rebounds, three assists and two blocks
Spencer recorded 12 points and her two assists elevated her to 100 dimes on the season and she is now one of 19 Razorbacks in history to log 100 assists in a season
UP NEXT
Arkansas will stay home to host Ole Miss on Sunday, Jan. 29 for a 4 p.m. tipoff. The game will be broadcast on SEC Network.
MORE INFORMATION
For more information about Arkansas Women's Basketball, follow us on Twitter and Instagram at @RazorbackWBB and on Facebook at Facebook.com/RazorbackWBB. Be sure to subscribe to our YouTube Channel, "Kickin' It In The Neighborhood" for an inside look at the Razorback women's basketball program and check out The Neighborhood podcasts at CoachNeighbors.com.