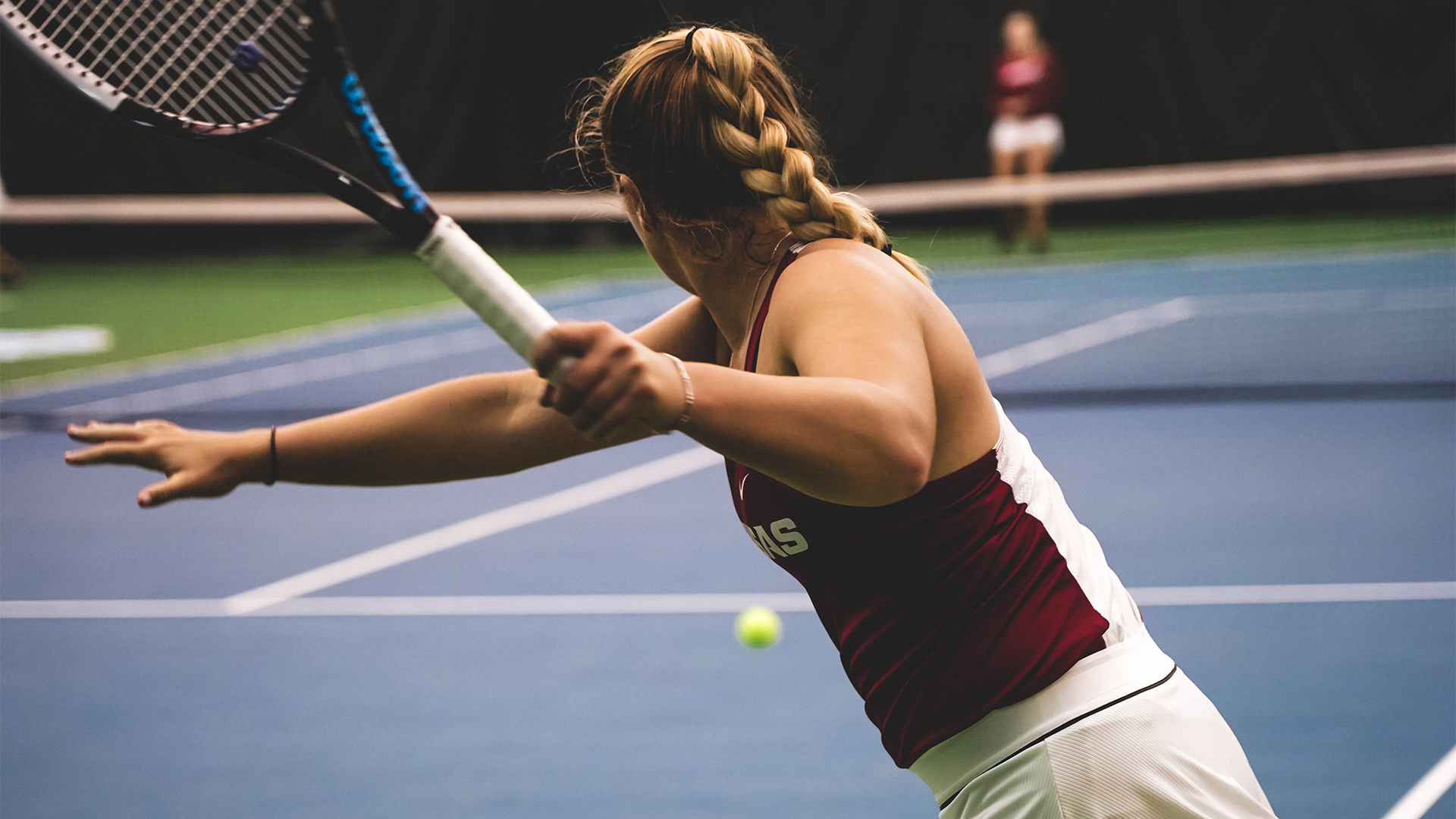 Razorbacks Fall to Monarchs at NCAA Tournament
CHAPEL HILL, N.C. – No. 33 Arkansas dropped a 4-2 decision to No. 29 Old Dominion on Friday morning in Chapel Hill, N.C. at the NCAA Tournament. The Razorbacks fall to 11-11 on the year with the loss.
The Hogs earned the doubles point with big wins from Razorback duos on courts one and two. No. 36 Morgan Cross and Tatum Rice were the first to finish in doubles play, climbing back from a 4-3 deficit to win three-straight games and register a 6-4 win over Yulia Starodubtseva and Alesya Yakubovich.
The duo of Kelly Keller and Jackie Carr pushed their Monarch opponents, Brooke Pilkington and Alexandra Viktorovic, into extra games, but ultimately fell 7-5 on court three.
Looking to clinch the point on court two, Lauren Alter and Indianna Spink trailed 4-3 to No. 71 Holly Hutchinson and Tatsiana Sasnouskaya but fought back and came out with a strong 7-6 (4) win in the tiebreaker.
Arkansas had the 1-0 advantage after doubles, but ODU responded with three straight-set wins to take a 3-1 lead early in singles play. Rice dropped her match to No. 78 Sasnouskaya 6-3, 6-3 just before teammate Cross fell to Yakubovich 6-1, 6-3 on court four. Alter was the third Hog to fall, dropping a tough 6-4, 6-4 match to Pilkington in the number five spot.
Keller responded with an impressive 6-4, 6-4 victory over her counterpart, No. 51 Starodubtseva, the win marked Keller's first win over a ranked opponent this spring.
Despite clawing back from a first set loss and then a 5-2 deficit in the second set, No. 45 Spink dropped a heartbreaker to No. 109 Hutchinson 7-6 (3), 7-5, clinching the match for the Monarchs.
Fans are encouraged to visit ArkansasRazorbacks.com for the latest information on all things Arkansas Tennis. You can also find the Hogs on social media by liking us on Facebook and following us on Twitter and Instagram.