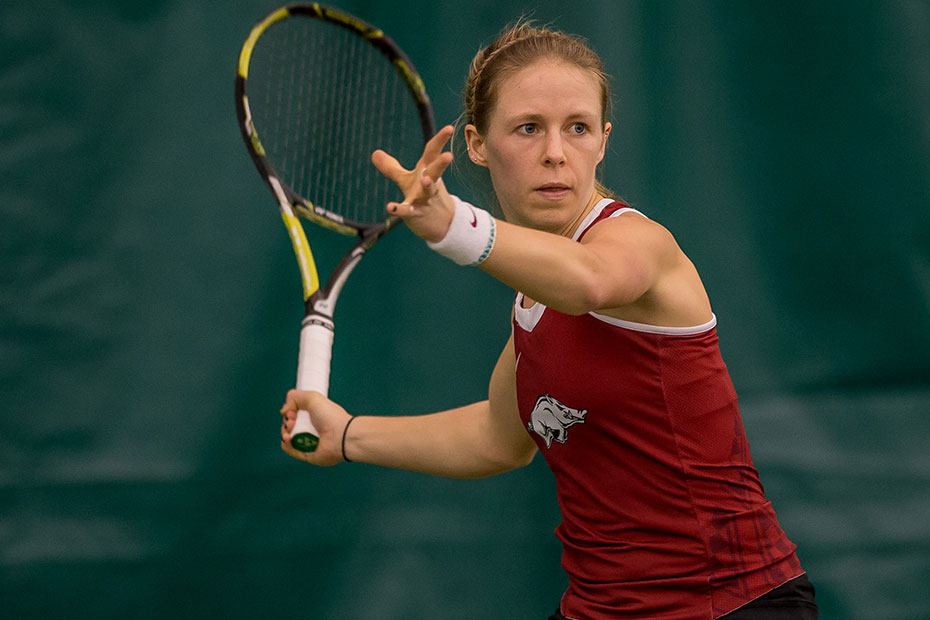 Razorbacks Fall To No. 4 Georgia
ATHENS, Ga. – The No. 24 Arkansas women's tennis team dropped a 4-0 decision to No. 4 Georgia at the Dan Magill Tennis Complex Thursday.
"Credit to Georgia tonight," head coach Michael Hegarty said. "It felt like they grabbed the momentum in a few spots at critical moments late in first sets, and we will definitely learn from that."
The setback moved the Razorbacks' record to 15-8 overall and 4-4 in Southeastern Conference play. The Bulldogs improved to 14-2 and 7-1 in conference action.
The Razorbacks put up a spirited fight in doubles as they led early on two of three courts. However, the Bulldogs eventually pulled away and earned the first point of the day. Georgia's 25th-ranked duo of Ellen Perez and Mariana Gould defeated Arkansas' Yuliya Lysa and Shannon Hudson 6-3 at the No. 1 position. Bulldogs Caroline Brinson and Laura Patterson followed with a 6-4 victory over Razorbacks Mia Jurasic and Ana Oparenovic at No. 3. Arkansas' pair of Makenzie Craft and Flavia Araujo trailed 5-3 at No. 2 at the clinch.
In singles, the Bulldogs picked up wins on courts two, one and four to earn the overall match victory.
Georgia's No. 56 Kennedy Shaffer earned a 6-3, 6-1 victory over Oparenovic at the No. 2 singles position.
Lysa led Georgia's No. 7 Perez 5-3 in the first set at the top spot, but Perez battled back, forcing a tiebreaker. Perez held off Lysa in the tiebreaker and went on to take the match 7-6 (0), 6-2.
Craft surrendered the first set 6-2 to Georgia's No. 27 Brinson at No. 4. She stormed back in the second frame, but Brinson edged out the 7-6 (5) win to clinch the overall match.
Play was stopped on the remaining three courts at the clinch. Hudson led Georgia's No. 79 Silvia Garcia 6-3, 4-3 at No. 3. Jurasic and Georgia's Gould were tied 2-2 at No. 5. Arkansas' Sasha Shkorupeieva trailed Patterson 2-1 at No. 6.
"I was very pleased to see Shannon two games away from beating a quality player like Garcia," Hegarty said. "We will take good momentum out of tonight's match."
Arkansas next plays Tennessee Saturday at the Dr. Robert L. Barksdale Tennis Stadium in Knoxville, Tennessee. First serve is set for 11 a.m. CDT. Live scoring of the match will be available here.
For more information on Arkansas women's tennis, follow @RazorbackWTEN on Twitter.
MATCH RESULTS:
Singles Competition
1. No. 7 Ellen Perez (UGA) def. No. 88 Yuliya Lysa (ARK) 7-6 (0), 6-2
2. No. 56 Kennedy Shaffer (UGA) def. No. 83 Ana Oparenovic (ARK) 6-3, 6-1
3. No. 79 Silvia Garcia (UGA) vs. Shannon Hudson (ARK) 3-6, 3-4, unfinished
4. No. 27 Caroline Brinson (UGA) def. Makenzie Craft (ARK) 6-2, 7-6 (5)
5. Mariana Gould (UGA) vs. Mia Jurasic (ARK) 2-2, unfinished
6. Laura Patterson (UGA) vs. Sasha Shkorupeieva (ARK) 2-1, unfinished
Doubles Competition
1. No. 25 Ellen Perez/Mariana Gould (UGA) def. Yuliya Lysa/Shannon Hudson (ARK) 6-3
2. No. 63 Silvia Garcia/Kennedy Shaffer (UGA) vs. Makenzie Craft/Flavia Araujo (ARK) 5-3, unfinished
3. Caroline Brinson/Laura Patterson (UGA) def. Mia Jurasic/Ana Oparenovic (ARK) 6-4
Order of finish: Doubles (1,3); Singles (2,1,4)
Time: 2:24
Attendance: 187