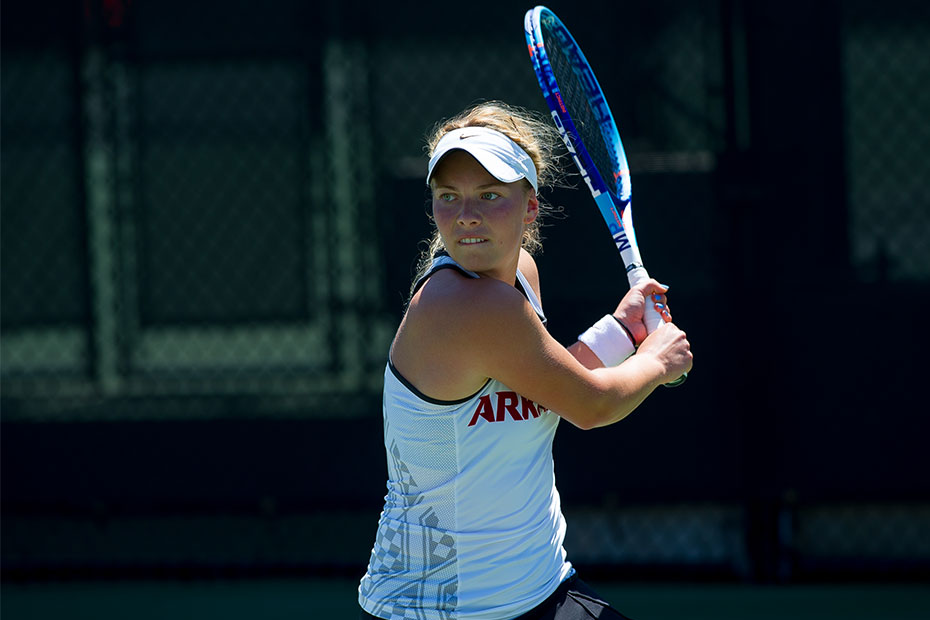 Razorbacks Fall To Tulsa At NCAAs
Results (PDF) | Season Stats (PDF)
STILLWATER, Okla. – No. 28 Tulsa defeated the No. 33 Arkansas women's tennis team 4-1 in the first round of the 2016 NCAA Division I Women's Tennis Championship at the Oklahoma State Regional on Friday.
"It's a tough feeling not to advance today, but we congratulate Tulsa for its performance," head coach Michael Hegarty said. "We had some very close first sets that didn't fall our way, and with the margin so small between these two teams, that was ultimately the difference."
The Golden Hurricane (22-4) won the doubles point and picked up three singles wins en route to the team victory.
Tulsa opened with a 6-2 victory at the No. 2 doubles position. The No. 33 tandem of senior Yuliya Lysa and junior Shannon Hudson responded by earning a 6-2 victory at No. 1, but the Golden Hurricane gained the early 1-0 advantage with a 6-2 win at No. 3.
Tulsa extended its lead to 2-0 thanks to a 6-1, 6-2 win at the No. 4 singles position.
Arkansas sophomore Mia Jurasic got the scoring going for the Razorbacks (16-14, 5-8) by earning a 6-0, 6-4 victory at No. 5, which improved her dual-match record to a team-best 15-8. However, Tulsa notched back-to-back victories at the No. 2 and 6 spots to clinch the overall match.
At the clinch, No. 21 Lysa led Tulsa's No. 86 Saana Saarteinen 7-6 (2), 4-2 at the top spot. Hudson was tied with Tulsa's Rongrong Leenabanchong 3-3 in the second frame, after falling in the first set 6-4 at No. 3.
The setback concludes the team portion of the Razorbacks' season. Lysa, who earned a bid to the 2016 NCAA Singles Championships on May 4, is set to begin her quest for a national title. The duo of Lysa and Hudson also was selected as one of six alternates for the doubles championships. The singles and doubles championships will be held May 25-30 at the Case Tennis Center in Tulsa, Oklahoma, following the conclusion of the team championship. Lysa's selection to the singles championships is the 14th in program history.
The Razorbacks' team season featured victories over six teams in the current Intercollegiate Tennis Association national rankings, including No. 29 Wichita State, No. 11 Auburn and No. 19 Texas A&M. In addition, Arkansas  broke into the top 25 of the ITA Rankings on March 29 – the program's highest computer-generated ranking since finishing the 2011 season at No. 22.
For more information on Arkansas Women's Tennis, follow @RazorbackWTEN on Twitter.