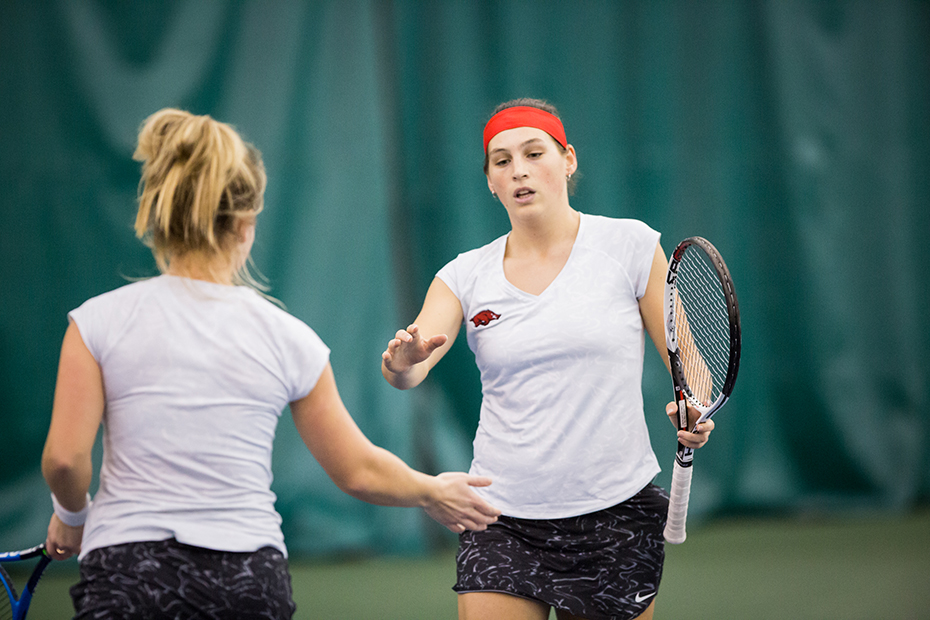 Razorbacks Gear Up For ITA Regionals
FAYETTEVILLE, Ark.- The Arkansas women's tennis team will compete in the ITA Central Regional Championships in Iowa City, Iowa this weekend, the first of the final two tournaments for the squad this fall.
In the main doubles draw, Martina Zerulo and Tatum Rice are the No. 4 seed and will face Flavia Gutierrez and Jovana Antonijevic of Oral Roberts. Jackie Carr and Shwetha Prabakar will face Natalia Barbery and Sandra Melatin of Bradley, while Thea Rice and Lauren Alter will play Karen Alvarez and Caroline Gibbens of Iowa State. All doubles matches will begin Friday afternoon.
Prabakar will face Cassie McKenzie of St. Louis in the singles qualifying round, while the other five athletes will begin play in the main singles draw. Carr will face Melatin for the second time in the tournament, with Tatum Rice facing Liza Petushkova.
Alter earned a bye in the first round, while Thea Rice will face Gorana Kadijevic of Oral Roberts and Zerulo will face Ivana Corley of Oklahoma.
Play will begin on Friday at 9 a.m., with play concluding on Oct. 16.
For more information on Razorback Women's Tennis, follow @RazorbackWTEN on Twitter.