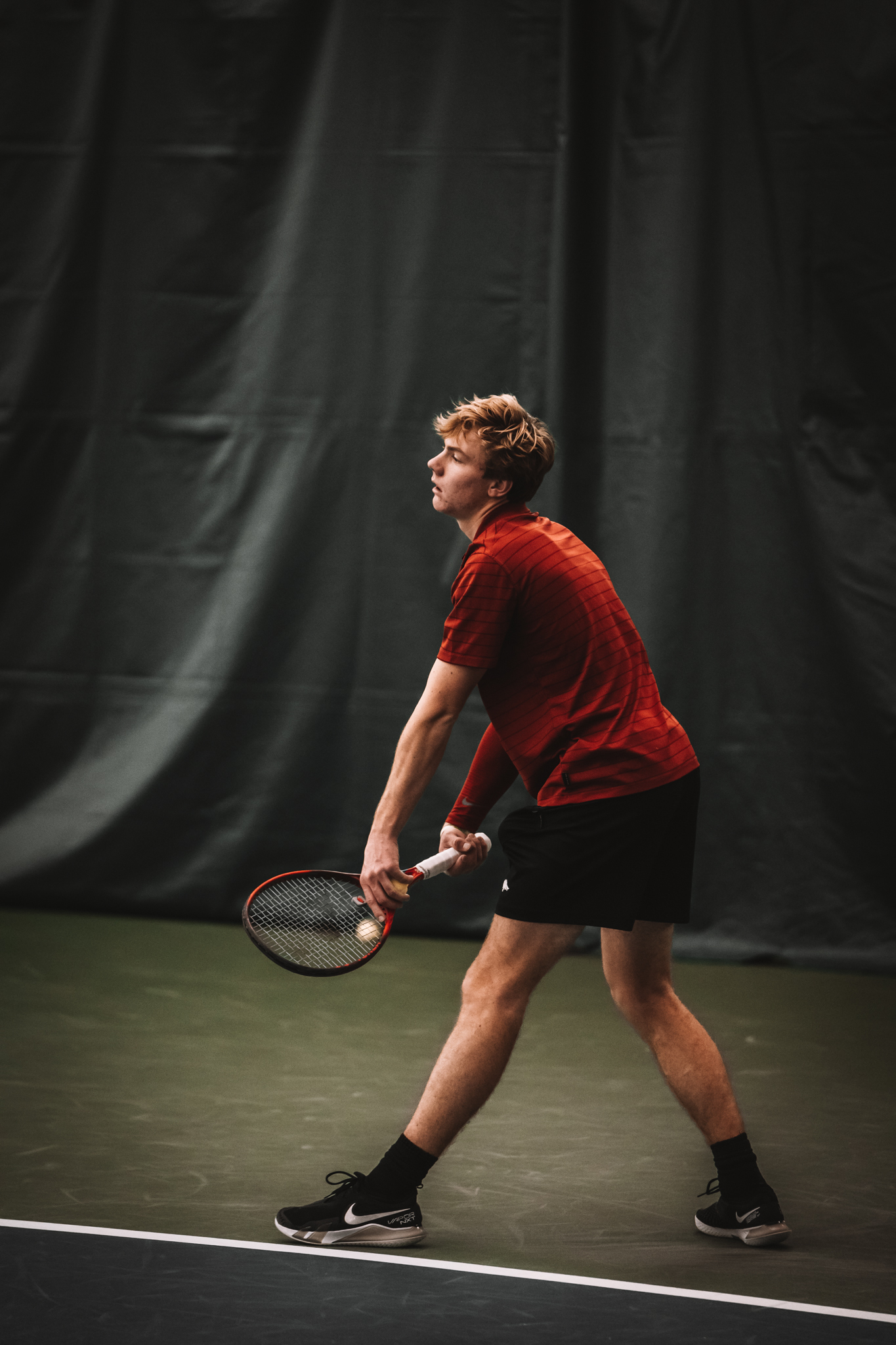 Razorbacks Handle Omaha, Sweep Doubleheader
FAYETTEVILLE, Ark. – The Arkansas Razorbacks (3-0) met the Omaha Mavericks (0-2) on the court Friday and completed a full sweep of the doubleheader, winning all 14 points and dropping only four sets en route to a dominant second victory of the season. The Hogs won a couple of tight matches late to clinch the sweep, winning both matches, 7-0.
In a matchup scheduled for Jan. 12, the original season opener for both squads was pushed back nine days after COVID-19 issues within the Maverick program. Arkansas, coming off a season-opening win over Oklahoma State on Monday, was solid from the start, losing just one set in the first nine matches. 
Freshman Jake Sweeney thrived in his first action as a Razorback, going 2-0 in doubles alongside partner Hunter Harrison and easing through his singles match, 6-1, 6-0. Sweeney pulverized a return down the alley to clinch his second doubles match of the day and put a bow on doubles play for the day.
"I thought Omaha had a really solid and electric team," Sweeney said, "but we all came in with a lot of respect for them and got the job done. For me personally, it was an awesome experience playing in my first ever college match, and I can't wait for the rest of the season."
Omaha played the Razorbacks tighter in the second leg of the doubleheader, forcing three singles matches into third sets, but Arkansas showed some fight late in the afternoon to pull out those matches.
"It was a good, long, hard day for us," Head Coach Andy Jackson said. "We got a lot out of it because of the quality of Omaha and the effort we played with. We are looking forward to doing it again on Sunday and then on to the National Indoor Round of 64 next week."
Arkansas has a short turnaround as a result of the rescheduled match and will partake in another doubleheader, this one against Illinois State, in Fayetteville on Sunday. First serve is scheduled for 1 p.m. CT.
Results
Match 1
Singles competition
Alex Reco (ARK) def. Matt Hulme (OMAHA) 6-1, 7-6 (7-4)

Nico Rousset (ARK) def. Davis Lawley (OMAHA) 6-1, 6-0

Aleksa Bucan (ARK) def. Hugo Piles Ballester (OMAHA) 6-2, 6-4

Adrien Burdet (ARK) def. Victor Sklenka (OMAHA) 6-2, 4-6, 1-0 (10-3)

Melvin Manuel (ARK) def. Todd Chen (OMAHA) 6-1, 6-4

Jacob Sweeney (ARK) def. Mikhail Korkunov (OMAHA) 6-1, 6-0
Doubles competition
Alex Reco/Nico Rousset (ARK) def. Matt Hulme/Mikhail Korkunov (OMAHA) 6-4

Adrien Burdet/Melvin Manuel (ARK) vs. Hugo Piles Ballester/Davis Lawley (OMAHA) 3-5, unfinished

Jacob Sweeney/Hunter Harrison (ARK) def. Todd Chen/Victor Sklenka (OMAHA) 6-2
Match 2
Singles competition
Nico Rousset (ARK) def. Matt Hulme (OMAHA) 6-2, 3-6, 6-2

Melvin Manuel (ARK) def. Davis Lawley (OMAHA) 6-4, 6-2

Adrien Burdet (ARK) def. Hugo Piles Ballester (OMAHA) 6-1, 3-6, 6-1

Hunter Harrison (ARK) def. Victor Sklenka (OMAHA) 6-2, 6-4

Riccardo Trione (ARK) def. Todd Chen (OMAHA) 6-3, 4-6, 1-0 (11-9)

Avery Zavala (ARK) def. Alvara Quintana (OMAHA) 6-1, 6-4
Doubles competition
Adrien Burdet/Melvin Manuel (ARK) def. Matt Hulme/Mikhail Korkunov (OMAHA) 6-3

Jacob Sweeney/Hunter Harrison (ARK) def. Hugo Piles Ballester/Davis Lawley (OMAHA) 6-4

Avery Zavala/Aleksa Bucan (ARK) vs. Todd Chen/Victor Sklenka (OMAHA) 4-5, unfinished