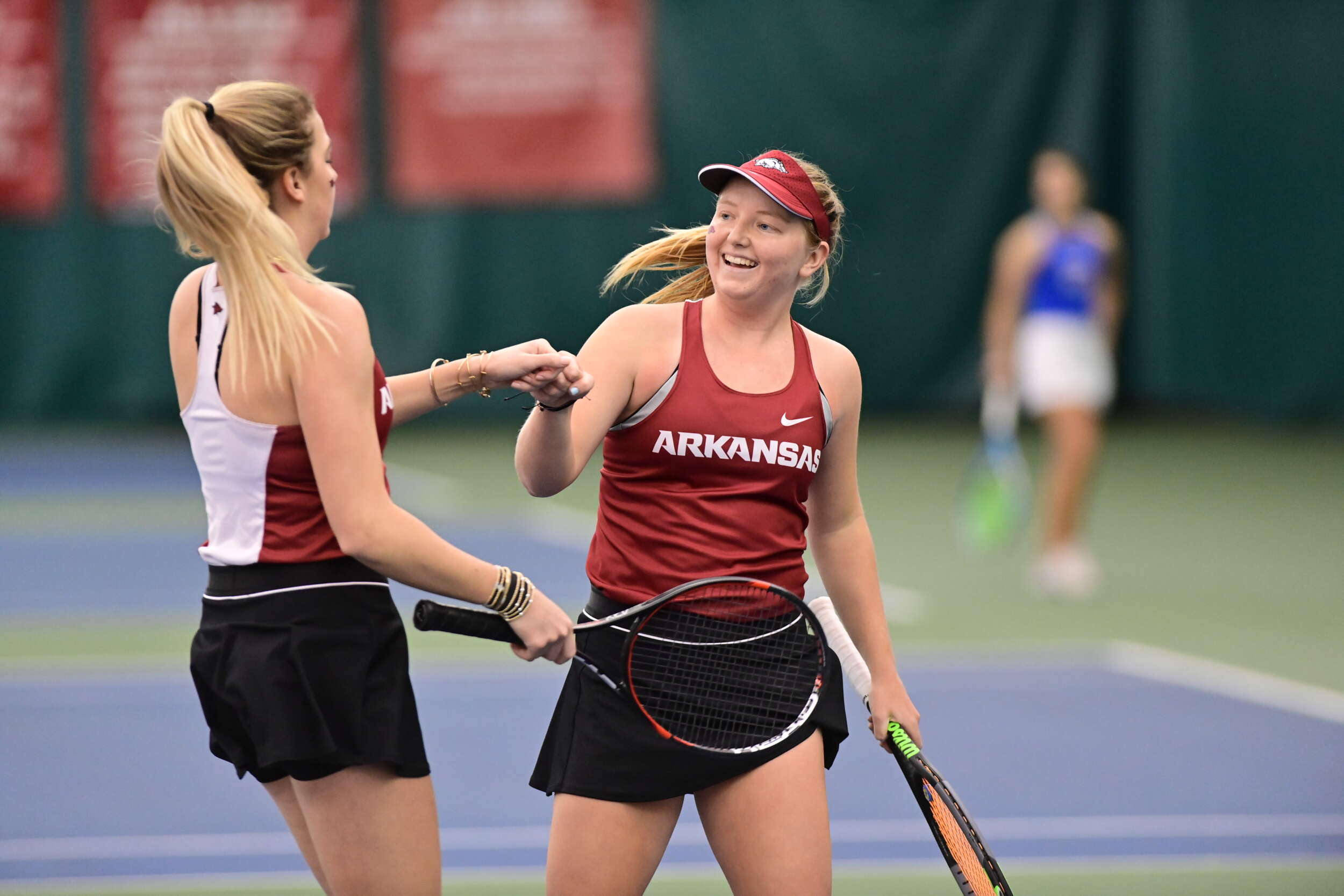 Razorbacks Open 2021 Campaign with 5-2 Win over SMU
FAYETTEVILLE, Ark. – The University of Arkansas women's tennis team did an outstanding job at making a statement in its 2021 season opener on Sunday, defeating the SMU Mustangs 5-2 inside the Billingsley Tennis Center.
Arkansas took an early lead after capturing the doubles point early. Freshmen duo Indianna Spink and Morgan Cross dropped their match to Jackie Nylander and Chandler Carter of SMU in the number one spot (6-3), but shortly after Lauren Alter and Jackie Carr would tie the score with a 6-3 win over Winslow Huth and Claudia Bartolome. It would come down to court two, where Razorbacks Kelly Keller and Tatum Rice defeated Mustang pair Hadley Doyle and Nicole Petchey (6-3) to clinch the doubles point for the Hogs.
The Razorbacks continued to roll in singles play, as junior Laura Rijkers quickly took down her SMU opponent, Katherine Jakeway (6-0, 6-1) on court six. Rijkers was followed by Keller, who's 6-3, 6-2 win over Claudia Bartolome would put Arkansas one point away from securing the match victory.
On court five, Alter completed her match over SMU's Petchey, closing out a 6-2,6-4 triumph and clinching the win for her Razorbacks. Freshman Morgan Cross claimed her first regular-season win in a Hog uniform today, earning Arkansas' fifth victory of the afternoon, this one coming against Mustang Chandler Carter (6-4, 6-4).
The final match of the day came to a tiebreaker set on court one. Arkansas' Spink dropped the first set of singles play to SMU's Nylander (7-5) but battled back for a strong 6-2 win in the second to force the tiebreaker. The two competitors traded points in the tiebreaker, but it was Nylander that came out on top (7-5, 2-6 (6)).
Arkansas has a busy home slate to start the 2021 campaign, which continues next Friday, Jan. 29 when the Hogs host Kansas and Oral Roberts at the Billingsley Tennis Center at 1:00 p.m. and 6:00 p.m. CT respectively.
Fans are encouraged to visit ArkansasRazorbacks.com for the latest information on all things Arkansas Women's Tennis. You can also find the Hogs on social media by liking us on Facebook (Arkansas Razorback Women's Tennis) and following us on Twitter and Instagram (@RazorbackWTEN).