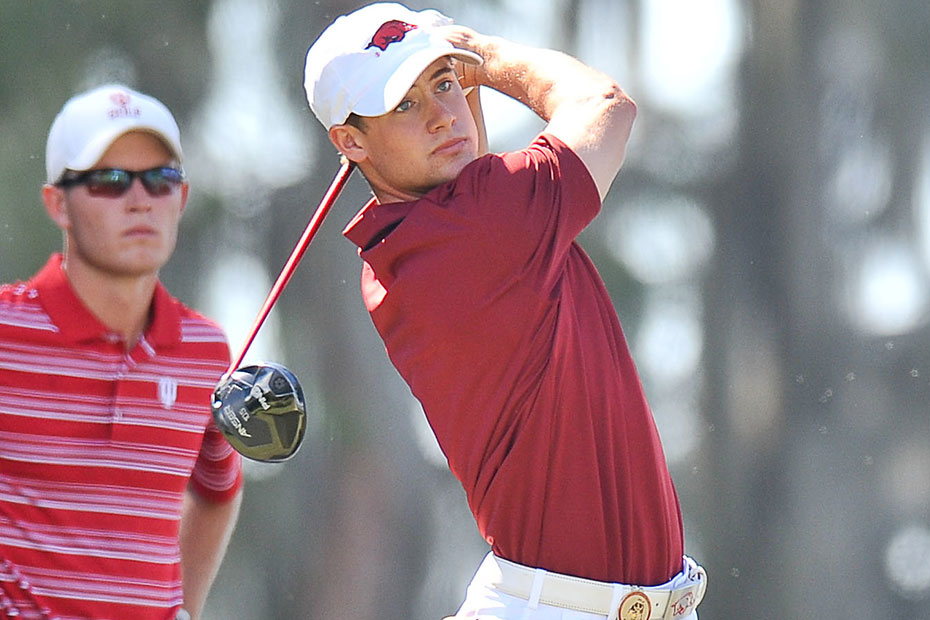 Razorbacks Open Spring Season At TPC Sawgrass
FAYETTEVILLE, Ark. – The Arkansas men's golf team will start its push for its ninth straight NCAA Regional appearance on Monday when it opens its busy spring season at the 12-team Sea Best Invitational held at Dye's Valley Course at TPC Sawgrass on Monday.
The 12-team tournament is the first of six spring events for the Razorbacks, who finished up the fall season ranked No. 35 by Golfstat and No. 37 by Golfweek. The Sea Best Invitational field features four SEC teams and seven programs ranked in the top 50.
Arkansas will take the par 71, 6977-yard course for a 36-hole opening day on Monday beginning with a shotgun start at 7 a.m. CT. Live scoring is available at www.Golfstat.com or via the Golfstat Live app.
The Razorbacks closed the fall with back-to-back top five finishes and will bring back four of five starters for the spring opener. Senior Taylor Moore led the Razorbacks with a 72.2 scoring average in the fall that was keyed by a pair of top 20 finishes. During the winter break, Moore nearly defended his 2014 Saguaro Amateur title by finishing in third place overall.
Senior Nicolas Echavarria also had a good winter break, finishing in 13th place at the Latin America Amateur Championship. Echavarria entered the weekend at the LAAC as the 36-hole leader thanks to a seven-under 65 in round two. He finished just behind Moore in the fall with a scoring average of 72.3.
Senior Kolton Crawford (73.3) and sophomore Alvaro Ortiz (72.8) make up the other half of the quartet that played in all 12 of Arkansas' fall rounds in which the Razorbacks finished with a head-to-head record of 22-22-2 taking on the ninth-hardest schedule in the nation according to Golfweek.
The fifth spot in the Arkansas lineup will be occupied by recent Texas transfer Charles Kim. A mid-season addition, Kim will see his first collegiate action after spending the fall on the Longhorns' roster. He was the No. 24 ranked player on the Junior Golf Scoreboard in the class of 2015.
@RazorbackMGolf Lineup (Stroke Average)
Taylor Moore, Sr. (72.2)
Alvaro Ortiz, So. (72.8)
Kolton Crawford, R-Sr. (72.3)
Nicholas Echavarria, Sr. (72.3)
Charles Kim, Fr. (N/A)
Individual
Gonzalo Rubio, Sr.
Sea Best Invitational Participants (Golfstat Rankings)
Arkansas (35)
Campbell (77)
Charleston Southern (34)
Florida (19)
Jacksonville (66)
Jacksonville State (153)
North Carolina (21)
North Florida (45)
Stephen F. Austin (143)
Tennessee (47)
Texas A&M (42)
USC- Upstate (173)