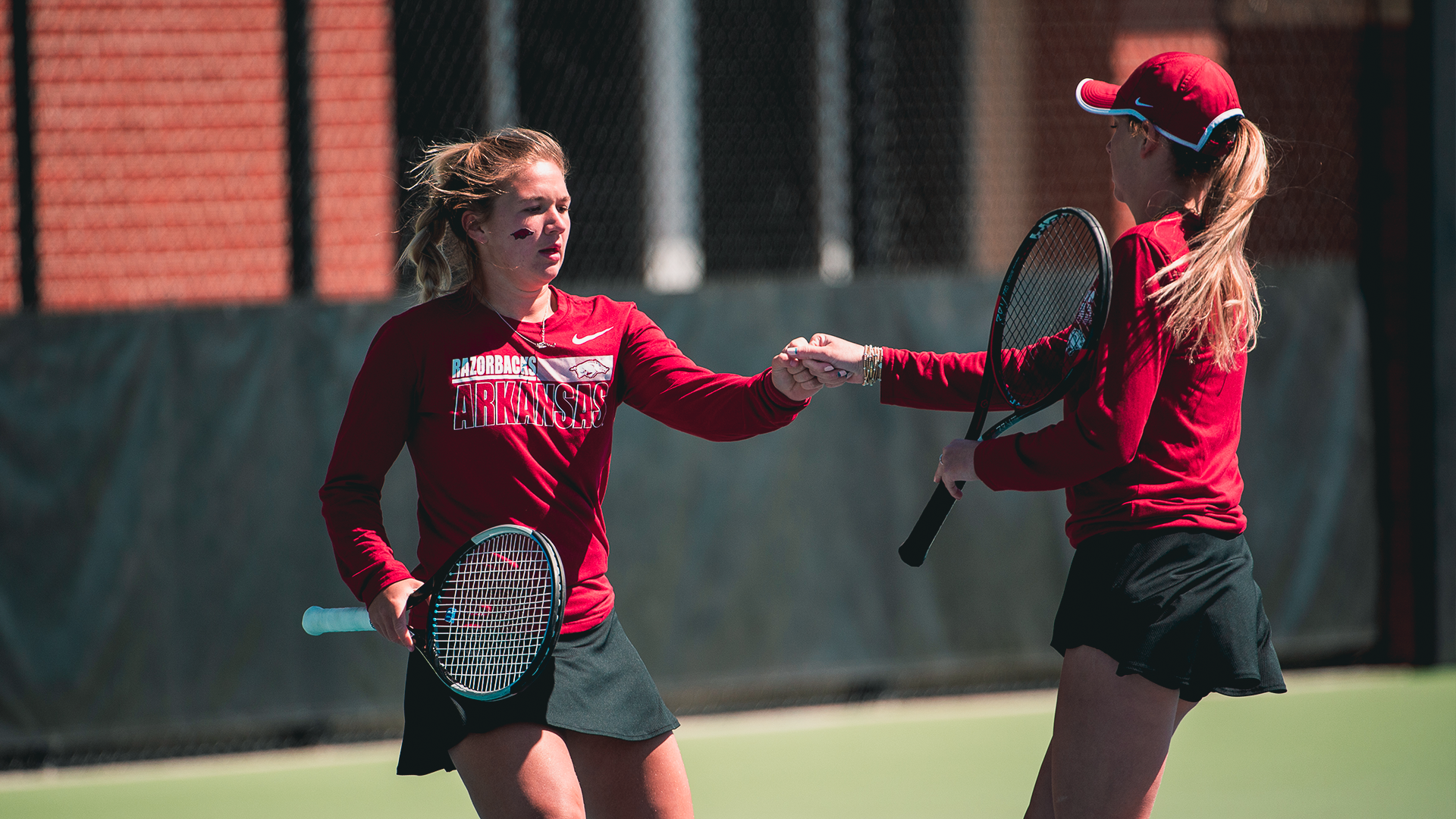 Razorbacks Open the Fall Season Strong at UCA Invite
CONWAY, Ark. – The University of Arkansas women's tennis team had a successful weekend to start the fall season at the UCA Invitational, pocketing 19 total victories.
The Razorbacks faced competition from Central Arkansas, Harding, Arkansas State, Southern Arkansas, McNeese State, Oral Roberts, Kansas City, Central Oklahoma, Oklahoma City and Murray State over the two-day invitational.
Arkansas pulled in 10 singles victories with three Razorbacks claiming top finishes in their flights. Sophomore Morgan Cross impressed in her two wins over Central Oklahoma's Canete (7-5, 5-7, 10-3) and Harding's Britt (6-2,6-2). Cross ended the invite victorious, taking down Fuka Nonoyama (6-4, 6-4).
The newest addition to the roster, transfer Lenka Stara, earned her first wins as a Hog. Stara defeated her first two opponents in two-straight sets, MSU's Geolier (6-2, 6-2) and Oklahoma City's Brocks (6-3, 6-0). Wrapping up her first weekend as a Razorback, Stara battled in a three-set tiebreaker to defeat Jaeun Lee from Central Arkansas (6-2, 3-6,10-4).
Senior Laura Rijkers shined in her three wins, claiming the top-finish in flight three. Rijkers picked up two wins over Allison Carpenter of Harding (6-4, 6-1) and Yada Vasupongchai of UCA (6-2, 6-4) on day one and went on to defeat Murray State's Kreugel (7-5, 6-4) for the championship.
In doubles, both Razorback duos went undefeated on the weekend to win their flights. Morgan Cross teamed up with Tatum Rice to quickly takedown the Arkansas State pairing of Rice/Zukic, 6-1, in the first flight. Cross and Rice swiftly went on to claim the top-finish in a 6-2 win over Central Arkansas' Xin and Nonoyama.
The Razorback duo of Lenka Stara and Laura Rijkers advanced to the quarterfinals in flight two, defeating the pair of Racers, 6-3. Stara and Rijkers fought hard in the finals against UCA's Vasupongchai and Ishimura and came out on top, 7-5.
The Razorbacks continue fall play in two weeks, when they travel to Waco, Texas to compete in the HEB Invitational hosted by Baylor (Oct. 1-3).
Fans are encouraged to visit ArkansasRazorbacks.com for the latest information on all things Arkansas Women's Tennis. You can also find the Hogs on social media by liking us on Facebook (Arkansas Razorback Women's Tennis) and following us on Twitter and Instagram (@RazorbackWTEN).