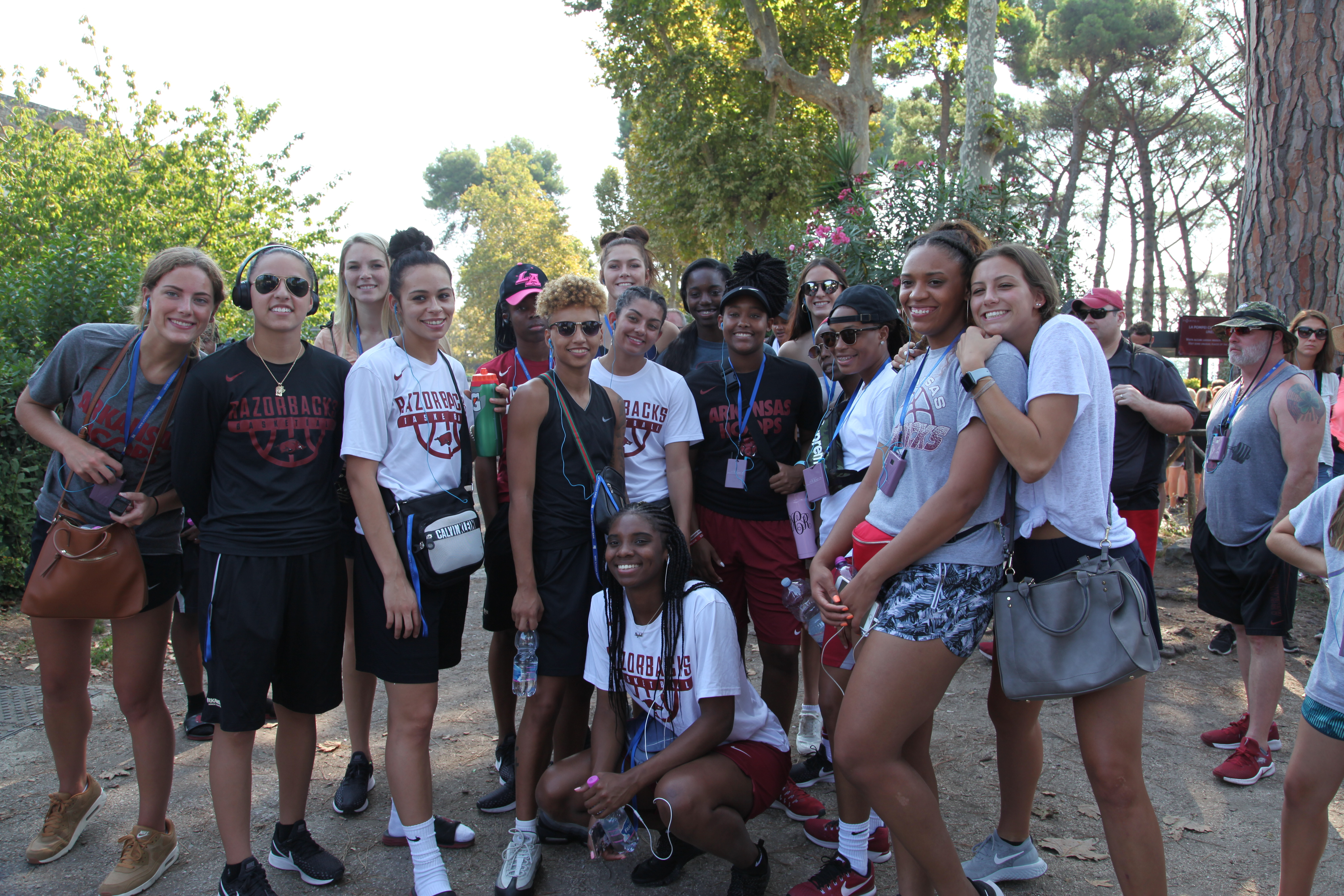 Razorbacks Play First Game In Italy
Photo Gallery
ROME, Italy – The University of Arkansas women's basketball team enjoyed another amazing day in Italy that included playing their first game of the exhibition tour on Thursday.
Arkansas woke up in Naples Thursday morning and boarded a bus to check out the sites at Pompei. Covered under 20 feet of ash after a volcano eruption, the city is surprising well-preserved. It was easy to picture life in the bustling city as our guide showed us the spas with hot and cold water and the amphitheater that used water in clay pipes to enhance the sound.
The team returned to the bus for a two-hour drive north to Rome. After checking in and getting short break, Arkansas had 30-minute drive to Honey Sport City taking on Deep 3 Select in the first game of the trip.
Head coach Mike Neighbors and his staff divided the team into groups of five players playing five minutes each. The Razorbacks platooned eight groups into the game giving the staff a chance to see everyone in game action. Although the final score was not important to the staff, Arkansas outscored Deep 3 Select 16-9 in the final frame for the 67-59 win.
The unofficial stats had junior Kiara Williams with 11 points followed by redshirt sophomore Chelsea Dungee with 10 points. Malica Monk added nine points followed by freshman Rokia Doumbia with 7 points for Arkansas. Williams and Monk both made five free throws in the contest.
Arkansas will enjoy two days at this location taking in the sites in Rome including the Coliseum. The team visits the Vatican City before continuing North to Florence as the trip continues.
For more information about Arkansas women's basketball, follow us on Twitter and Instagram at @RazorbackWBB and on Facebook at Facebook.com/RazorbackWBB. Be sure to subscribe to our YouTube Channel, "Kickin' It In The Neighborhood" for an inside look at the Razorback women's basketball program and check out The Neighborhood podcasts at CoachNeighbors.com.