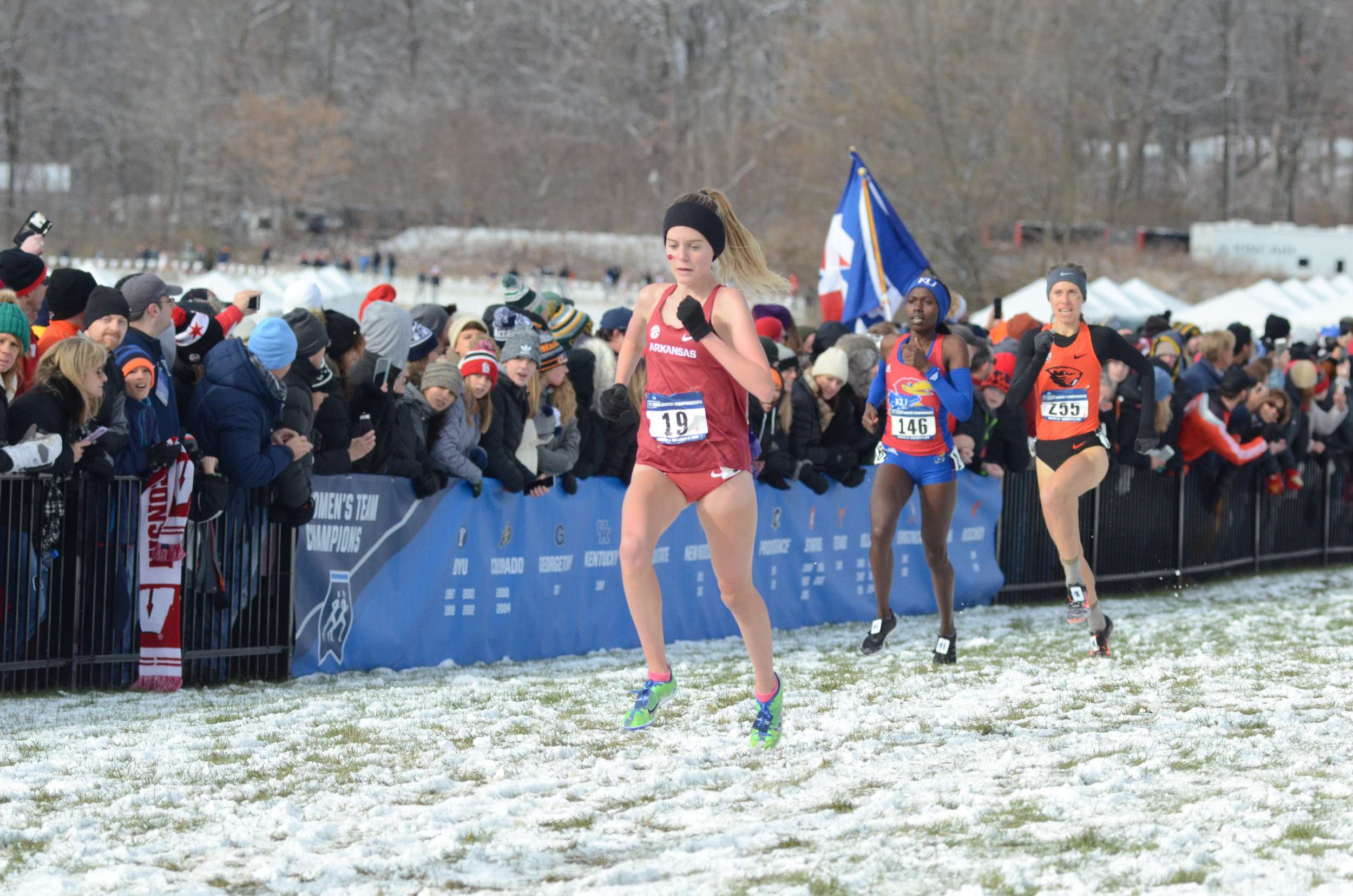 Razorbacks Post Eighth-Straight Top-20 Finish
MADISON, Wis. – The Arkansas women's cross country team concluded its 2018 campaign in Madison, Wis. with a 14th place finish at the NCAA Division I Cross Country National Championships.
"Obviously we had high expectations as the season progressed," said head coach Lance Harter. "We addressed the issues the best we could of what we thought we'd see in Wisconsin, and it lived up to exactly what we thought was going to happen. We thought it was going to be bitterly cold and snowy, and it was. But I thought we did a good job of getting out and establishing ourselves in a great position. Unfortunately, we had an athlete have to drop out that's a key player for us in Lauren [Gregory], and we suffered the consequences as a team in the scoring. We finished 14th, we always thought we could be a top-10 team, obviously that didn't happen. We'll regroup, and head on to indoor," Harter finished.
Dating back to its 14th-place finish at the 2011 Championships, the Razorbacks have finished in the top-20 eight-consecutive years, including four top-15 finishes in the past five years. Arkansas was the top SEC team at the race.
The Razorbacks were paced by true freshman Katrina Robinson who finished 41st with a time of 20:37.60 in her first national race. Robinson wraps up her first season on the course as a Razorback missing All-American status by one spot to go along with her NCAA South Central Regional title and runner-up finish at the SEC meet a few weeks ago.
Carina Viljoen finished as the Razorbacks No. 2 crossing the line in 61st-place (20:46.30), while Taylor Werner (20:58.00) rounded out the Razorbacks top-100 performers in 81st-place. Sydney Brown finished 149th with a time of 21:26.10 while Maddy Reed finished 164th at 21:34.10 to close out scoring for Arkansas.
Up Next
With the cross country season wrapped up, Arkansas will turn its attention to the indoor track and field season. The Razorbacks will open their 2018 indoor track campaign Friday, Jan. 11 hosting the Arkansas Invitational at the Randal Tyson Track Center.