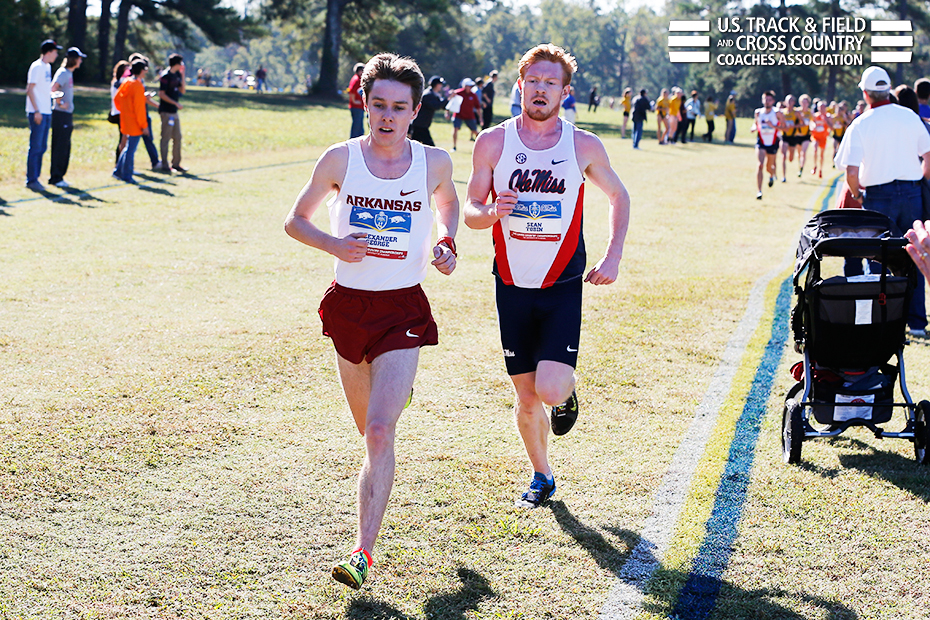 Razorbacks Rise to No. 16 in USTFCCCA Coaches' Poll
FAYETTEVILLE, Ark. – The Razorbacks are on the rise moving up one spot to No. 16 in the national rankings following their successful performance at the Iona Meet of Champions.
Last weekend's meet gave the nation a preview of some of the Razorback depth as junior college transfer Frankline Tonui raced to a first-place finish in his first division I cross country meet. Right behind Tonui was Elite89 award winner Christian Heymsfield who crossed in 25:59.90 to secure the second place spot.
Made up primarily of newcomers including two freshman who had never competed at the 8K distance Arkansas' scoring five finished in second just behind the fourth-ranked Badgers of Wisconsin.
Arkansas will be back in action on Saturday, Oct. 3 at Agri Park where they will host the 27th annual Chile Pepper Festival. The Razorbacks won last year's university section averaging 24:25.94 over the 8K course. Redshirt senior Gabe Gonzalez is the top returning performer for Arkansas finishing fifth out of 174 entries in 24:14.10 at the 2014 meet. Austen Dalquist, Alex George and Cale Wallace all crossed the line among the top 20 assisting the Razorbacks to capture the team title on their home course.
The Chile Pepper Festival is one of two meets left for Arkansas before the start of post-season competition on Oct. 30 with the 2015 SEC Cross Country Championships. Led by seasoned returners and newcomers hungry for their chance to contribute the Razorbacks look to replicate past post-season success one meet at a time.
For more information on Arkansas track and field including in-meet updates, follow @RazorbackTF on Twitter.