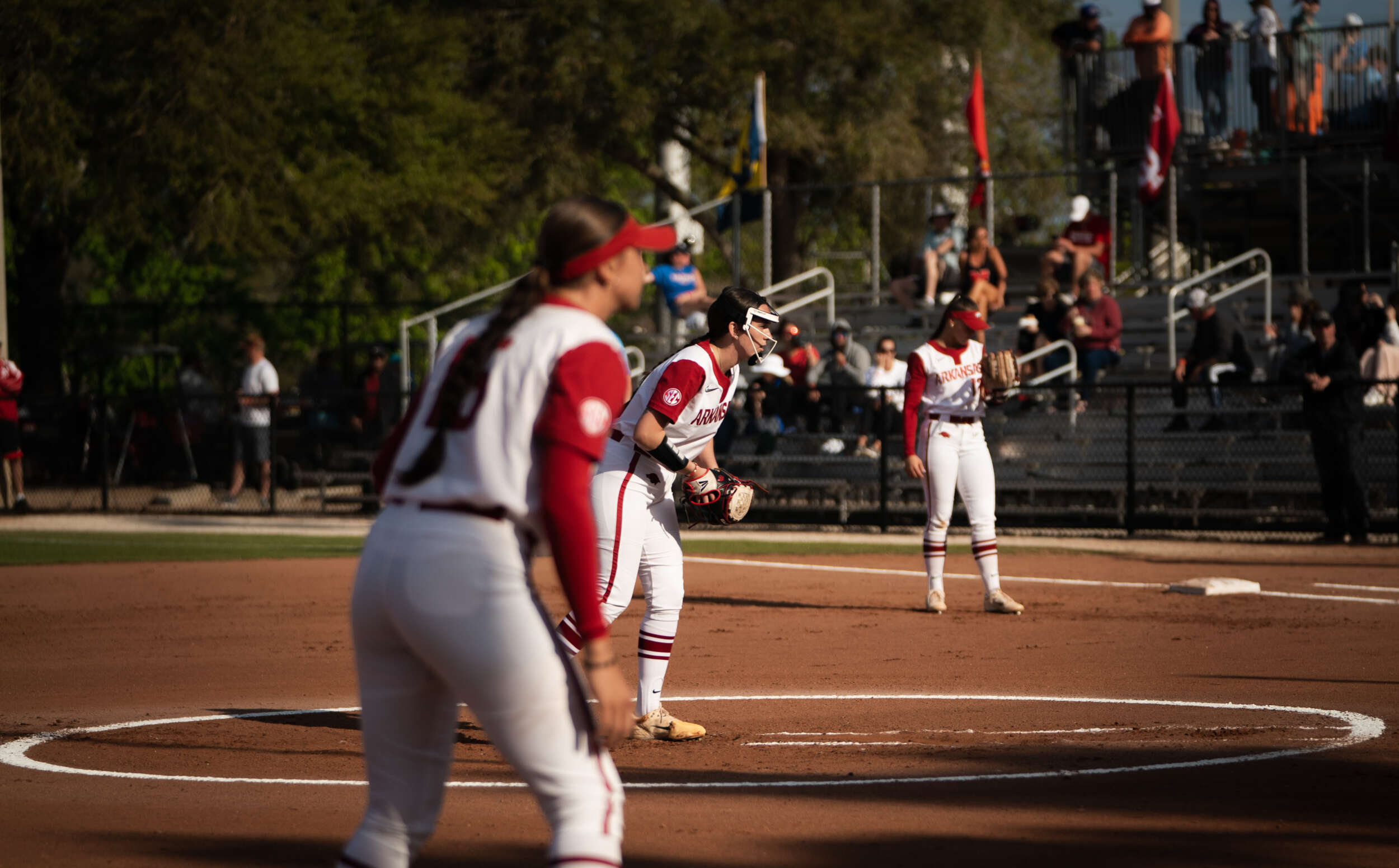 Razorbacks Romp Nebraska in Weekend Finale
CLEARWATER, Fla. – Freshman LHP Robyn Herron (3-0) and redshirt senior RHP Chenise Delce (3-1) shined in the circle and the No. 4 Razorbacks (8-2) pieced together some timely hits to take down Nebraska 6-1 in their final game at the TaxAct Clearwater Invitational Sunday.
In a quick turnaround from Saturday night's win over No. 22 Louisiana, Herron and Delce dazzled in the circle to check Nebraska to a minute three hits across seven frames. Herron (3-0) obtained her third win of the season and second of the weekend as she banked the start and hurled four innings. Herron gave up one earned run on two hits and amassed five strikeouts. Delce picked up her first save of the season after tossing the game's final three innings, limiting Nebraska to zero runs on one hit while ringing up four strikeouts.
Junior first baseman Cylie Halvorson had herself a day against the Cornhuskers. Hailing from Sioux Falls, S.D., Halvorson went 2-for-3 with a season high four RBIs. Reagan Johnson, Kristina Foreman, and Rylin Hedgecock each tallied a hit.
How It Happened
Arkansas and Nebraska exchanged zeroes in the first before Nebraska scored its lone run on a solo home run in the second.
After a relatively quiet few innings offensively, Arkansas took the lead for good in the third. Atalyia Rijo pocketed a one-out walk and Reagan Johnson singled to short to put Rijo in scoring position. Rylin Hedgecock walked to load the bases with two down. Kacie Hoffmann was beamed in the back by a pitch but drove in Arkansas' first run. Hannah Gammill then drew a bases-loaded walk to give Arkansas a 2-1 lead. Cylie Halvorson roped a two-RBI single through the left side for a 4-1 lead.
A leadoff single by Kristina Foreman followed by a Hoffmann single to left center put Arkansas in position to score again in the fifth. Gammill was issued her second walk of the game to load the bases again for Halvorson. Halvorson smacked a two-RBI double to left center to stretch a permanent 6-1 lead.
Notes
Robyn Herron finished 2-0 on the weekend and pitched her first complete game shutout against Indiana Saturday. Against the Hoosiers, Herron recorded her first double-digit strikeout performance with 12 Ks, striking out 48 percent of the batters she faced.
Delce earned her first save of the season, tossing 3.0 innings with four strikeouts and surrendering a lone hit. Delce allowed zero walks and extra base hits.
Cylie Halvorson totaled a season high four RBIs.
Arkansas ends the weekend with a three-game win streak.
Head coach Courtney Deifel became the program's all time wins leader Saturday night as she picked up her 245th career win at Arkansas.
Rylin Hedgecock had a monster weekend for the Razorbacks. Hedgecock had three multi-hit games and tied her career high in hits with three against Louisiana. In five games against strong competition, Hedgecock finished with eight hits, three home runs, seven RBIs and five runs scored.
Reagan Johnson also had a big weekend at leadoff for the Hogs, totaling seven hits, six runs scored and three stolen bases.
Up Next
The Razorbacks return to Fayetteville for their home opener in a doubleheader against No. 15 Arizona on Thursday, Feb. 23 at 3 p.m. on SEC Network+. Arkansas hosts Arizona and Drake for the 2023 Razorback Invitational on Feb. 23-26.