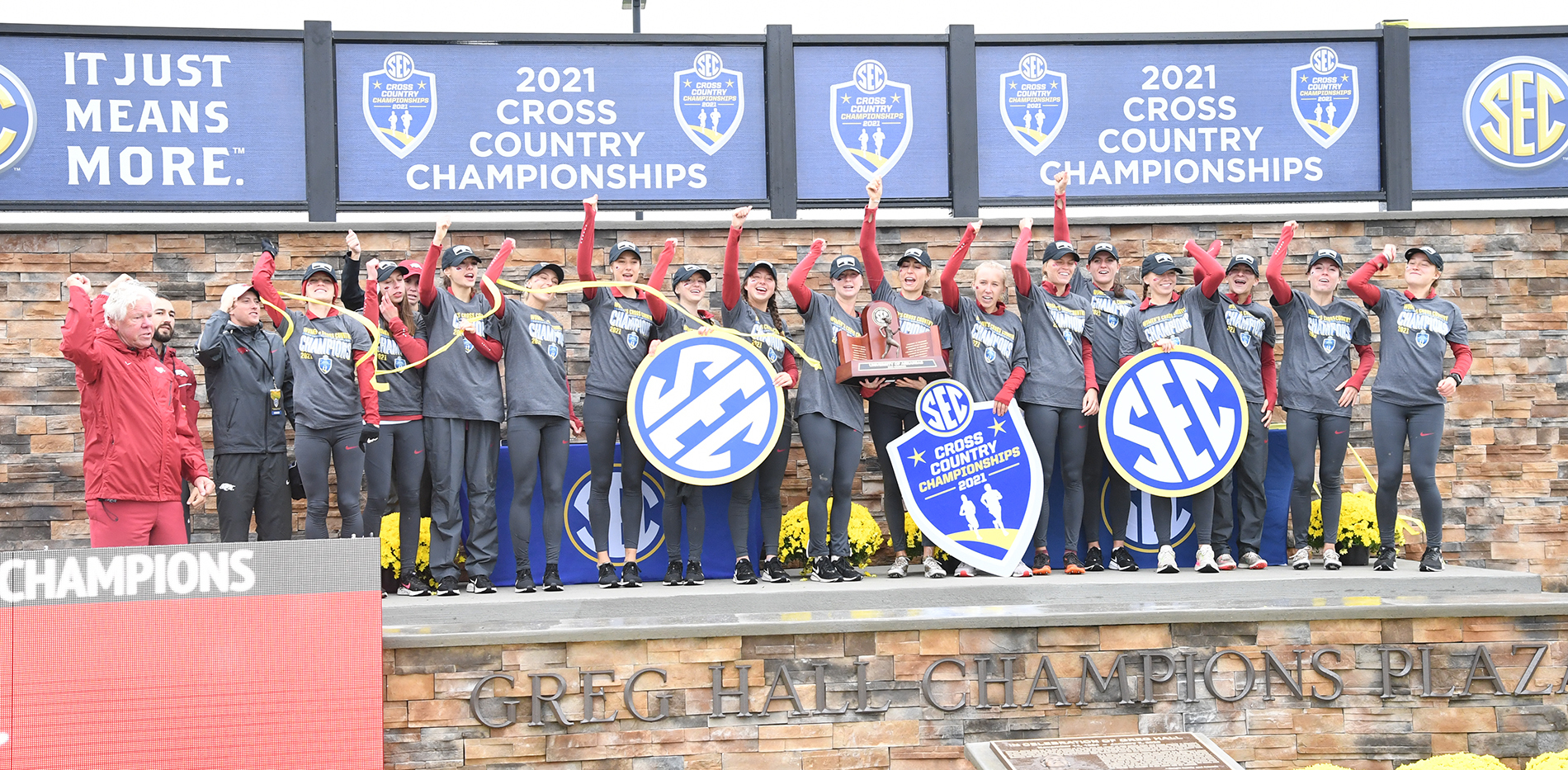 Razorbacks secure 9th consecutive SEC title, 22nd overall
COLUMBIA, Missouri – A bronze medal finish from Krissy Gear paced the No. 15 Razorbacks to a ninth consecutive SEC Cross Country Championship on a saturated Gans Creek course as Arkansas claimed a 22nd SEC league title.
"We're overjoyed," stated Razorback women's head coach Lance Harter. "We knew that if there was going to be an ultimate challenge it was going to be this year. It's getting tougher because the SEC is catching up with us, particularly by Alabama and Ole Miss.
"These other teams are getting better and better, so we have to answer the challenge. Today we kept it as close as long as we possible could, but we knew the last 1k we had to make a demonstrative move. Fortunately for us we had five people who stepped up to that challenge."
The Razorbacks totaled 68 points with No. 11 Ole Miss runner-up at 83 while No. 5 Alabama placed third with 91 points. This marked the highest score by Arkansas in an SEC meet since a runner-up finish of 70 points in 2012.
Gear covered the 6,000m course in 20:08.1, finishing behind Alabama's Mercy Chelangat, who defended her individual title in 19:55.2, while Auburn's Joyce Kimeli placed second in 20:04.1.
"No matter what season or race, Krissy Gear will compete," noted Harter. "In cross country we tell her just give yourself a chance to attack at the front, because we know she can finish with anybody. Today, she really took that to heart and took on that responsibility to give back to her teammates."
Gear said: "Coach Harter's just been emphasizing how much depth we have and how we should play that to our strength. A lot of teams out here have strong runners, especially Alabama with their 1 through 4.
"Over the final portion of the race, I was just trying to pick off people and get points. I knew I'd have my pack right behind me, because we have depth. Every point counted today, and a lot of people were yelling that at me. We really wanted that team title and were working for each other."
Behind Gear's effort, Arkansas complied its team score off a 3-10-12-18-25 finish. Ole Miss registered its 83 points from a 6-14-16-21-26 tally while Alabama's score of 91 came from a 1-7-8-11-64 finish.
Isabel Van Camp was the second Razorback to finish, producing a time of 20:29.4 to place 10th. Lauren Gregory clocked 20:34.9 in placing 12th and Meghan Underwood finished 18th with a 20:51.9. Logan Jolly was the fifth Arkansas finisher, placing 25th in 21:03.6.
The next group of Razorbacks was led by Julia Paternain, who ran 21:17.5 to finish 28th. She was followed by Carmie Prinsloo, who posted a time of 21:31.2 in placing 35th. Corie Smith (21:51.7) and Quinn Owen (21:57.1) placed 55th and 62nd with Josie Carson (23:42.4) finishing 121st. Gracie Hyde and Kennedy Thomson did not finish.
For the 19th time since Arkansas joined the league in 1991, the Razorbacks swept the men's and women's team titles.
SEC Cross Country Championships | Gans Creek course
Teams: 1. No. 15 Arkansas 68, 2. No. 11 Ole Miss 83, 3. No. 5 Alabama 91, 4. Kentucky 93, 5. Tennessee 136, 6. Florida 170, 7. Missouri 192, 8. Vanderbilt 214, 9. Auburn 253, 10. LSU 256, 11. Texas A&M 270, 12. Georgia 292, 13. Mississippi State 363, 14. South Carolina 435.