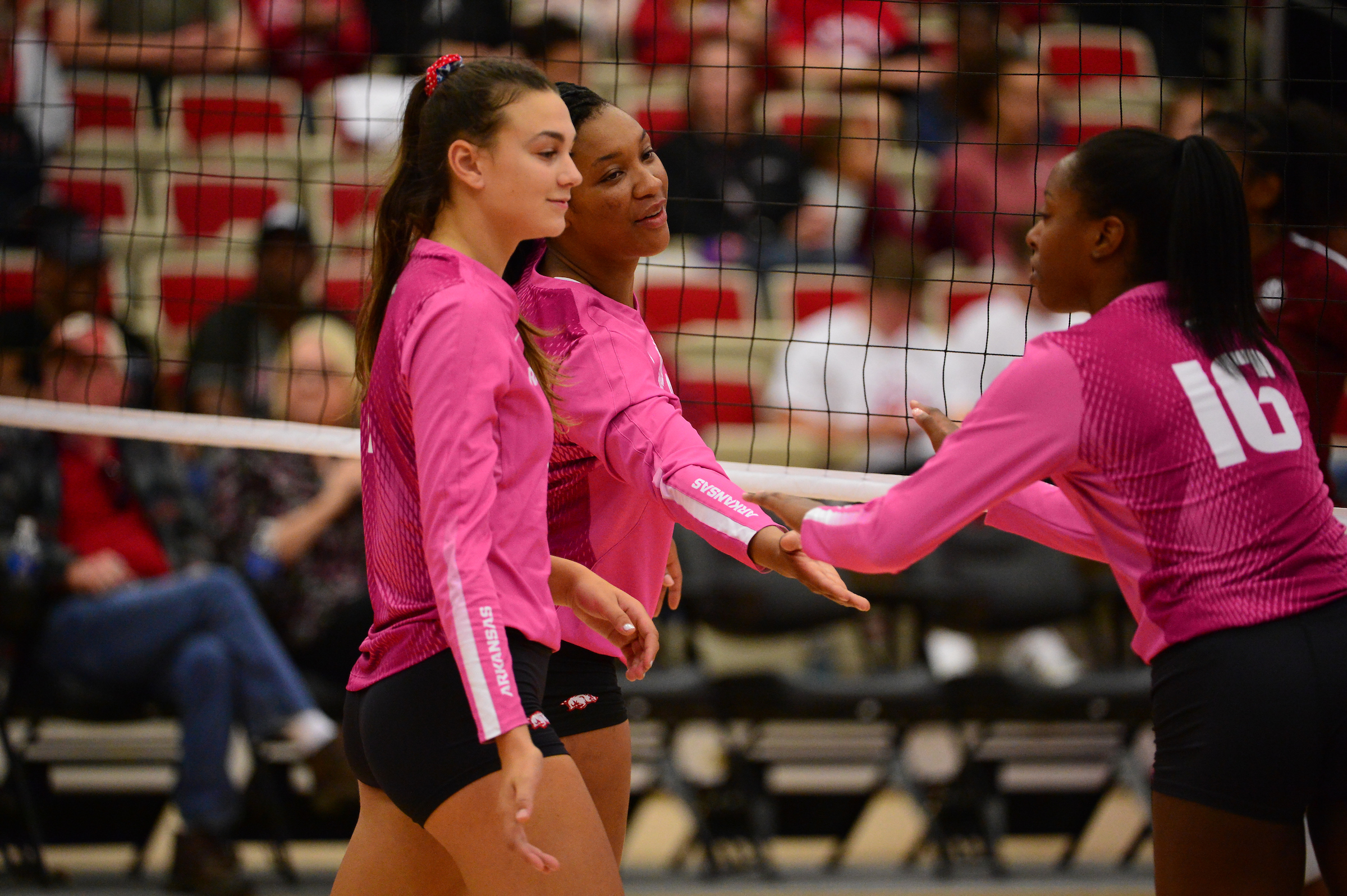 Razorbacks Secure First SEC Win at Mississippi State
STARKVILLE, Miss. – The University of Arkansas volleyball team secured its first SEC win of the season against Mississippi State on Sunday afternoon in Starkville. The Razorbacks secured the four-set victory with three Hogs finishing with double-double performances, freshmen Jillian Gillen and Maggie Cartwright, and junior setter Gracie Ryan.
HOG HIGLIGHTS
Jillian Gillen | 22 kills | 12 digs | 1 block
Maggie Cartwright | 10 kills | 10 digs | 3 blocks
Gracie Ryan | 20 assists | 10 digs | 2 service aces
Liz Pamphile | 11 kills | .435 clip | 8 blocks
13 team blocks – ties the season high for blocks
THE TURNING POINT
Arkansas came out fast and strong against Mississippi State, taking the first two sets behind the hitting power of Gillen and Pamphile who had combined for 15 kills. Tied at 9-9, Cartwright went up and recorded the set-changing kill that gave Arkansas the lead and the momentum needed to close out the second set and take the 2-0 match lead.
Mississippi State limited their errors and with five kills apiece from Bulldogs Amarrah Cooks and Deja Robinson, MSU made it a 2-1 match with a 25-22 set three win.
The Razorbacks looked to recover in the fourth set and tied with the Bulldogs midway through the fourth set at 13-13, Cartwright stepped up again and put the Hogs up by one with the assist from Ryan. Arkansas maintained controlled the tempo of the set and went on to lock down the win with a 25-22 set four victory.
FROM COACH WATSON
"Day in and day out, we're continuing to work to be a better volleyball team. Today's result is the product of our athletes continuing to grow and learn, I'm so happy for them. Today we got to see a return on their investment in being good learners."
UP NEXT
The Hogs return to Fayetteville the following week for a two-game home stretch against Missouri (Oct. 25) and Auburn (Oct. 27). Fans are encouraged to join the Razorbacks in Barnhill for our Pink Out Match on Friday and Jr. Razorback Welcome Back on Sunday.