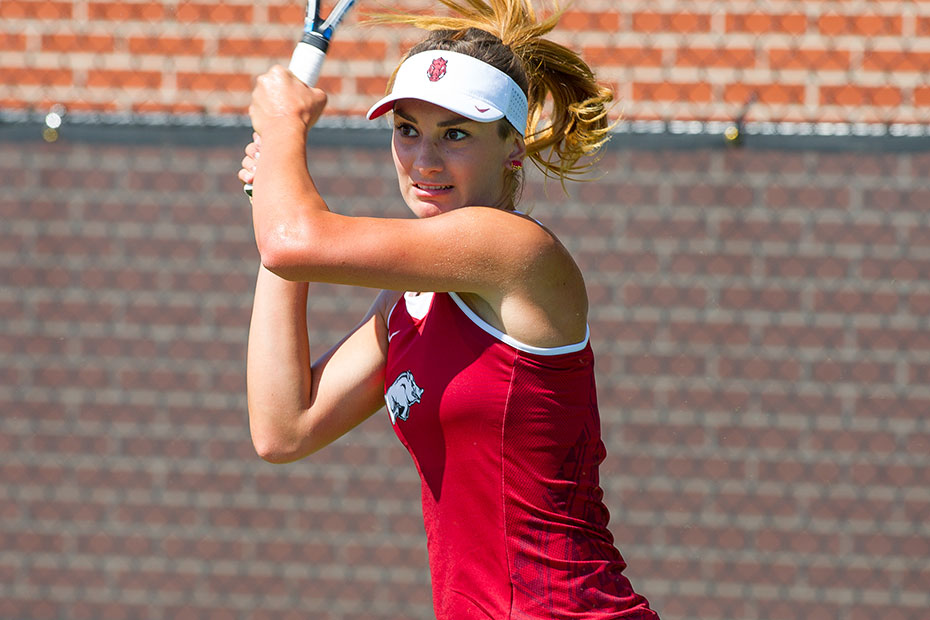 Razorbacks Set Back At No. 12 South Carolina
Columbia, S.C. – Despite freshman Ana Oparenovic and senior Yuliya Lysa each earning singles wins over ranked opponents, the No. 35 Arkansas women's tennis team dropped a 5-2 decision at No. 12 South Carolina on Saturday afternoon at the Carolina Tennis Center in Columbia, South Carolina.
Saturday's setback moved the Razorbacks' record to 6-6 overall, 0-2 in Southeastern Conference action. The Gamecocks improved to 10-2, 2-0.
South Carolina earned the 1-0 advantage by winning the doubles point, but Arkansas made it a closely contested competition. The Razorbacks gained the early edge as Oparenovic and sophomore Mia Jursaic won 6-2 on court three. But South Carolina would rally to claim the final two matches. On court two, South Carolina's Caroline Dailey and Brigit Folland rallied from a 4-3 deficit to defeat the No. 45 pair of Lysa and junior Shannon Hudson 6-4. At the top spot, South Carolina's Hadley Berg and Paige Cline then took a heated battle from Makenzie Craft and Flavia Araujo, outlasting the Arkansas senior duo 7-5 to give the Gamecocks the first point.
In singles, the Gamecocks took a 2-0 advantage when Folland downed Arkansas freshman Agne Cepelyte 6-1, 6-0 on court five.
The Gamecocks looked to have built strong momentum at that point. However, the Razorbacks rebounded when Oparenovic eased past South Carolina's No. 71 Dailey 6-1, 6-1 on court one, improving to a team-best 8-4 overall on the season.
From there, South Carolina extended its lead to 3-1 when Berg defeated Craft 6-4, 6-1 on court four. But the Razorbacks responded as Lysa registered a 6-3, 7-5 triumph over No. 108 Cline on court three, trimming the deficit to 3-2.
The Gamecocks' victory-clinching win would follow on court two, where No. 118 Ingrid Gamarra Martins was a 6-4, 6-3 winner over Hudson.
At the clinch, play continued on court six where Jurasic led South Carolina's Ximena Siles Luna 3-0 in the second set after surrendering the first set 7-5. Jurasic went on to win the set 6-3, but Siles Luna emerged victorious in the third-set super tiebreaker 1-0 (7).
Arkansas continues its road swing in SEC play next Saturday, travelling to Columbia, Missouri to meet the Missouri Tigers. Match time is set for noon CT at the Mizzou Tennis Complex.
MATCH RESULTS:
Singles Competition
1. Ana Oparenovic (ARK) def. #71 Caroline Dailey (USC) 6-1, 6-1
2. #118 Ingrid Gamarra Martins (USC) def. Shannon Hudson (ARK) 6-4, 6-3
3. Yuliya Lysa (ARK) def. #108 Paige Cline (USC) 6-3, 7-5
4. Hadley Berg (USC) def. Makenzie Craft (ARK) 6-4, 6-1
5. Brigit Folland (USC) def. Agne Cepelyte (ARK) 6-1, 6-0
6. Ximena Siles Luna (USC) def. Mia Jurasic (ARK) 7-5, 3-6, 1-0 (7)
Doubles Competition
1. Cline/Berg (USC) def. Craft/Araujo (ARK) 7-5
2. Folland/Dailey (USC) def. #45 Lysa/Hudson (ARK) 6-4
3. Jurasic/Oparenovic (ARK) def. Martins/Siles Luna (USC) 6-2
Order of finish: Doubles (3, 2, 1*); Singles (5, 1, 4, 3, 2*, 6)