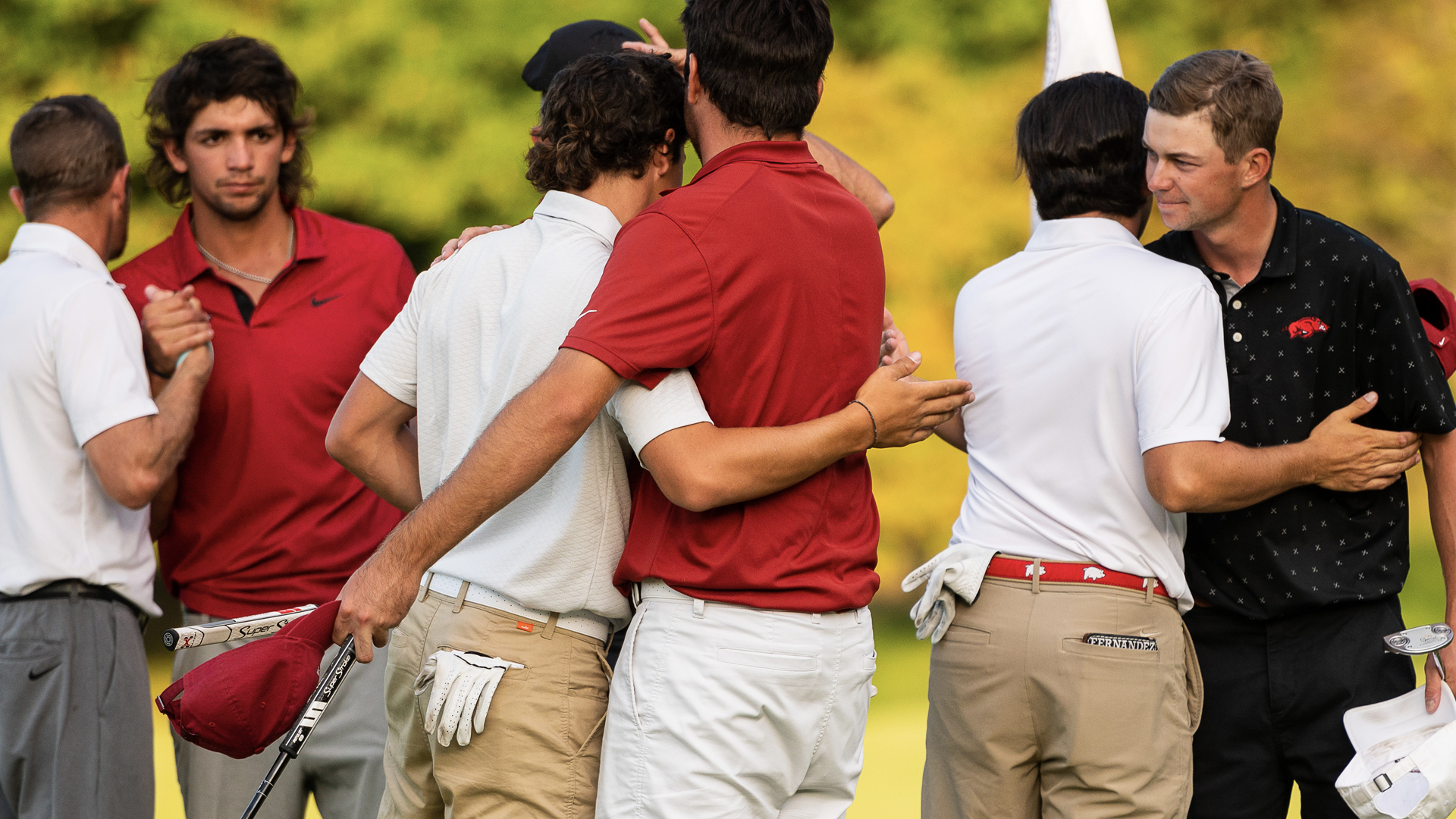 Razorbacks Set for CABO; One of the Toughest Fields in College Golf
FAYETTEVILLE – The CABO Collegiate, presented by CFO4Life, has ranked among the NCAA top-10 toughest tournaments since its inception, including all postseason championships, and the 13th edition – played Mar. 5-7 in Los Cabos, Mexico – will be no different as the 15-team field features 13 of the nation's top 50 teams, including the top four teams in the nation and a total of 10 among the top 25.
The event moves to its new home, the Twin Dolphin Club, a 7,156-yard, par-72 layout with views of the Sea of Cortez on nearly every hole. And while the venue has changed, the field remains one of the best in college golf.
In addition to host and #48 Arkansas, the field includes #1 Vanderbilt, #2 Texas Tech, #3 Arizona State, #4 Stanford, #9 Florida State, #14 Tennessee, #17 Alabama, #18 Oklahoma State, #19 Arizona, #23 Baylor, #44 Ole Miss, #50 Houston, Abilene Christian and Rice.
In addition to the strong teams, the individuals are among the best in college golf including four of the top five ranked players in college golf.
– Gordon Sargent (Vanderbilt) #1 Golfstat and #1 World Amateur Golf Ranking
– Michael Thorbjornsen (Stanford) #2 Golfstat and #1 WAGR
– Ludvig Aberg (Texas Tech) #3 Golfstat and #2 WAGR
– Calum Scott (Texas Tech) #5 Golfstat and #45 WAGR
– Tiger Christensen (Arizona) #19 Golfstat
– Cole Anderson (Florida State) #11 Golfstat
– Cole Sherwood (Vanderbilt) #14 Golfstat and #9 WAGR
– Matthew Riedel (Vanderbilt) #18 Golfstat and #56 WAGR
– Brett Roberts (Florida State) #22 Golfstat and #78 WAGR
– Ryggs Johnston (Arizona State) #23 Golfstat
– Preston Summerhays (Arizona State) #27 Golfstat and #58 WAGR
– Mateo Fernandez de Oliveira (Arkansas) #25 WAGR
– Bryce Lewis (Tennessee) #30 WAGR
– Ras Neergaard-Peters (Oklahoma State) #26 Golfstat and #28 WAGR
– Thomas Ponder (Alabama) #34 Golfstat
– Caleb Surratt (Tennessee) #32 Golfstat and #12 WAGR
– Jonas Baumgartner (Oklahoma State) #37 Golfstat
– Luke Potter (Arizona State) #40 Golfstat
– Bo Jin (Oklahoma State) #49 WAGR
In the first 12 years of the CABO Collegiate, teams in this year's field have won 10 titles. Arkansas is playing in its 12th CABO Collegiate and part-time co-host Houston is playing in its 11th. The Razorbacks won the team title in 2010 and 2011 while the Cougars won it in 2014. 2015 champion Florida State and 2012 champion Ole Miss are playing in their 10th CABO Collegiate. Defending champion Vanderbilt is playing in its ninth consecutive CABO Collegiate. Oklahoma State, playing in its seventh straight CABO Collegiate, won the event in 2017, '18 and '19 while Arizona is playing in its sixth straight at CABO, including its 2020 win.
Arkansas will take Fernandez de Oliveira, Julian Perico, Manuel Lozada, Wil Gibson and Segundo Oliva Pinto as well as individuals Denver Davis, Christian Castillo and Matthew Griggs.
Perico is playing in his fifth CABO Collegiate and has finished among the top 25 in each of his first four appearances, including a fourth-place finish as a sophomore. Fernandez de Oliveira placed 10th last year in his one and only appearance.
CABO Collegiate
Presented by CFO4Life
Mar. 5-7
Host School: Arkansas
Twin Dolphin Club || Los Cabos, Mexico
7,156 yards || Par 72
Field:
Abilene Christian
#17 Alabama
#19 Arizona
#3 Arizona State
#48 Arkansas
#23 Baylor
#9 Florida State
#50 Houston
#44 Ole Miss
#18 Oklahoma State
Rice
#4 Stanford
#2 Texas Tech
#14 Tennessee
#1 Vanderbilt
Razorback Lineup:
Mateo Fernandez de Oliveira (1)
Julian Perico (2)
Manuel Lozada (3)
Wil Gibson (4)
Segundo Oliva Pinto (5)
Christian Castillo (Ind)
Matthew Griggs (Ind)
Denver Davis (Ind)
For more information on Arkansas Men's Golf, follow @RazorbackMGolf on Twitter.