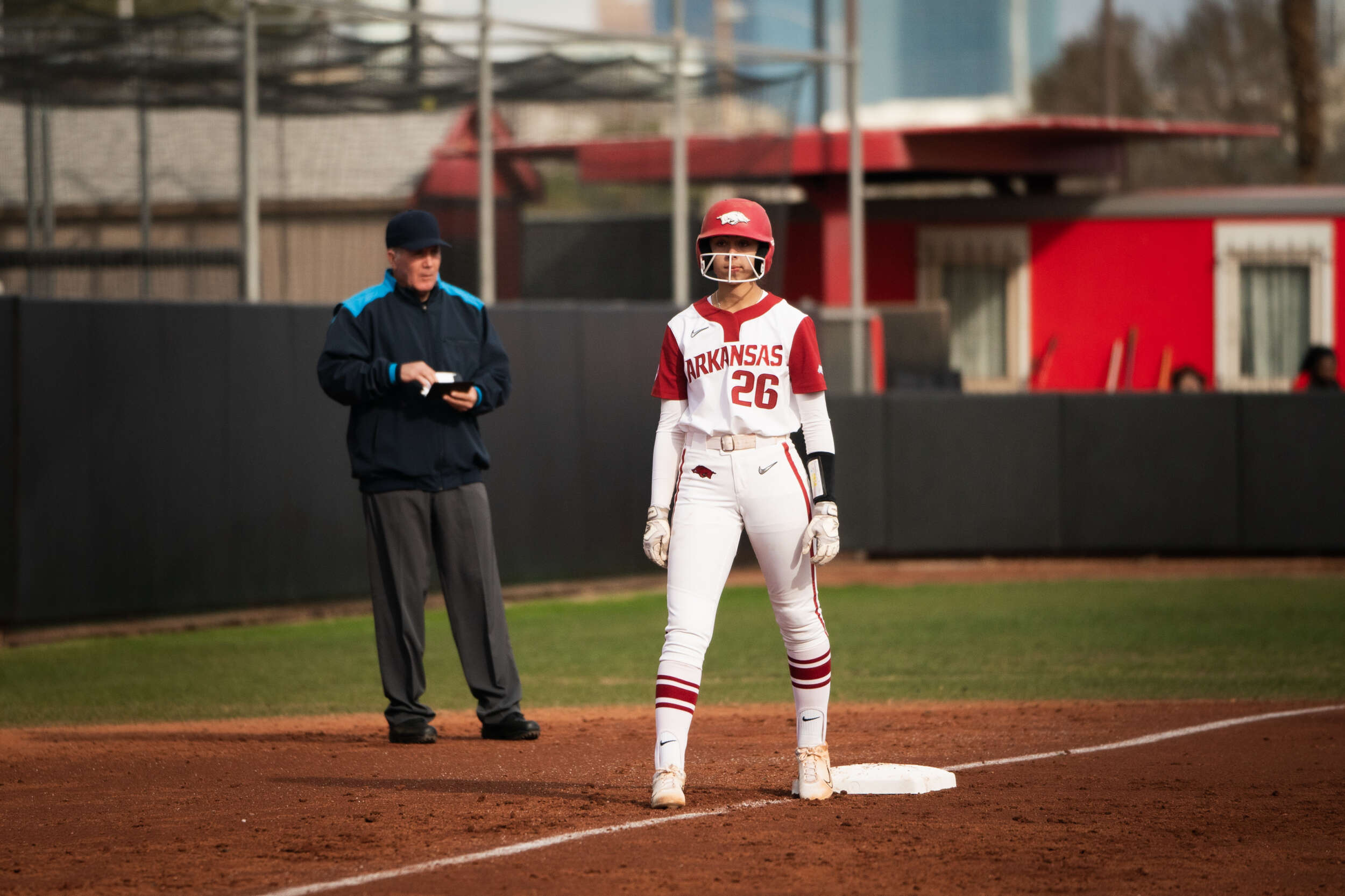 Razorbacks Slug by Baylor to Cap 5-0 Weekend
LAS VEGAS – Freshman shortstop Atalyia Rijo sparked No. 6 Arkansas to a 11-7 win against an undefeated Baylor squad to cap Arkansas' 5-0 opening weekend at the Rebel Kickoff.
Rijo went 3-for-4 against Baylor with three RBIs and her first career home run. The Horseheads, N.Y., product broke the game open in the second with an RBI double to the left field corner to give Arkansas its first lead of the game. Up to bat again in the fourth, Rijo drove in her second run on a single to left center. Rijo finished her career day with a solo home run in the top of the seventh for Arkansas' 11th and final run.
The underclassmen stepped up big against a relentless Baylor team that returned every starter from the 2022 season. Sophomore Spencer Prigge had another big game with a crucial two-run home run in the top of the seventh to propel the lead to 10-7. The Phoenix native finished 1-for-3 with two RBIs and two runs scored.
Freshman center fielder Reagan Johnson had her first multi-hit game with two singles and an RBI at the leadoff spot. Junior Cylie Halvorson monstered a three-run bomb to left center in the fourth for her second home run of the weekend.
The Hogs combined for 10 hits and three home runs against Baylor.
Redshirt Junior Chenise Delce (2-0) earned the win in her second start of the season. The reigning SEC Pitcher of the Year struck out one in 3.1 innings of work and limited the Bears to one earned run.
Fresman LHP Robyn Herron (1-0) threw 0.2 innings in her third appearance. Herron gave up two unearned runs after taking over in a one-out, bases-loaded situation in the fourth.
Junior LHP Callie Turner (2-0) recorded her first save of the season after spinning the game's final three innings. Taking the circle with an 8-7 lead, Turner silenced a hot Baylor offense to seal the win. Turner amassed two strikeouts while allowing no hits or walks.
How It Happened
The Razorbacks got on the board thanks to Rijo's two-out, RBI double to deep left that scored Kacie Hoffmann, who reached on a walk, from third. Raigan Kramer extended the lead to 2-0 after taking home on a wild pitch.
Arkansas rallied again with two outs in the third. Hannah Gammill doubled to right center and Kacie Hoffmann doubled down the left field line, scoring Gammill, to push the lead to 3-0.
In the fourth, Rijo added Arkansas' fourth run on an RBI single that scored Prigge. Johnson followed with an RBI single up the middle to score Kramer and capture a 5-0 lead. Halvorson sent a three-run home run to deep center to give Arkansas an 8-0 edge.
Chipping away at Arkansas' lead, Baylor cut the Hog lead to 8-7 with six of seven runs unearned.
Arkansas responded in the seventh with Prigge's two-run home run. Rijo added insurance were her solo jack to make it 11-7 in favor of the Razorbacks.
Quotes
Spencer Prigge on today's win: "The final game of the weekend definitely tested some of our weak spots, and it was exactly what we needed. We went from an eight-run lead to Baylor being within striking distance. We stayed flexible knowing we still had the lead and felt minimal pressure. Going into my last at bat, I was looking for my pitch, even if that meant taking some strikes. I knew one swing wouldn't change the game, but my swing shifted the momentum back to us which was a good way to end the game."
Notes
Arkansas starts the season 5-0 for the first time since 2019.
The Razorbacks outscored opponents 52-9 in five games this weekend
Arkansas scored at least eight runs in all five games
Arkansas scored double-digit runs in four of five games
RHP Chenise Delce went 2-0 on the weekend
LHP Callie Turner earned the save
Up Next
The Razorbacks head to the TaxAct Clearwater Invitational Feb. 17-19. Arkansas opens the weekend Feb. 17 against No. 4 Florida State on ESPNU. First pitch is set for noon CT.