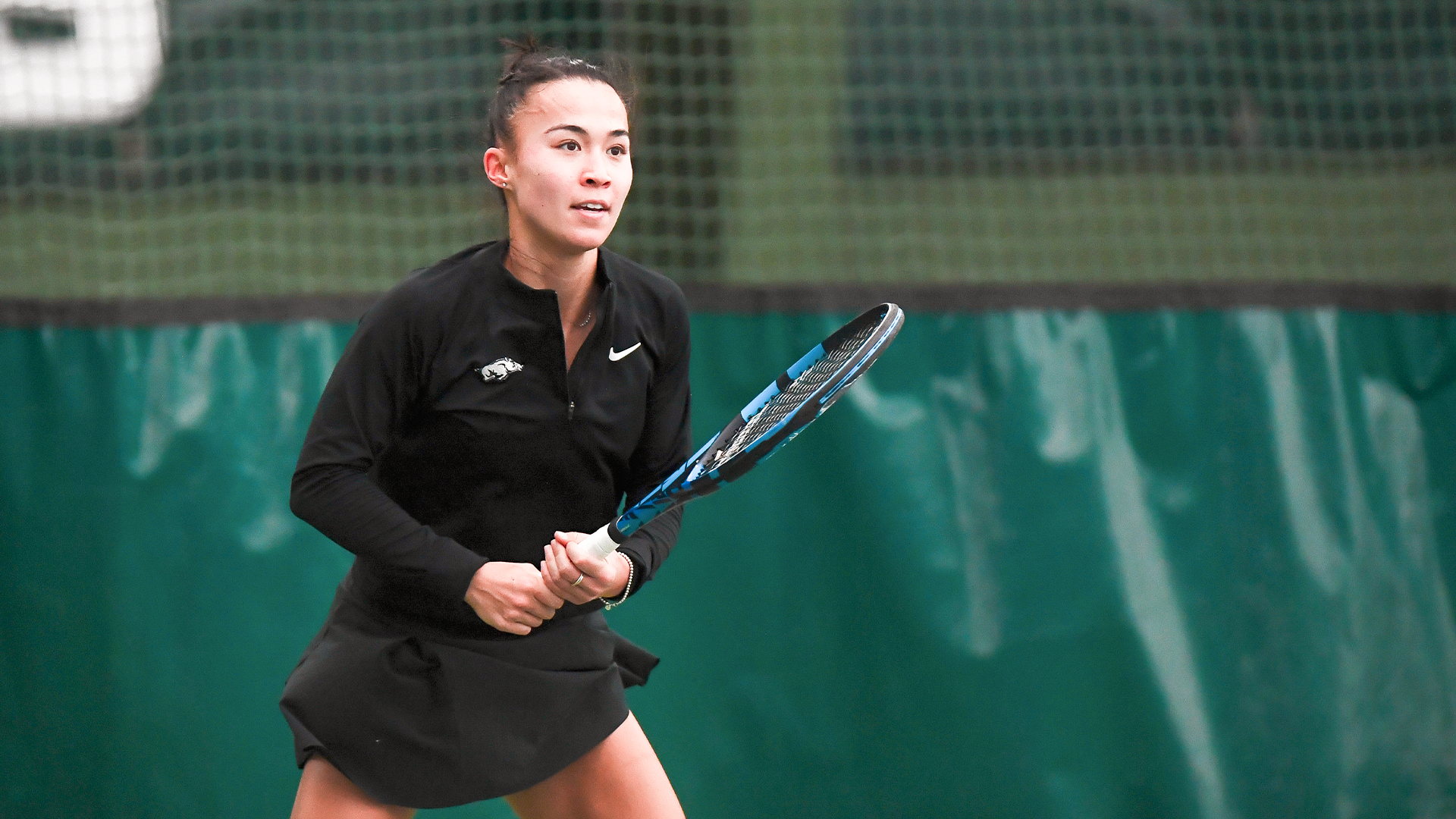 Razorbacks Split Doubleheader in Norman
NORMAN, Okla. – The No. 42 Arkansas women's tennis team moves to 6-3 this spring after splitting a doubleheader against No. 18 Oklahoma and Missouri State. The Razorbacks fell to the Sooners, 4-1, and bounced back with a 4-0 win over the Bears on Saturday.
Arkansas started out the morning with a tough match-up against the No. 18 Oklahoma Sooners. In doubles, the Sooners took both courts two and three in quick fashion to gain the early lead. Arkansas' Kelly Keller and Carolina Gomez Alonso fell 6-1 to Oklahoma's Garcia Ruiz/Guzman and on court two the No. 12 Oklahoma duo of Pisareva/Sleeth defeated Razorbacks O'Donnell/Stara. In singles, Oklahoma got the victories on courts three and one to go up 3-0 but Arkansas' Lenka Stara won 6-3, 6-4 to put the Hogs on the board. Oklahoma's Alexandra Pisareva defeated Yuhan Liu on court six to clinch the match for the Sooners.
In the second match of the day, the Razorbacks were up against the Missouri State Bears. On court one, No. 46 Indianna Spink and Morgan Cross were off to a hot start with a 6-0 win and on court three Keller/Gomez Alonso clinched the doubles point with a 6-3 victory.
Headed into singles play with the lead, Arkansas took the first set on all six courts. Junior Indianna Spink got the double bagel on court two, defeating Missouri State's Tiera Jarmond 6-0, 6-0 for the first singles point. Sophomore Grace O'Donnell quickly followed with her first singles victory of the dual season, taking a 6-1, 6-1 win. On court three, Kacie Harvey clinched the victory for the Razorbacks with a 6-1, 6-0 win over Mary Houston.
The Razorbacks continue their road stint as they begin Southeastern Conference play next week at Georgia on Friday, March 3 followed by Tennessee on Sunday, March 5.
For the latest information on all things Arkansas Women's Tennis, follow the Hogs on social media by liking us on Facebook (Arkansas Razorback Women's Tennis) and following us on Twitter and Instagram (@RazorbackWTEN).