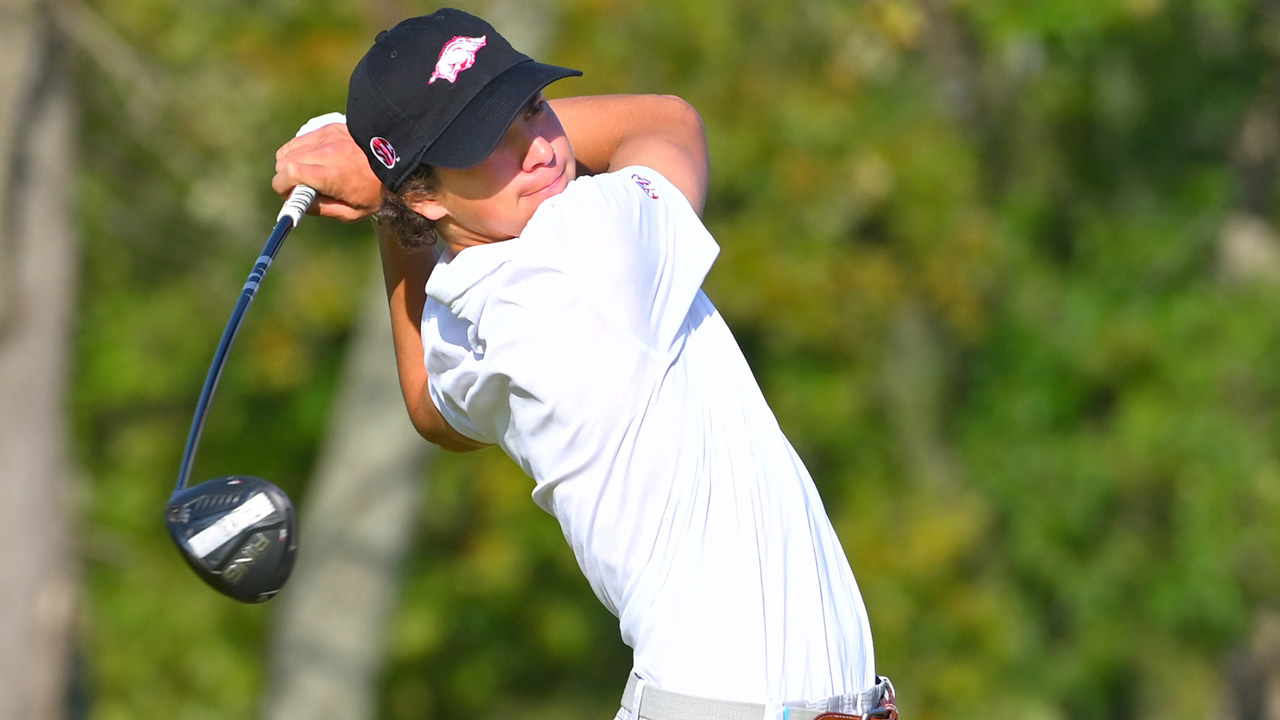 Razorbacks Start Strong at The Collegiate Invitational
BIRMINGHAM, Ala. – The 21st-ranked Arkansas men's golf team got off to a hot start and finished the first day of the 14-team Collegiate Invitational in fifth with a 4-over-par score of 288. Newcomers to the lineup – Manuel Lozada and Wil Gibson – each carded a 1-under-par round of 70 to lead the Razorbacks and are tied for fourth.
Arkansas, starting on hole 10, raced out early to a seven-shot lead and was 7-under midway through the round. However, Arkansas came back to the field on its second nine. North Florida, ranked 22nd, finished the day in the lead with a 1-under-par round of 283. Fourth-ranked Clemson and #19 Tennessee made a late charge to finish the opening round tied for second, each at +2 (286). Vanderbilt, ranked 10th, is fourth at +3 (287). Three teams are one stroke behind Arkansas and tied for sixth at +5 (#9 Auburn, #47 Charlotte and #48 Ole Miss).
Arkansas led the field with 18 birdies and played the par 5's at -4, second only to LSU at -5. Gibson and William Buhl tallied five birdies each while Tyson Reeder and Lozada each had four.
Lozada, making his fourth team appearance of the year and first of the spring, turned in an opening-round 70 for his third round-one score of 1-under par this season. He made the turn in the lead at 3-under thanks to birdies on holes 12, 17 and 18. He dropped shots on holes 1 and 5 but got back to 2-under with a birdie on his 17th hole, but suffered a bogey on his final hole, the par-4 9th.
Gibson, making his first team appearance since the season opener, is also tied for fourth with an opening-round, 1-under-par 70. He had four birdies on this opening nine holes and made the turn at -1. He turned in seven pars, a bogey and a birdie on his back nine for his 71 – his second-best career opening-round score. Gibson was second in the field by playing the par 5's at -2 and had the second-best scoring average on the par 3's at -1.
Three Razorbacks are tied for 38th with a 3-over-par 74, including Buhl, Reeder and Julian Perico.
Day two of three of the Collegiate Invitational is set for Tuesday.
For more information on Arkansas Men's Golf, follow @RazorbackMGolf on Twitter.