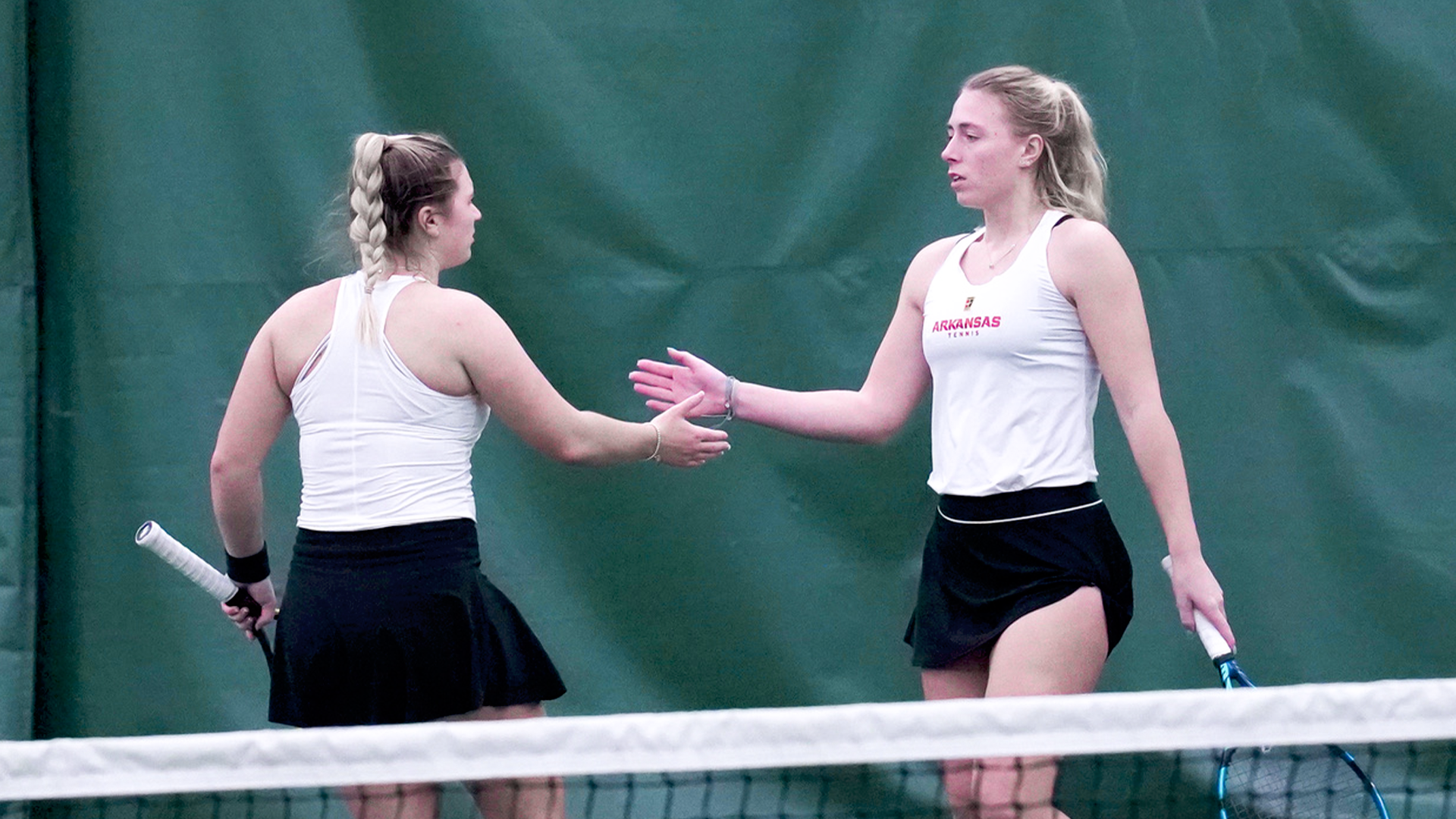 Razorbacks Sweep Arkansas State Twice to Begin Season
JONESBORO, Ark. – The University of Arkansas women's tennis team (2-0) started the season off on a high note with two sweeps over Arkansas State (0-3) on the road.
In the first match, the Razorbacks claimed an early lead with a doubles sweep to earn the point. Veterans Morgan Cross and Indianna Spink teamed up for the first time since their rookie season for a 6-1 win on court one, while newcomers Kacie Harvey and Yuhan Liu blanked their opponents 6-0 on court two. Juniors Kelly Keller and Lenka Stara closed out doubles with a 6-1 victory over their Redwolves opponents in the No. 3 position.
Junior Lenka Stara started things out strong in singles with a dominant 6-0, 6-0 win to notch the first singles victory. In her first appearance as a Razorback, transfer Kacie Harvey brought it to earn her first win 6-0, 6-2. Looking for just one more win to clinch the victory, Kelly Keller came through with a 6-4, 6-4 dub.
Playing out the matches on the rest of the courts, Indianna Spink followed up with another straight-set victory for the Hogs 6-1, 6-1. Junior Morgan Cross posted a 6-1, 6-0 win while freshman Yuhan Liu finished the match out with a 6-1, 6-1 victory.
The Razorbacks continued a commanding doubles performance into the second match, claiming the point with wins on courts one and two. Liu and Harvey struck first in the No. 2 position with a 6-1 win, followed by a 6-2 victory by Cross and Spink to clinch the doubles point.
In singles play, Stara took the first point again with a 6-1, 6-1 win over her Redwolves opponent followed by Keller on court two earning a 6-3, 6-2 victory to put the Hogs within one. Indianna Spink secured the Razorback victory and the sweep with a 7-6, 6-3 win on court three.
The Razorbacks continue their road stretch as they travel to Palo Alto, Calif. to face Florida State in the ITA Kickoff Weekend on Friday, January 27.
For the latest information on all things Arkansas Women's Tennis, follow the Hogs on social media by liking us on Facebook (Arkansas Razorback Women's Tennis) and following us on Twitter and Instagram (@RazorbackWTEN).