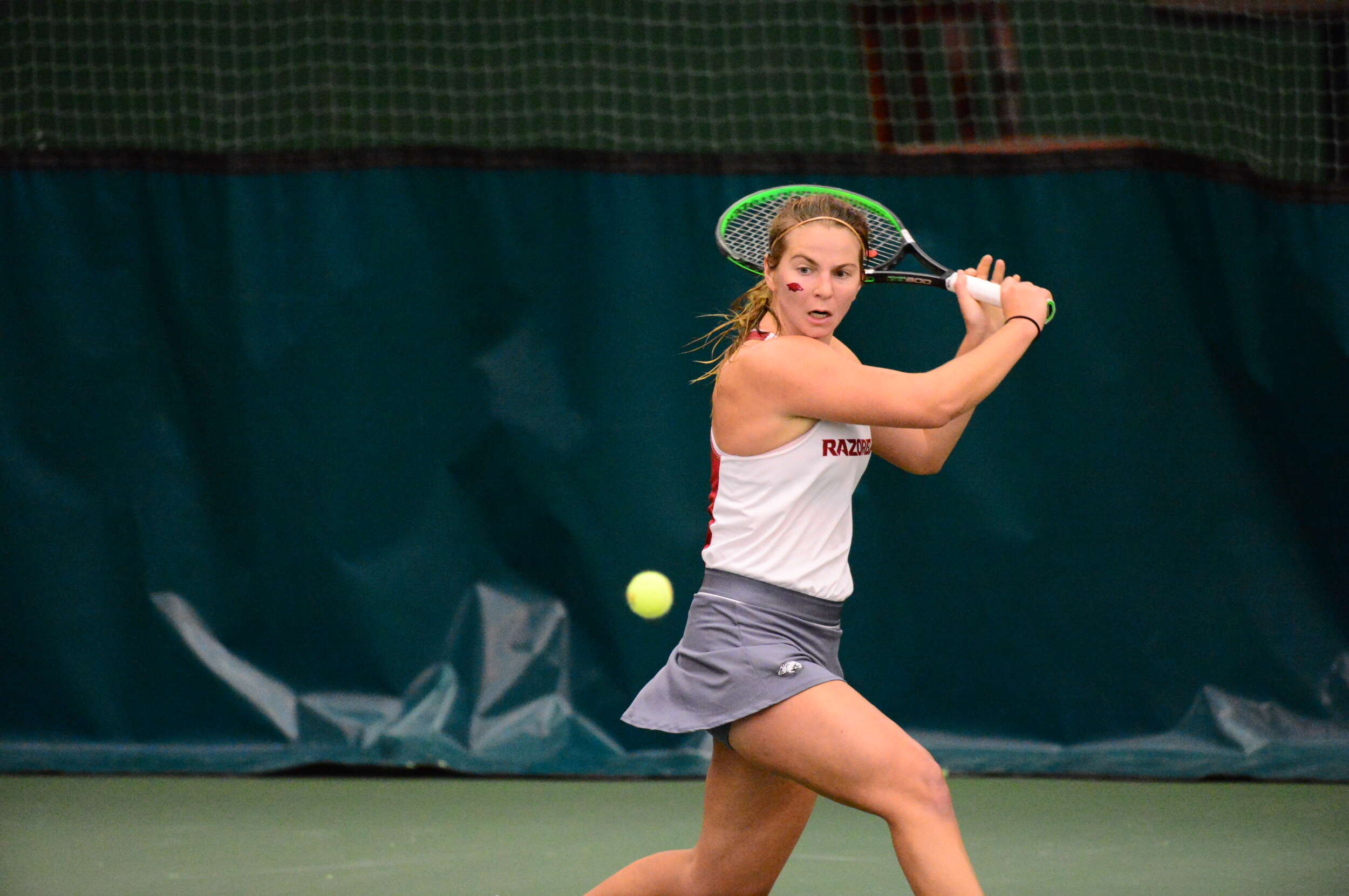 Razorbacks Sweep Kansas and Oral Roberts
FAYETTEVILLE, Ark. – Arkansas Women's Tennis (3-0) blew past the Kansas Jayhawks (0-1) on Friday afternoon by a score of 7-0 at the Dills Indoor Tennis Center. The Razorbacks won both doubles matches and all six in singles play to defeat a KU team receiving votes in the latest ITA rankings released on January 27th. The Razorbacks followed their dominating performance against Kansas with an identical sweep over the Golden Eagles of Oral Roberts.
The Razorbacks started off the day with an early 1-0 lead over Kansas after picking up doubles wins on courts one and two. Tatum Rice's return split her two Jayhawk opponents to secure a 7-5 win with Kelly Keller at No. 2 double while the duo of Indianna Spink and Morgan Cross cruised in the tiebreaker (7-2) to upset No. 49 Ngounoue/ Manu on court one.
Arkansas continued their impressive start in singles, taking five of the six first sets 6-2. The Razorbacks would get their first two singles victories on adjacent courts from Lauren Alter and Rice. Alter cruised against Vasiliki Karvouni on court five, winning 6-2, 6-1, and was quickly followed by Rice with a 6-2, 6-2 victory over Manu. Spink clinched the victory for the Hogs, dropping Malkia Ngounoue in straight sets for her first win at No. 1 singles this season.
The Razorbacks added two more singles victories with two tiebreak wins from Cross and Jackie Carr. At No. 2 singles, Keller battled with No. 81 Sonia Smagina, going to a tiebreaker in both sets. Keller eventually prevailed with a 7-6 (7-3), 7-6 (9-7) win to cap off the sweep for the Hogs.
In the nightcap, the Razorbacks changed up their doubles lineup but the result remained the same. Jackie Carr and Laura Rijkers easily dispatched their Golden Eagles opponents by a score of 6-0 at the No. 1 spot. The Arkansas tandem of Kelly Keller and Claire Slaughter closed out the only other doubles match with a 6-3 victory against Zere Iskakova and Rai Sengupta.
Rijkers posted the first singles wins for the Razorbacks, dropping just one game in a 6-1, 6-0 win at No. 3. Morgan Cross won four of the final five games in her second set to pick up the next Arkansas win while Tatum Rice used a strong serving effort to go 6-1, 6-1 in a win on court one. Presley Southerland and Slaughter closed out the night with a pair of victories to give the Hogs their second sweep of the day.
Visit ArkansasRazorbacks.com for the latest information on all things Arkansas Gymnastics. You can also find the Hogs on social media by liking us on Facebook (Arkansas Razorback Gymnastics) and following us on Twitter and Instagram (@RazorbackGym).