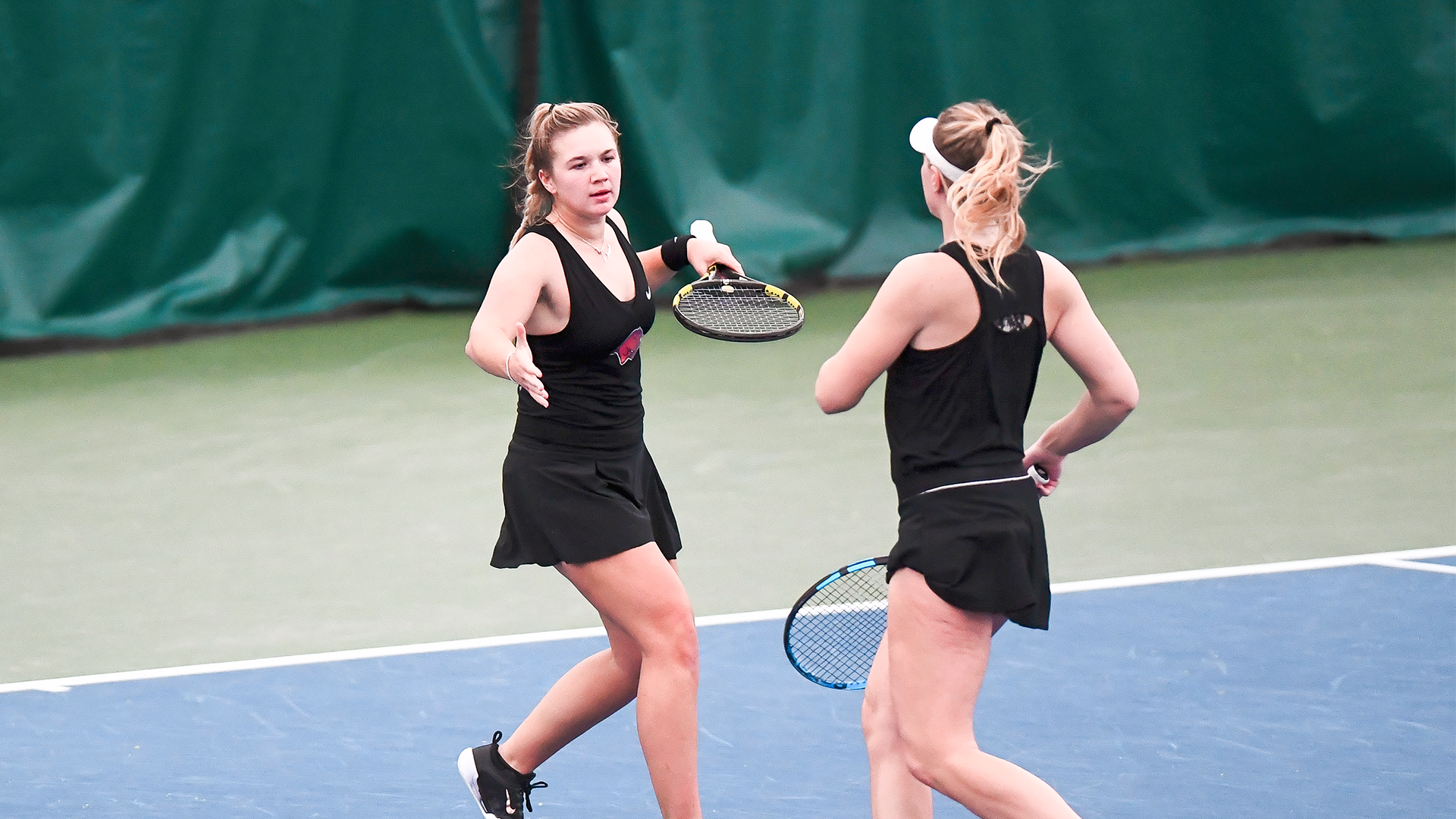 Razorbacks Take Doubles Point in Loss to No. 6 Georgia, 4-1
ATHENS, Ga. – The No. 49 Arkansas women's tennis team dropped its conference opener, falling 4-1 to No. 6 Georgia. The Razorbacks move to 6-4 overall this dual season and 0-1 in league play.
The Razorbacks came out swinging, taking the doubles point over the Bulldogs with wins on courts one and three. The No. 46 duo of Morgan Cross and Indianna Spink earned their second-ranked win of the spring, defeating Georgia's No. 28 Grant/Nirundorn 6-2. The pair is now 8-1 overall and 2-0 against nationally ranked-opponents. The Bulldogs were able to even up the score with a win on court two, but the Razorbacks came through in a tiebreak on court three. Senior Kelly Keller and freshman Carolina Gomez Alonso clinched the doubles point, defeating Lopata/Vidmanova 7-5.
The Bulldogs were quickly able to gain steam, winning three straight singles matches but the Hogs weren't going down without a fight. Georgia took courts two, five and three to gain the lead with court one in a tiebreak and courts four and six going into a third set. On court one, Kelly Keller dropped a heartbreaking 7-6 (4), 7-6 (5) match to No. 6 Lea Ma to give Georgia the win.
On court four, Morgan Cross was leading No. 78 Anastasiia Lopata 5-7, 6-4, 3-2, and on court six, Kacie Harvey had forced a tiebreaker against Grant when the match was clinched.
The Razorbacks continue SEC play tomorrow, facing No. 20 Tennessee at noon CT.
For the latest information on all things Arkansas Women's Tennis, follow the Hogs on social media by liking us on Facebook (Arkansas Razorback Women's Tennis) and following us on Twitter and Instagram (@RazorbackWTEN).