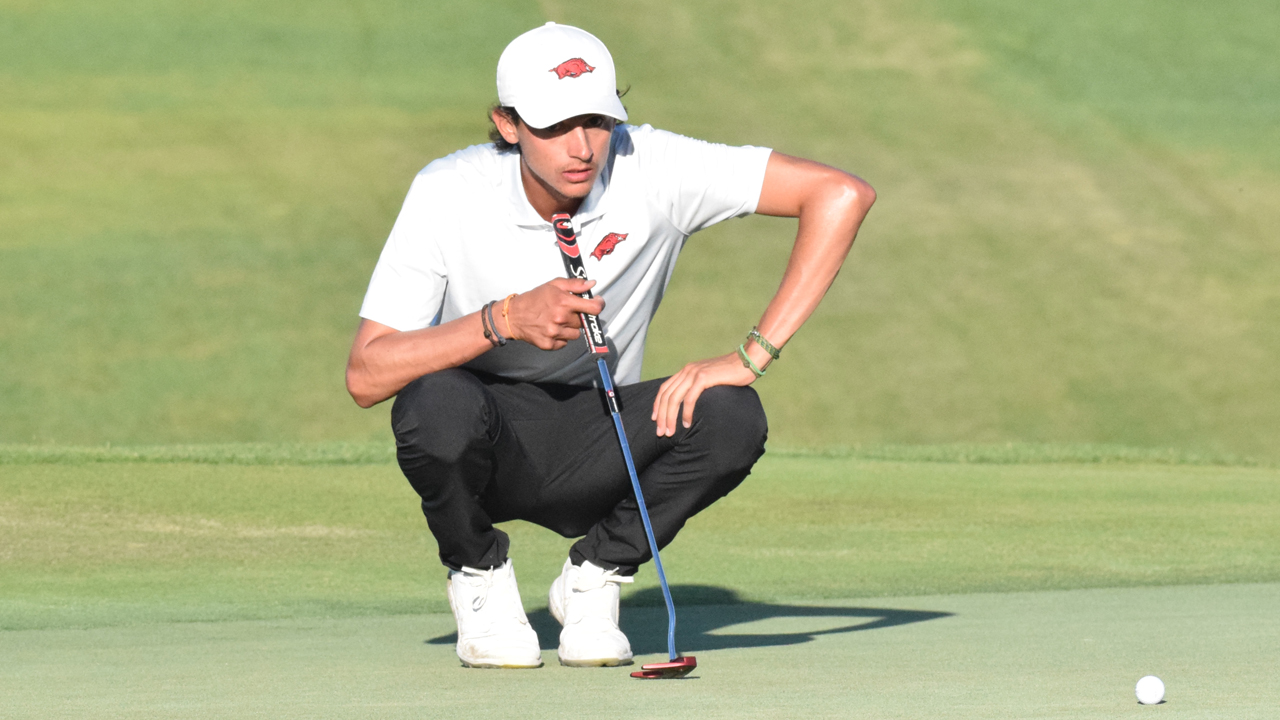 Razorbacks to Play for SEC Championship
ST. SIMONS ISLAND, Ga. – Arkansas needed two extra holes to defeat #4 Vanderbilt, 3-2-0, in the quarterfinal round of match play at the 2019 SEC Championships Saturday morning at Sea Island Golf Club (Seaside Course). The 37th-ranked Razorbacks would also need an extra hole to defeat #27 Texas A&M, 3-2-0, in the semifinals Saturday afternoon.
Arkansas will face stroke play champion and 13th-ranked Auburn in the championship match Sunday. The first tee time is set for 6:30 am (CT) and will be covered live on the SEC Network. Auburn defeated South Carolina, 4-1-0, in the quarters and beat Kentucky, 3-2-0, in the semis to advance to the championship.
Luis Garza and Julian Perico had wins in both matches. Garza defeated third-ranked Will Gordon of Vanderbilt 5&4 in the semifinals and clinched the semifinal win over Texas A&M's Brandon Smith on the 19th hole. Perico clinched the morning win, also doing so on the 19th hole for the 3-2 win over Vandy, then won 3&2 for Arkansas' second point in the semifinals.
"To win in extra holes in both matches is pretty overwhelming," said head coach Brad McMakin. "It is great for our program and something these guys will remember for the rest of their lives. Auburn is playing well, and that last round of stroke play may have been one of the best rounds I've seen. But the good thing about match play is you only have to win three.
"I can't say enough about Luis Garza's performances," McMakin said. "He beat one of the top players in the country in Wil Gordon this morning, making seven 3's in a row at one point and he came back and played well again in the afternoon."
QUARTERFINAL RECAP: Arkansas def. Vanderbilt 3-2-0
In the quarterfinals, Arkansas and Vanderbilt battled to the end with two matches needing extra holes to settle a winner.
The first two matches were settled early.
Luis Garza got Arkansas on the board first, defeating the 3rd-ranked player in the nation, Will Gordon, 5&4. The duo was all square through seven holes before Garza won five of the next seven holes to go up five. Both players posted pars on the 14th hole to give Garza the win as he was up five with only four holes left to play.
Moments later, Vandy knotted the match at 1-1 as 17th-ranked Patrick Martin defeated Mason Overstreet 3&2 in what was the first match off for the teams.
The final three matches were back-and-forth affairs that were still in doubt after 17 holes. First, William Buhl and John Augenstein, ranked 25th nationally, were all square through 14 holes. Augenstein went back on top after winning the par-4, 15th hole. The pair each had pars on holes 16 and 17 before Augenstein won the 18th for a 2-Up victory and 2-1 Commodore lead.
The deciding matches both needed and extra hole. First, Reeder was down two through 13 holes over Harrison Ott. Reeder won the 14th hole to go down one before each player carded pars on holes 15, 16 and 17. Reeder then had a par on the par-4, 18th to win the hole to extend the match. Reeder duplicated the effort on the first playoff hole to tie the match at 2-2.
Perico was in control most of the match versus Reid Davenport in the fifth and deciding match. Perico won the 13th and 16th holes to go up two with two holes to play. Davenport rallied to birdie the 17th and par the 18th to win both holes and square the match through 18 holes. However, Perico lagged his birdie putt close and would close out the match with a short par putt to win his match and give the Razorbacks the 3-2 team win.
QUARTERFINAL RESULTS
Arkansas def. Vanderbilt 3-2-0
Match 1: #17 Patrick Martin (VU) def. Mason Overstreet (Arkansas): 3&2
Match 2: Luis Garza (Arkansas) def. #3 Will Gordan (VU): 5&4
Match 3: Tyson Reeder (Arkansas) def.  Harrison Ott (VU): 19 Holes
Match 4: #25 John Augenstein (VU) def. William Buhl (Arkansas): 2-Up
Match 5: Julian Perico (Arkansas) def. Reid Davenport (VU): 19 Holes
SEMIFINAL RECAP: Arkansas def. Texas A&M 3-2-0
In the afternoon semifinal session, Arkansas once again jumped out to a quick start. William Buhl won six of his first nine holes n route to a 6&5 win over Walker Lee. Sam Bennett tied the match at 1-1 with a 2-Up win over Tyson Reeder. The Razorbacks regained the advantage when Julian Perico closed out Brandon Smith with a par on the 16th hole for a 3&2 victory.
Luis Garza was up two late, but Brandon Smith rallied to square the match with one hole to play. Both players posted par on the 18th hole to force a playoff. Going to the hole 10, both players striped long irons off the tee down the fairway. Smith hit first and found the middle of the green Garza followed but was outside Smith. Garza lagged his putt close. Smith would run his birdie putt five feet past and was still away. Smith then missed the par putt and settled for a bogey. Garza rolled in his par putt for the win.
Mason Overstreet, facing #46 Chandler Phillips, battled to the end. Overstreet drilled a 10-foot bogey putt on 17 to stay 1-Down and force an 18th hole while Garza's match was still in question. Overstreet and Phillips both had trouble off the tee on the 18th hole and were on the green while Garza was securing the winning point. Phillips would get the win, 1-Up.
SEMIFINAL RESULTS
Arkansas def. Texas A&M 3-2-0
Match 1: William Buhl (Ark) def. Walker Lee (Texas A&M): 6&5
Match 2: Sam Bennett (Texas A&M) def. Tyson Reeder (Ark):  2-Up
Match 3: Luis Garza (Ark) def. Brandon Smith (Texas A&M): 19 Holes
Match 4: Julian Perico (Ark) def. Dan Erickson (Texas A&M): 3&2
Match 5:  #43 Chandler Phillips (Texas A&M) def.  Mason Overstreet (Ark): 1-Up
NCAA Golf Championships
The University of Arkansas and Blessings Golf Club are the proud hosts of the 2019 NCAA Women's and Men's National Championships. The women's event begins May 17 and is immediately followed by the men's championship beginning May 24. For more information or to volunteer for the event, log on to www.NCAAGolf19.com.
For more information on Arkansas Men's Golf, follow @RazorbackMGolf on Twitter.