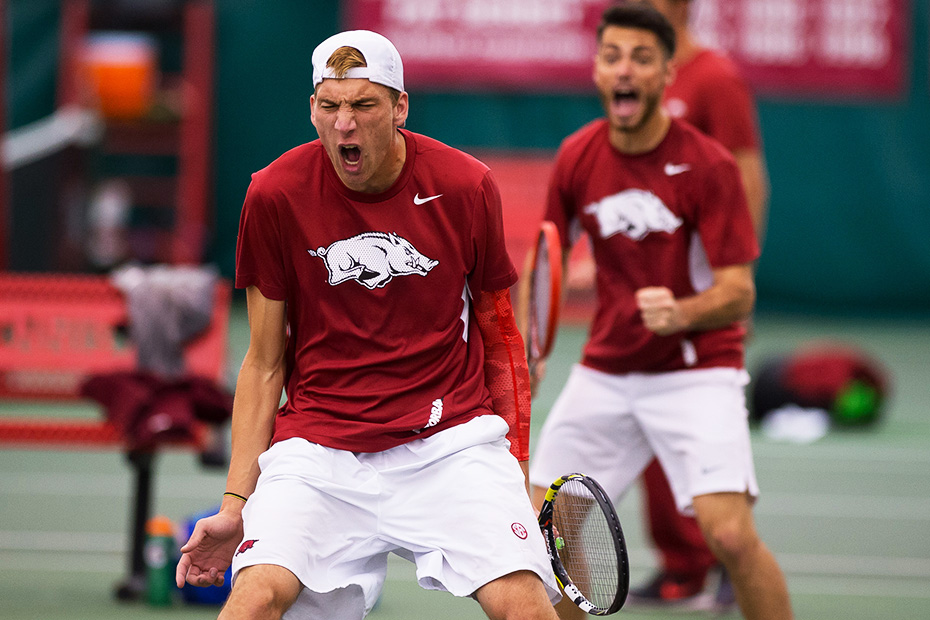 Razorbacks Victorious Over No. 7 Aggies
FAYETTEVILLE, Ark. — Look out SEC, here come the Razorbacks.
For the second time this season, the Arkansas men's tennis team upended a top 10 opponent. On this occasion it was over No. 7 Texas A&M at Billingsley Tennis Center on Friday evening by a score of 5-2. With the win, Andy Jackson's crew improved to 12-3 on the year and 2-1 in conference play.
"The important part of the whole win was that we were still willing to compete when we lost the doubles point," Jackson explained. "We played a little bit better than we did against Kentucky when the match got close to winning time. I'm very proud of the team and I'm looking to another SEC match on Sunday."
QUICK HITS
• The doubles pair of Santiago Munoz and Johan den Toom came back from a 5-3 deficit against Jordi Acordia and AJ Catanzariti to win 7-5 at the No. 3 spot. The duo improved to 7-2 on the season.
• The Razorbacks won the team match after losing the doubles point for the first time this season. They were previously 0-2 in such instances.
• Arkansas won five points from singles matches for the third time this season.
• The Razorbacks won two three-set singles matches for the third time this season. They are 3-0 in such instances.
• No. 43 Mike Redlicki defeated No. 14 Arthur Rinderknech for his sixth-consecutive singles win. It was Redlicki's most highly-ranked victory of the season as he improved to 5-1 against ranked opponents and 3-0 in SEC play.
• Jose Salazar defeated No. 34 Shane Vinsant at the second singles spot, his first victory over a ranked opponent this season. Salazar won for the seventh time in his last eight singles matches.
• Santiago Munoz defeated No. 67 Jordi Arconada at the third singles spot, also his first victory over a ranked opponent this year. Munoz won in straight sets for the second-consecutive match.
• Giammarco Micolani defeated Harrison Adams at the fourth singles spot, after being moved up from No. 5 right before the action began. He also won his singles match vs. No. 10 Oklahoma on Feb. 28, and improved to 2-0 in matches against top 10 teams.
• Adam Sanjurjo defeated AJ Catanzariti at the fifth singles spot in three sets, improving to 2-0 on the season in matches that go the distance. It was the freshman's first-career SEC victory.
UP NEXT
Coming off the big win, Arkansas returns to the Billingsley Tennis Center courts on Sunday, March 13 at 1 p.m. against LSU. The Tigers fell at No. 22 Ole Miss on Friday by a score of 4-1 to drop to 8-5 on the season, including 1-2 in SEC play.
TODAY'S RESULTS
DOUBLES
1. #25 Arthur Rinderknech/Jackson Withrow (TAMU) def. #31 Giammarco Micolani/Mike Redlicki (AR) 6-4
2. Harrison Adams/Shane Vinsant (TAMU) def. Jose Salazar/Adam Sanjurjo (AR) 6-4
3. Santiago Munoz/Johan den Toom (AR) def. Jordi Arconada/AJ Catanzariti (TAMU) 7-5
SINGLES
1. #43 Mike Redlicki (AR) def. #14 Arthur Rinderknech (TAMU) 6-3, 3-6, 6-3
2. Jose Salazar (AR) def. #34 Shane Vinsant (TAMU) 7-6 (5), 7-5
3. Santiago Munoz (AR) def. #67 Jordi Arconada (TAMU) 6-4, 6-3
4. Giammarco Micolani (AR) def. Harrison Adams (TAMU) 7-5, 5-7, 7-5
5. Adam Sanjurjo (AR) def. AJ Catanzariti (TAMU) 6-4, 5-7, 6-4
6. Jackson Withrow (TAMU) def. Johan den Toom (AR) 7-6 (5), 6-4
ORDER OF FINISH
Doubles (2,3,1); Singles (3,6,5,1,2,4)