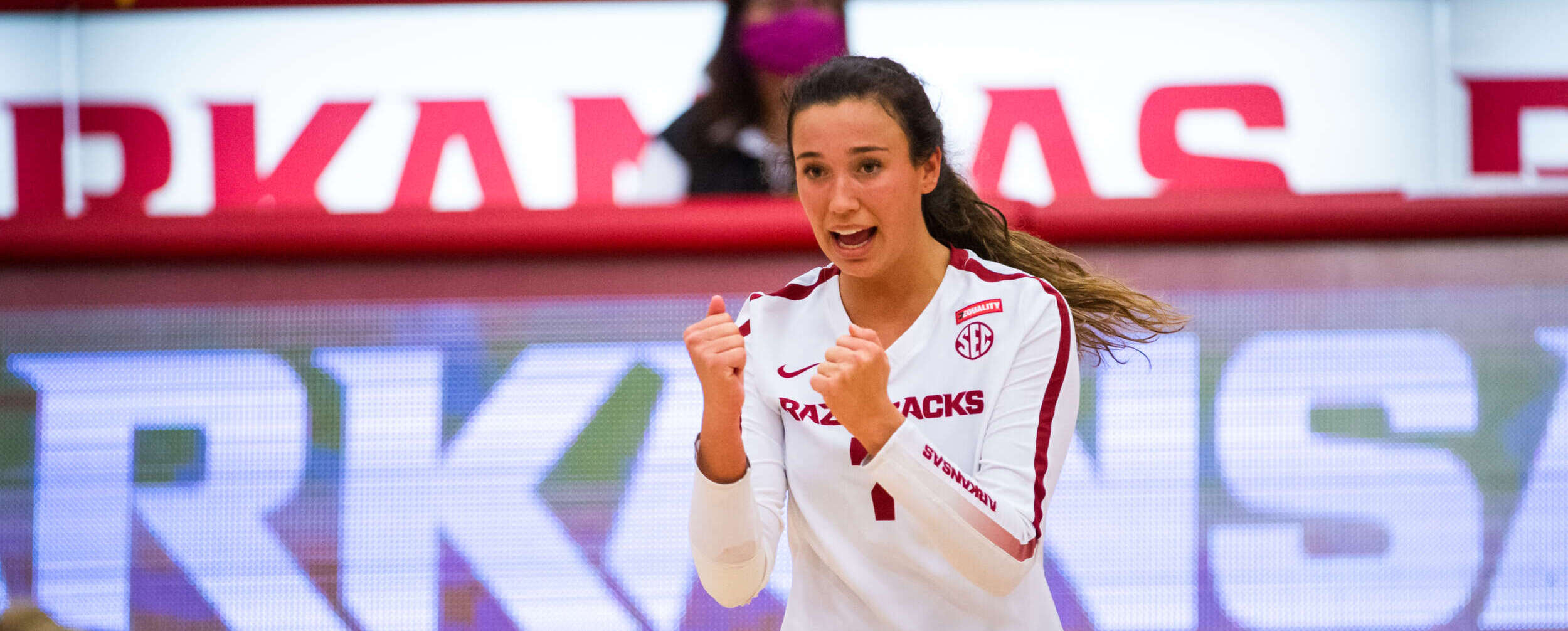 Razorbacks Win On Senior Night
FAYETTEVILLE, Ark. – The University of Arkansas volleyball team honored its seniors with a 3-0 Southeastern Conference win over South Carolina in Barnhill Arena Friday night.
The match was the final regular season contest for Arkansas who moved to 14-8 overall and 9-3 in Barnhill Arena with the 25-22, 25-20, 25-22 victory. The Gamecocks fell to 12-10 on the year.
Hog Highlights
Jillian Gillen | Team-best 14 kills, 5 digs
Maggie Cartwright | 11 kills, .500 (11-2-18)
Elizabeth Pamphile | 5 blocks, 5 kills
Thank You Seniors
Arkansas celebrated the accomplishments of its seniors on Women's Empowerment Weekend. Playing in their final matches in Barnhill Arena were Savannah Downing, Elizabeth Pamphile, Klaire Trainor, Maia Stripp, Devyn Wheeler and Allyson Dernehl.
How It Happened
It might not show up in the stat sheet but the serving of Taylor Head provided the spark Arkansas needed to make big runs in each set. The final set was a nail-biter with Carolina leading for much of the contest. Tied at 16-all, the Gamecocks scored three quick points prompting an Arkansas timeout.
The Gamecocks committed a service error and the rotation change moved Head back to the service line. She paced a 6-0 run that gave Arkansas the lead and eventually the win.
Arkansas finished the match hitting .327 with 43 kills, 41 digs and nine blocks.
Up Next
This weekend's matches wrap up the regular season. Arkansas awaits word of a possible postseason bid in the coming weeks.
Visit ArkansasRazorbacks.com for the latest information on all things Arkansas Volleyball. You can also find the Hogs on social media by liking us on Facebook (Arkansas Razorback Volleyball) and following us on Twitter and Instagram (@RazorbackVB).