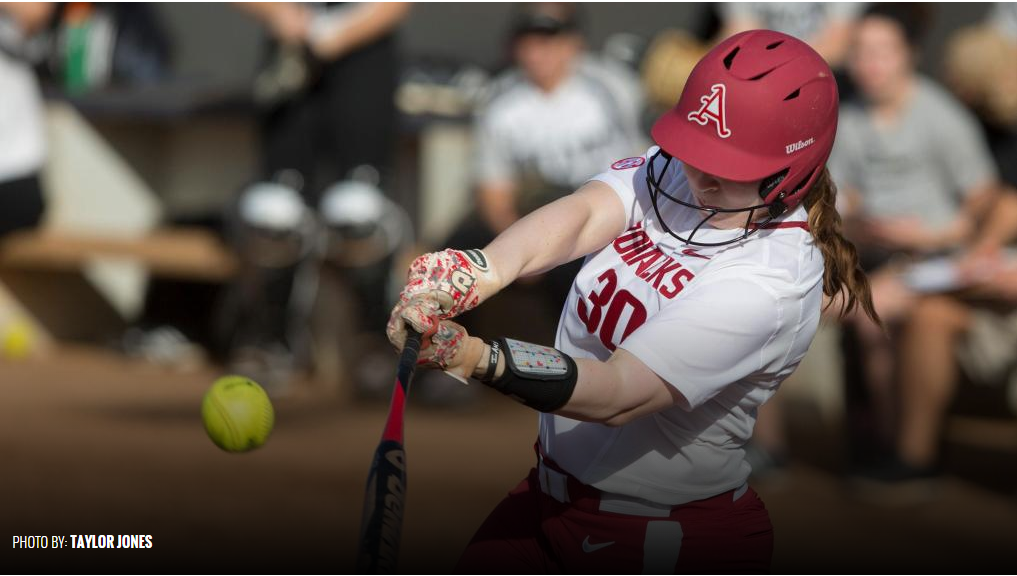 @RazorbackSB Finishes 5-0 at Lion Classic
HAMMOND, La. – The University of Arkansas softball team finished the weekend a perfect 5-0 at the Lion Classic Scramble in Hammond, La., following a 5-2 win over Southeast Missouri State Sunday morning. The Razorbacks improve to 12-7 overall and will take a nine-game winning streak into Southeastern Conference play next weekend. Arkansas travels to Baton Rouge, La., to play No. 7 LSU March 6-8.
Arkansas 5, Southeast Missouri State 2 (North Oak Park, Hammond, La.)
Southeast Missouri got on the board first, scoring two in the bottom half of the second. A one out single followed by a triple to right plated one, while an RBI groundout scored the second run. Arkansas had runners on in the first, third and fourth innings but was unable to cash in, until the fifth inning. Leading off the fifth, Haley Meinen, who entered to pitch in the fourth in relief of Sydney Wright, whacked a 1-2 pitch over the left field wall to trim SEMO's lead to 2-1. Autumn Russell and Devon Wallace followed in the order with back-to-back base hits, and then a throwing error advanced them both, leaving Arkansas with runners on second and third. Kasey Fagan tied the game with her RBI groundout to third and then Stephanie Canfield delivered the tiebreaking hit, rapping a single to center and making the game 3-2 in favor of the Razorbacks. Arkansas tacked on two more runs on a two-out rally in the sixth. Meinen and Russell both connected on singles and then Wallace and Fagan delivered consecutive RBI singles to help extend Arkansas' lead to 5-2. After scattering SEMO to five hits and two runs in the first three innings, Meinen was brought in to pitch starting in the fourth. Meinen cruised through the game's final four innings, giving up zero hits and allowing just one baserunner – a hit by pitch – in those innings to snag her first win of the season.
Recap of the Lion's Classic Scramble
Arkansas finished the tournament 5-0 with wins over UT-Martin, Southeastern Louisiana, Southeast Missouri State, and Saint Louis twice. Five different Razorbacks connected for home runs this weekend: Haley Meinen, Devon Wallace, Rachel Box, Kasey Fagan and Shelby Hiers (twice). In 15 tournament at-bats, Wallace had a batting average of .733, including a home run, two doubles, nine RBIs, and seven walks. Sydney Wright tallied two wins and a save, posting a 1.75 ERA while appearing in all five games.