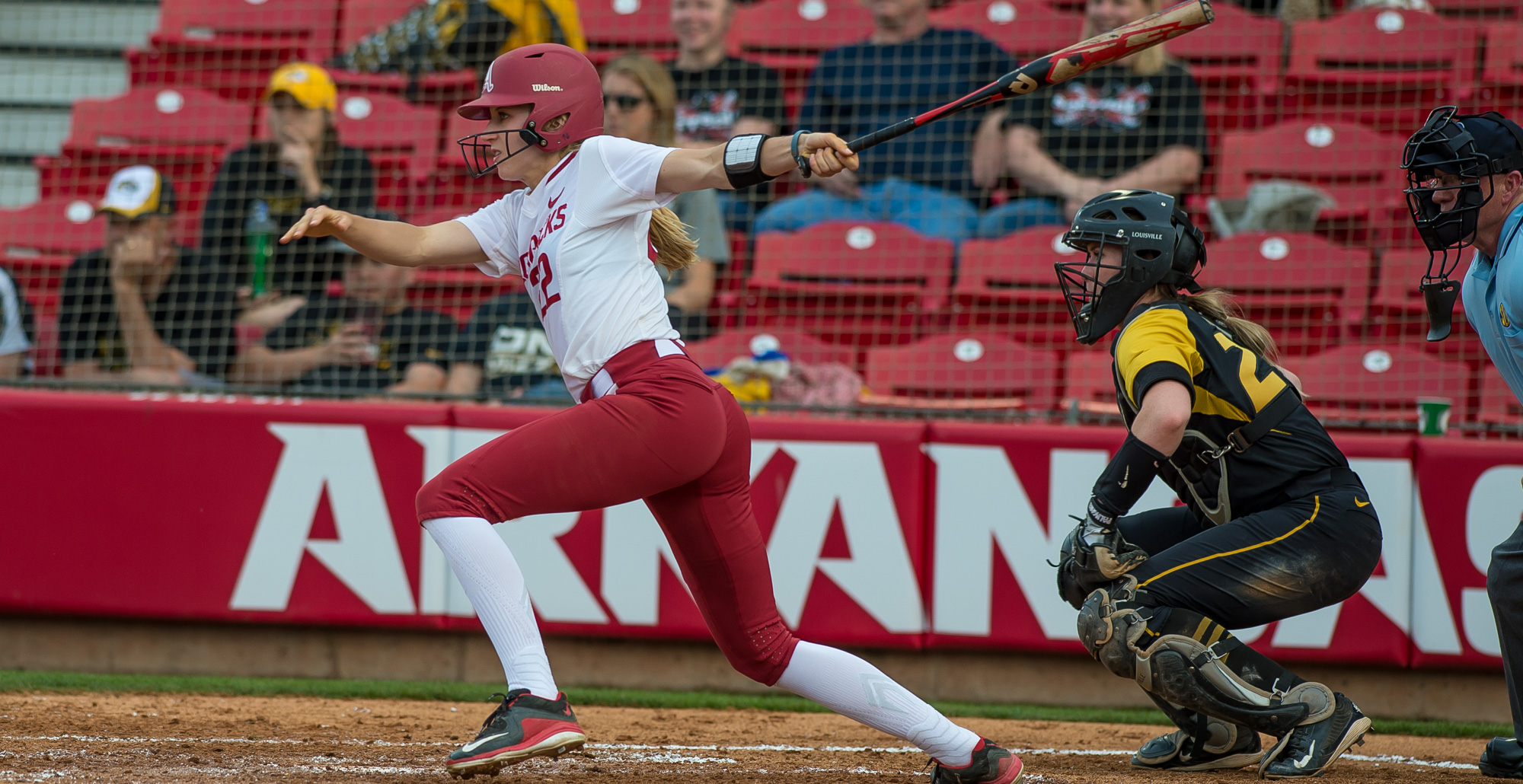 @RazorbackSB Heads to No. 8 Auburn
FAYETTEVILLE, Ark. – The University of Arkansas softball team hits the road for its final SEC away series, traveling to No. 8 Auburn April 24-26. All three games against the Tigers will be available on SEC Network+.
The Razorbacks wrap up their regular season with five home games at Bogle Park beginning with a doubleheader against Southeast Missouri State on April 29th, followed by a three-game set against Alabama May 1-3.
Arkansas (15-30, 1-17 SEC) at No. 8 Auburn (41-8, 13-5 SEC) | Moore Field
Friday, April 24 | 6 p.m.
SEC Network+
Saturday, April 25 | 6 p.m.
SEC Network+
Sunday, April 26 | 1 p.m.
SEC Network+
Rounding the Bases
• Senior Devon Wallace paced Arkansas in its series against Missouri (April 17-19), batting .375 and connecting for her team-leading sixth home run of the season and 46th career.
• Junior Claire Clark and freshman Jessie Mullen both hit .333 in the series against Missouri.
• The Razorbacks played their sixth extra innings game this season against South Carolina (April 11), improving their record to 3-3 in games lasting longer than seven innings.
• Arkansas has hit two or more home runs in a game six times this season, posting a 3-3 mark when doing so.
• Devon Wallace, adding to her record-breaking Arkansas resume, became the first Razorback ever to be selected in the National Pro Fastpitch College Draft. Wallace was taken in the fourth round, No. 20 overall, by the Pennsylvania Rebellion in the 2015 Draft Wednesday, April 1, at the CMA Theater in Nashville, Tenn.
Freshmen Step Up
Already with 20 of the 28 players on the roster as underclassmen, a pair of freshmen are stepping up for the Razorbacks in conference action. Consider that just in SEC games, Madison Yannetti's slash line of .345/.483/.457 is tops on the team. Against Mississippi State (April 4-6), Yannetti batted a team-high .571 to go along with four hits.  In the team's last 16 overall, the Mesquite, Texas, native is batting .312 with a pair of extra base hits, including connecting for her first career home run against Georgia (3/21). Jessie Mullen has upped her average in league games to .308 on the basis of hitting an even .400 in her last six SEC appearances. Mullen batted .333 in the series against Missouri (April 17-19), second-highest on the team.
On the Comeback Trail
More than a third of Arkansas' victories this season have come after Arkansas trailed in the game. In six of their 15 wins, the Razorbacks rallied from a deficit, including erasing a three-run margin twice (Feb. 28 at Southeastern Louisiana, April 11 at South Carolina).
Magic Numbers
The Razorbacks own an 11-3 (.786) mark when scoring at least six runs. On the defensive side, Arkansas is 13-6 (.684) when limiting opponents to five runs or less.
Late Game At-Bats
Against Mississippi State (April 6), Rachel Box and Jessie Mullen both connected for pinch-hit home runs, the first pinch-hit homers of the season for Arkansas. Box has become accustomed to stepping to the plate in late innings, second on the team with 14 pinch-hit plate appearances. She is batting .417 in those situations, including two extra base hits. Sierra Bronkey leads the team with 17 pinch hit appearances.
Able to Respond
One of Coach Larabee's preaching points to his team is being able to respond with runs after the opposing team scores. Arkansas has shown capable of doing just that, responding with at least one run in their next at-bat .291 percent of the time following the adversary scoring.
Wallace Rewrites Record Book
Senior Devon Wallace has left her imprint all over the Arkansas softball record book. In the series against Texas (3/14-16), she set new program records for career home runs (46) and runs scored (179). The Double Oak, Texas, native additionally is the career leader in walks (228) and intentional walks (12). Wallace is currently on pace to be the career leader in a number of other categories as she currently ranks first for: highest batting average (.358), highest slugging percentage (.678), and highest on-base percentage (.559).  Her 195 career hits is sixth, trailing leader Jessica Bachkora (2007-10) who has 227.
Canfield Swings Away
Junior Stephanie Canfield, a fixture near the top of the lineup, has proven to be a triple-threat from the left side of the dish. With 10 career triples, the St. Joseph, Ill., native is tied for second all-time in school history, trailing leader Dayna Huckabee who has 12. Canfield has four triples this year alone, ranking seventh in the SEC. She has 10 multi-hit games to go along with a team-high five multi-RBI games. While Wallace holds many school records, Canfield is also posting near record lines. Consider the numbers and rankings for Canfield's career statistics: second in batting average (.352), fourth in on-base percentage (.400), and is fifth in slugging percentage (.478).