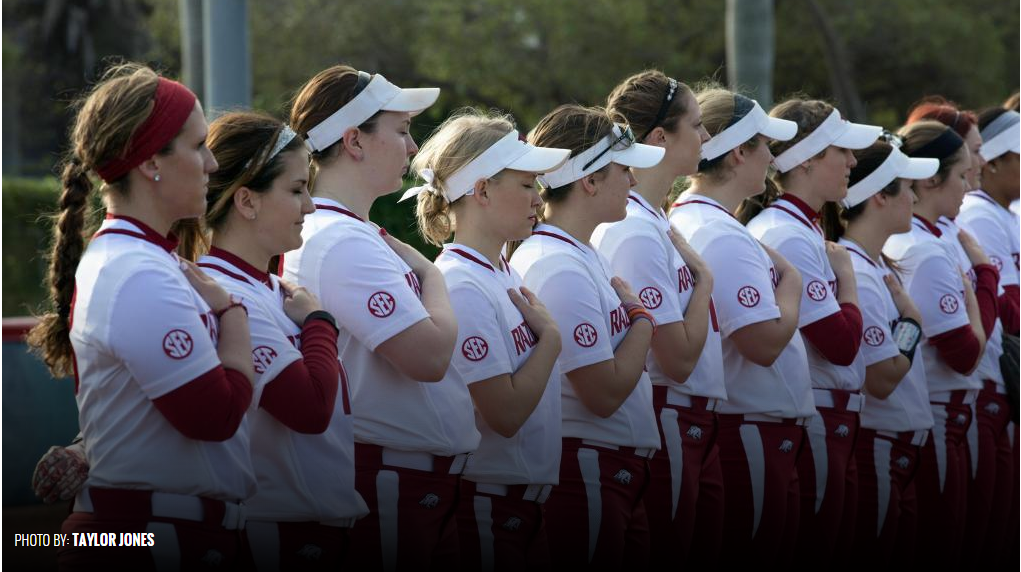 @RazorbackSB Ready For Home Opener, Trip to Missouri State
FAYETTEVILLE, Ark. – Following a season-opening stretch that saw the Razorbacks play 22 consecutive games away from Fayetteville, the University of Arkansas softball team returns to the friendly confines of Bogle Park when it welcomes in Tulsa for a mid-week matchup Tuesday at 5 p.m. The Razorbacks will hit the road for a quick trip north to Springfield, Mo., to play Missouri State Thursday evening before coming home for its first home series of the season against Texas March 14-16.
Mid-Week Matchups
Tuesday, March 10 | Arkansas (12-10, 0-3 SEC) vs. Tulsa (11-7, 0-0 AAC) | 5 p.m. | Bogle Park
Thursday, March 12 | Arkansas (12-10, 0-3 SEC) at Missouri State (9-10, 0-0 MVC) | 5 p.m. | Killian Stadium (Springfield, Mo.)
Rounding the Bases
Arkansas is coming off its Southeastern Conference opening series March 6-8 in Baton Rouge, La., where it was swept by No. 5 LSU. The Razorbacks will be looking to regain their offensive firepower during this week's midweek games, as Arkansas managed just 10 hits and one run against LSU's pitching staff. Seniors Sierra Bronkey and Devon Wallace and sophomore Jessica Harrison each collected two hits apiece last weekend.
Home Away from Home
The Razorbacks have gotten acquainted with road travel in the first month of the season. Poor weather conditions cancelled home tournaments scheduled for Feb. 20-22 and Feb. 27-March 1. In fact, Arkansas played at the Dot Richardson Invite Feb. 13-15 in Clermont, Fla., and with winter weather back home, the team stayed in Florida for the week and competed at the Diamond 9 Citrus Classic in Orlando Feb. 20-21. In total, the Razorbacks were gone for 11 days. Overall, since Feb. 5, Arkansas has been on the road for 23 of the last 32 days.
Wallace in the Record Books
Senior Devon Wallace has left her imprint all over the Arkansas softball record. Among the categories she currently leads in includes: highest batting average (.365), highest slugging percentage (.690), highest on-base percentage (.571), most walks (214), and most intentional walks (10). Wallace is on pace to become the school's all-time leader in a number of other categories as well. She currently is second for runs scored (162), trailing Bachkora who has 166. Wallace is 10th all-time for hits (175), trailing leader Bachkora who has 227. She has 41 career home runs, and needs just three more to pass Dixon who has 43.
Kasey at the Bat
Kasey Fagan has not wasted any time in getting her senior season off to a good start. Starting in all 22 games at shortstop, Fagan is second on the team in batting and 28th in the conference with a .378 average. Of her 27 hits, seven have gone for doubles which ranks tied for fifth in the SEC. Fagan also posts seven multi-hit games this season and had a season-long 10-game hitting streak snapped against LSU March 6.
Canfield Can
Junior Stephanie Canfield, a fixture near the top of the lineup thus far, has proven to be a triple-threat from the left side of the dish. With nine career triples, the St. Joseph, Ill., native is third all-time in school history, trailing leader Dayna Huckabee who has 12. She has six multi-hit games this season and is third on the team in batting with a .342 average. Having reached base in 18 of 22 games, she is 9-10 (.900) on stolen base attempts.
Scouting Tulsa
The Golden Hurricane own an 11-7 overall record and are 3-2 in their last five. Julie Kernen leads the team in batting, posting a .462 average to go along with five home runs, 30 RBIs, and a .923 slugging percentage. In the circle, Emily Watson posts the team's lowest earned-run average at 1.93 and is 3-1 in seven appearances.
Scouting Missouri State
The Bears enter Thursday's matchup with a 9-10 overall record and are 2-3 in their last five. Missouri State will also play Central Arkansas on Tuesday and a doubleheader against UMKC Wednesday prior to facing the Razorbacks. Rebecca McPherson leads the team in batting with a .373 average and an OBP of .467. Chelsea Jones has started eight games, owning a 4-3 record and a 2.30 ERA.