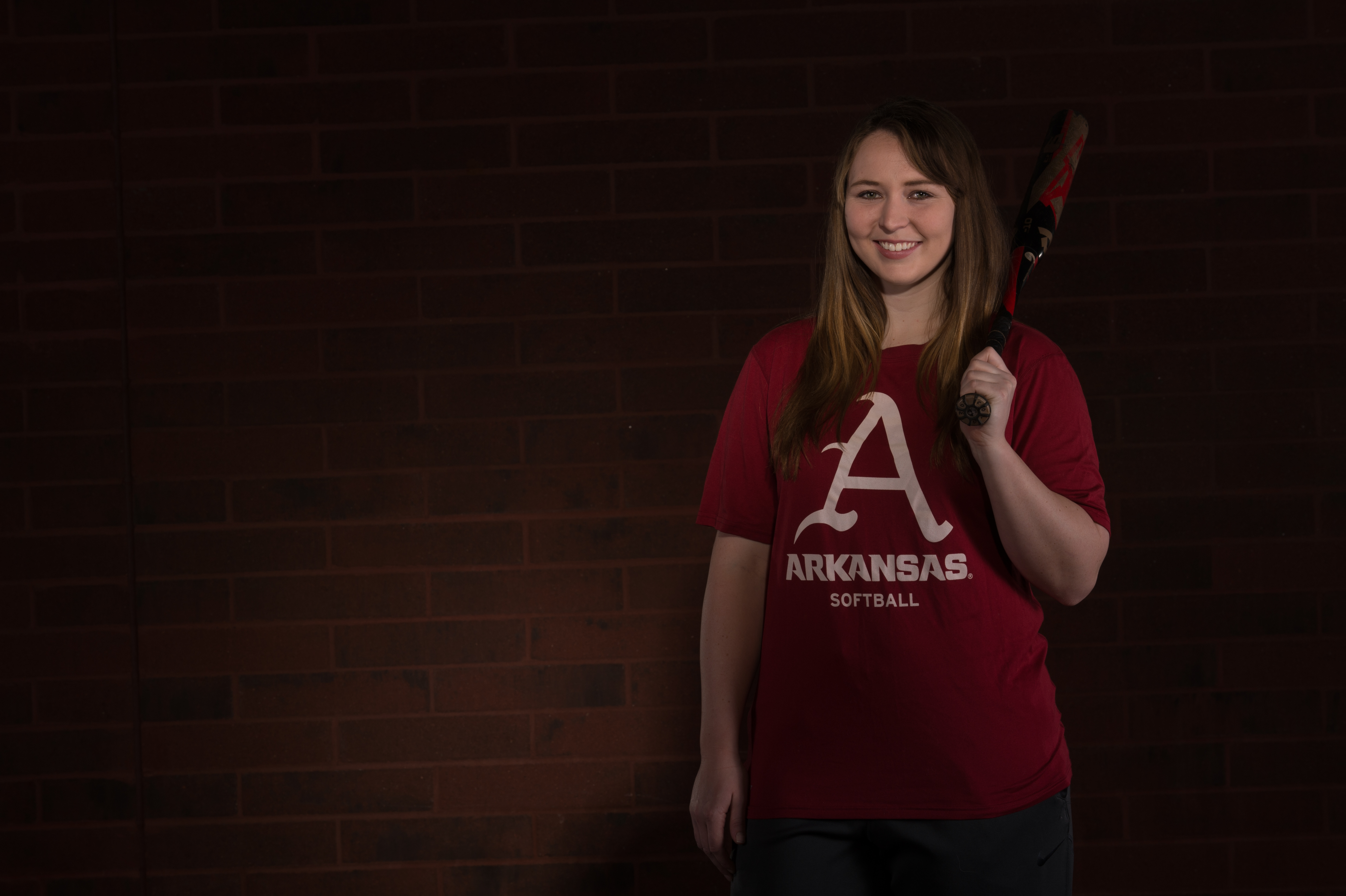 @RazorbackSB Senior Q&A: Devon Wallace
FAYETTEVILLE, Ark. – Senior Devon Wallace has been a four-year starter for the Razorbacks. Coming out of Double Oak, Texas, Wallace is on pace to set eight career school records including batting average (.360), slugging percentage (.678), on-base percentage (.559), home runs (47), runs scored (183), walks (232), intentional walks (12), and total bases (377).
On April 1, Wallace became the first Razorback ever to be drafted into the National Pro Fastpitch league when she was selected No. 20 overall by the Pennsylvania Rebellion in the 2015 NPF College Draft.
Receiving her undergraduate degree in nursing, Wallace passed her board exam in early 2015 and is officially a registered nurse.
With Senior Day approaching this weekend in the series against Alabama (May 1-3), ArkansasRazorbacks.com recently sat down with Wallace to reflect on her Cardinal and White career.
Major: Nursing
Graduation: December 2014
Post-school aspirations: "I'm planning to find a nursing job back in the Dallas area. I eventually hope to work at a children's hospital and I want to go back and get my doctorate to be a nurse practitioner."
Talk about the path you took to get to Arkansas: "Oh gosh. I've been playing softball my entire life, ever since I was five or six years old. Whenever I got to high school, I switched summer ball teams to a new team and my coach was really good about recruiting so he pushed me to contact a bunch of coaches and take visits. After I came down to visit Arkansas, I just knew this was the school for me. I fell in love with the campus, the coaching staff, the stadium, and everything about it."
What does it mean to you to own eight school records at Arkansas? "It means a lot to me. I think it's great to be able to look back and see what I did in my time at Arkansas and just to know that I gave it my all the four years that I was here."
What were your goals coming in to college? "To graduate with a degree, a nursing degree and I've reached that. That's one of my proudest accomplishments of my life so far. And then to be a good teammate, and to help my team compete in the SEC."
How have you improved as a player and as a person at Arkansas? "I definitely have gotten a lot better as a player. I've gotten so much stronger since I came into college. I used to hit two to three home runs a year in high school and now I have the home run record, to me that's just crazy. I've grown so much as a person. I've found who I am and who I want to be and I've made great friends in my time here."
Do you have a favorite moment from your time here? "One of them was getting stuck in an elevator with 16 other people this year. That's a good memory."
Favorite road trip? "Definitely Cal my first year. It was our first time making it to a regional final. It was just a great trip all along, we took down the No. 1 team in the nation and we were one game away from making it to super regionals. It was just a great place to go explore and so much fun to be there."
What are you going to miss most about your time here? "Definitely all my teammates and having 27 built-in friends and family members. Just the memories I've made on and off the field with them."
What's something most people may not know about you? "In high school, I won a state championship in ultimate Frisbee so that's what I'm going to start playing when I'm done with softball (laughs). My softball coach didn't know I played, she wasn't allowed to know because she probably would have been really mad because a lot of people get hurt playing it. I played it my junior and senior year and my junior year we got third at state and my senior year we ended up winning it. Never won state in softball but won it in ultimate Frisbee."
In just a few words, how would you describe your time at Arkansas? "Best time of my life."
What impression do you hope to have left at Arkansas? "Hopefully just that I was a great teammate, a great person to be around. With hard work you can get any degree possible. I know a lot of people kind of pick and choose their degree based on what would be easiest to do while being a student-athlete and I just hope people realize you can really pick any path you want as long as you're willing to work for it."