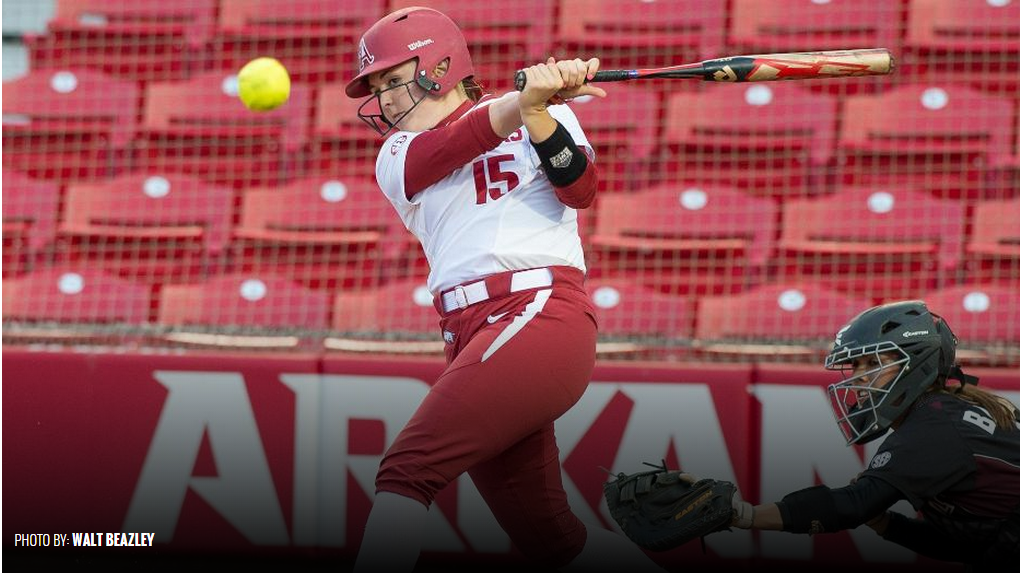 @RazorbackSB Topped by Mississippi State
FAYETTEVILLE, Ark. – The University of Arkansas softball team was defeated Monday night at Bogle Park, falling by a final of 16-4 in six innings to visiting Mississippi State. The Razorbacks (14-24, 0-12 SEC) received a pair of two-run home runs from freshmen Rachel Box and Jessie Mullen, but it was not enough to overcome the Bulldogs' (29-10, 8-7 SEC) 13 runs scored between the fifth and sixth innings.
Arkansas hits the road for its next four games this week. First up is a trip to Norman, Okla., to face the Oklahoma Sooners Wednesday at 5 p.m. with FSN Southwest broadcasting the game. The Razorbacks then travel to South Carolina to play the Gamecocks in league play in a Friday-Sunday series this weekend.
Freshman Madison Yannetti finished Monday's game 1-2 at the plate with two walks as she hit a team-high .571 in the three-game series. Yannetti also leads the team in SEC only games, batting .450 to go along with a .650 slugging percentage.
After MSU grabbed a 3-0 lead in the top of the fourth, Arkansas fought back in the bottom of the inning to make it a 3-2 game. Haley Meinen walked to lead off the inning and with two outs, Rachel Box came to the plate as a pinch hitter. On the seventh pitch of the at-bat, Box blasted a two-run home run to left field for her second career bomb.
MSU broke open the game and took a commanding lead following a six-run fifth inning to take a 9-2 lead. A total of 12 Bulldogs were sent to the plate in the inning, using three hits, four walks and one error to score their runs.
In the sixth, MSU plated seven more runs on six hits and led 16-2. Meinen (1-5) took the loss for Arkansas, pitching 5.0 innings, giving up nine hits, 12 runs, two earned runs, seven walks, and two strikeouts.
Of the 16 runs scored in Monday's game, 12 were unearned.
Jessie Mullen, entering in the sixth inning as a pinch hitter, connected for a two-out two-run home run over the wall in left center for her first career homer.