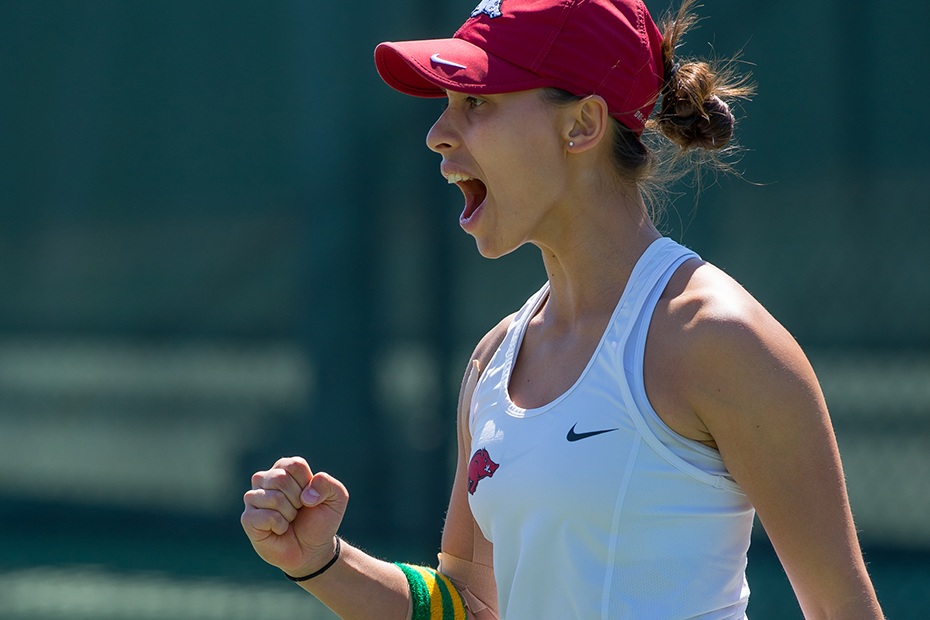 @RazorbackWTEN Defeats No. 44 Auburn, 4-3, In Regular Season Finale
AUBURN, Ala. – The No. 38 Arkansas women's tennis team won a hard-fought 4-3 decision at No. 44 Auburn on Sunday at the Yarbrough Tennis Center.
With the win the Razorbacks end the regular season with a 16-13 overall record and a 4-9 record in conference play, while the Tigers fall to 15-12 on the year and 3-10 in SEC competition.
"So proud of the entire team today," said head coach Michael Hegarty. "This was definitely our best team performance of the past 36 months and it is exciting to see this group come together the way they have."
Arkansas won the doubles point after No. 69 Shannon Hudson and Yuliya Lysa upset the No. 5 ranked duo of Pleun Burgmans and Emily Flickinger 8-5 and Flavia Araujo and Sasha Shkorupeieva.defeated Reka Muller and Jen Pfeifler 8-6.
Auburn rallied back from the early deficit with wins on courts one and six. No. 81 Pleun Burgmans topped No. 68 Yuliya Lysa, 6-3, 6-3, at the No. 1 spot and Jen Pfefiler gave the Tigers the lead (2-1) with a 6-3, 7-5 victory over Mia Jurasic on court six.
Arkansas responded with wins on courts two and four to regain the lead. Shannon Hudson knocked off Andie Dikosavljevic 4-6, 6-3, 6-1 at No. 2, while Sasha Shkorupeieva outlasted Reka Muller 6-3, 2-6, 7-6 (7-4).
The Tigers wouldn't go away and tied the match once again at 3-3 as Emily Flickinger earned a hard-fought 6-4, 2-6, 6-0 win on court three over Makenzie Craft.
With the match tied at 3-3, Flavia Arajujo defeated Auburn's Paula de Man 6-4, 4-6, 6-2 on court five to clinch the match for the Razorbacks.
Arkansas will be the No. 11 seed at the SEC Tournament, which runs April 15-19 in Columbia, S.C. The Razorbacks will open play against No. 14 Missouri on Wednesday (April 15) at 9 a.m. CT.
For more information on Arkansas women's tennis, follow @RazorbackWTEN on Twitter.
#38 Arkansas 4, #44 Auburn 3
Apr 12, 2015 at Auburn, Ala.
(Yarbrough Tennis Center)
Singles competition
1. #81 Pleun Burgmans (AU) def. #68 Yuliya Lysa (ARK) 6-3, 6-3
2. Shannon Hudson (ARK) def. Andie Dikosavljevic (AU) 4-6, 6-3, 6-1
3. Emily Flickinger (AU) def. Makenzie Craft (ARK) 6-4, 2-6, 6-0
4. Sasha Shkorupeieva (ARK) def. Reka Muller (AU) 6-3, 2-6, 7-6 (7-4)
5. Flavia Araujo (ARK) def. Paula de Man (AU) 6-4, 4-6, 6-2
6. Jen Pfeifler (AU) def. Mia Jurasic (ARK) 6-2, 7-5
Doubles competition
1. #69 Shannon Hudson/Yuliya Lysa (ARK) def. #5 Pleun Burgmans/Emily Flickinger (AU) 8-5
2. Michala Kucharova/Paula de Man (AU) def. Makenzie Craft/Mia Jurasic (ARK) 8-3
3. Flavia Araujo/Sasha Shkorupeieva (ARK) def. Reka Muller/Jen Pfeifler (AU) 8-6
Match Notes:
Arkansas 16-13, 4-9 SEC; National ranking #38
Auburn 15-12, 3-10 SEC; National ranking #44
Order of finish: Doubles (2,1,3); Singles (1,6,4,2,3,5)