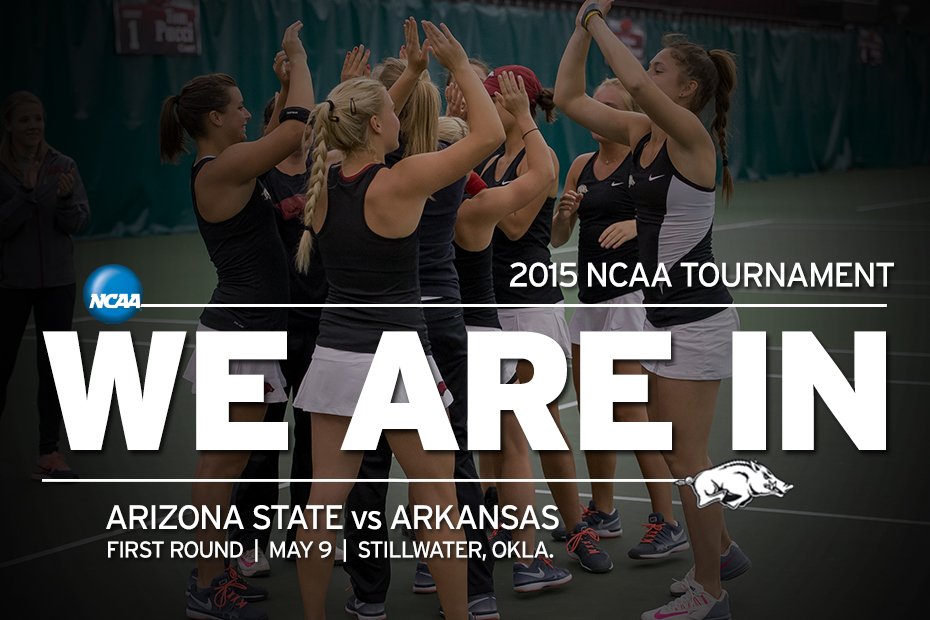 @RazorbackWTEN Earns NCAA Tournament Bid
Stillwater Regional | Tournament Central
FAYETTEVILLE, Ark. – The No. 42 Arkansas women's tennis team (16-14, 4-9 SEC) secured the program's 13th NCAA Team Championship bid and will head to the Oklahoma State Regional, May 9-10 in Stillwater, Okla. The Razorbacks will battle Arizona State (15-7, 6-4 Pac-12) in first round action on May 9 (10 a.m. CT) at the Greenwood Tennis Center.
"We are excited to be able to continue our season in the NCAA tournament," said head coach Michael Hegarty. "We have talked all season long about trying to be at our best in April and May and we are confident that our best tennis is still in front of us."
The Sun Devils and Razorbacks will face each other for the first time in school history. The winner of the matchup will face the winner of the Oklahoma State (21-5) and Boston University (14-7) contest. The first round will take place on May 9 at 10 a.m. CT and 1 p.m. CT, and the second round will be on May 10 (1 p.m. CT).
Arkansas has 13 NCAA appearances and is headed back to the NCAA Tournament for the first time since 2012. In 2012, Arkansas fell 4-0 to Long Beach State in Los Angeles, Calif. on USC's campus.
The Southeastern Conference had a total of 12 women's teams receive bids, including Alabama, Arkansas, Auburn, Florida, Georgia, Kentucky, LSU, Ole Miss, Mississippi State, South Carolina, Texas A&M and Vanderbilt.
"Congratulations to the 12 SEC teams that qualified for the NCAA's," Hegarty said. "That speaks volumes to the quality of our league."
For more information on Arkansas women's tennis, follow @RazorbackWTEN on Twitter.
NCAA TOURNAMENT INFO
The NCAA Division I Women's Tennis Subcommittee selected the 64 teams and 16 first- and second-round sites for the 2015 NCAA Division I Women's Tennis Championship. Per NCAA policy, the top 16 seeds are guaranteed to host if a bid was submitted and criteria are met, and matchups between conference opponents were avoided in the first two rounds of the championship.
First- and second-round competition takes place May 8-9 or 9-10 and features four teams playing in a single-elimination format. The winner of each site advances to the Hurd Tennis Center in Waco, Texas, where the 16 teams will compete for the national championship May 15-19. The event will be hosted by Baylor University.
Tournament matches will be regulation dual matches with three (3) eight-game, pro-set doubles played for one team point, followed by six (6) singles matches, each valued at one team point, played in best-of-three sets. Regular scoring will be used and a 12-point tiebreaker will be played at seven-games-all in doubles and at six-games-all in singles.
TICKET INFO
Tickets for the event can be purchased at the OSU ticket office or at the gate. They are $5 for adults and $3 for students. Additional information can be found on the Stillwater Regional Page.