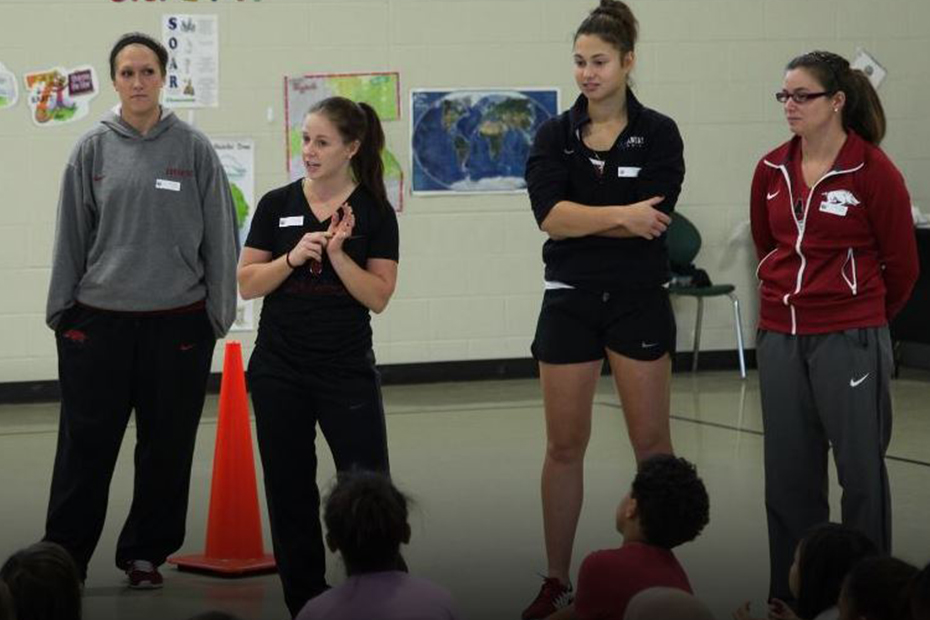 @RazorbackWTEN Gives Back To Community
FAYETTEVILLE, Ark. – When they're not busy hitting winners down the line or serving aces, the University of Arkansas women's tennis team occupies its time hitting winners in the surrounding Arkansas community. Heavily involved in philanthropic endeavors, the Razorback women's tennis team was awarded the 2013-14 Lee Spencer Cup for community service and the team has only strengthened its tradition of giving back to the community with participation in a number of charitable events this fall.
"Winning the Lee Spencer Cup last year was a huge thrill for our program," 12th-year head coach Michael Hegarty said. "That award has certainly fueled the team this fall semester as we look to continue as leaders both on the courts and in the community."
A Razorback Athletics Department initiative, the Lee Spencer Cup is presented annually to the team who demonstrates the strongest commitment to life skills initiatives, academic success, and athletic excellence.
Hegarty points to junior Flavia Araujo and sophomore Shannon Hudson as the two players keying the drive for the team's community involvement. Hudson was named to the 2013-14 SEC Community Service Team while Araujo claimed the 2013-14 Lee Spencer Cup individual champion.
"It meant a lot to us to win the Lee Spencer Cup because we really want to give back to the community and school as much as we can," Hudson said. "We're so fortunate for all of our opportunities and want to work as hard as we can on and off the court."
Araujo echoes Hudson, noting winning the Cup was an honor and the result of the team sticking together to achieve a goal.
The team was honored with the Cup on the field during the Arkansas-LSU home football game on Nov. 15.
"We wanted to create a standard for us, as a team that shows with action how much we appreciate everything that the school gives us." Araujo said. "As for the individual award, the fact that I was the most involved athlete was really mind-blowing, but it reflects how much I love being a Razorback."
Both players were involved in community service prior to arriving in Fayetteville. Hudson, a fourth-generation Razorback from Virginia Beach, Va., was twice named Outstanding Metro Scholastic Women's Player of the Year while in high school. Araujo, coming to Arkansas by way of Sao Paulo, Brazil, explains her family is passionate about giving back to others.
"We believe we have the power to impact people's lives, so we got involved in some volunteering work back home," she said. "Seeing people's reactions is definitely my biggest inspiration and I try to live those moments as often as I can by bringing the Razorback spirit to the community."