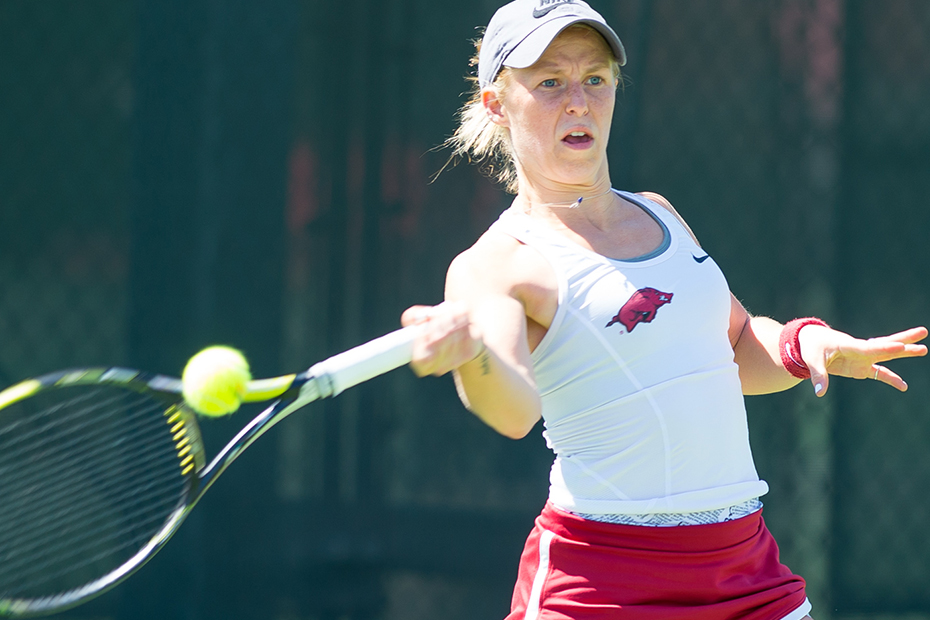 @RazorbackWTEN Knocked Off By Missouri In SEC Tournament
COLUMBIA, S.C. – In a hard-fought match that started outside, finished indoors and lasted more than five hours, the No. 11 seed and nationally-ranked (No. 36) Arkansas women's tennis team fell 4-3 to the 14th-seeded Tigers of Missouri on Wednesday afternoon in the first round of the SEC Tournament.
With the loss the Razorbacks fall to 16-14 overall, while Mizzou improves to 9-17 on the season and advances to the second round to face LSU on Thursday, April 16.
"It was just a few points here and there that made the difference today," said head coach Michael Hegarty. "I would say overall that coming out a bit flat in the doubles was the difference in the match."
The Tigers got off to a good start and got on the board first in doubles, as they took two consecutive doubles matches and claimed the first team point. Arkansas quickly responded in singles play however, taking the first three contests to grab a commanding 3-1 lead.
Missouri needed wins in the remaining three singles matchups to take the match and were able to do just that. The Tigers got victories from Beatriz Machado Santos, Clare Raley and Madison Rhyner to advance to the next round of the tournament.
After dropping the doubles point, Yuliya Lysa and Shannon Hudson made quick work of their opponents to give the Razorbacks a 2-1 lead. Lysa defeated Kelli Hine 6-1, 6-4 on court one and Hudson handled Cassidy Spearman 6-0, 6-1 at No. 2. The wins were Lysa's 19th and Hudson's 12th on the year.
Sasha Shkorupeieva kept things rolling by defeating Brianna Lashway on court four 4-6, 6-0, 6-3, giving the Razorbacks a 3-1 lead and setting up match-point for the team.
Facing elimination, the Tigers battled and picked up wins at No. 6 and No. 5 to tie the match a 3-3. Madison Rhyner got by Flavia Araujo 6-4, 6-0 and Clare Raley outlasted Mia Jurasic 2-6, 6-2, 6-4.
The deciding match was at court three, where Makenzie Craft and Beatriz Santos put on a show for the spectators. The match was three sets and went back-and-forth, but Santos won the tiebreak 7-5 to defeat Craft and give the Tigers the 4-3 victory.
The Razorbacks will await their NCAA Tournament fate. The teams will be announced on Tuesday, April 28 (4 p.m. CT) during an NCAA.com Selection Show, while individuals will be announced via a NCAA.com press release on Wednesday, April 29.
For more information on Arkansas women's tennis, follow @RazorbackWTEN on Twitter.
(14) Missouri 4 vs (11) Arkansas 3
4/15/2015 at Columbia, S.C.
Carolina Tennis Center)
Singles competition
1. #51 Yuliya Lysa (ARK) def. #122 Kelli Hine (MU) 6-1, 6-4
2. Shannon Hudson (ARK) def. Cassidy Spearman (MU) 6-0, 6-1
3. Beatriz Santos (MU) def. Makenzie Craft (ARK) 7-5, 4-6, 7-6 (7-5)
4. O. Shkorupeieva (ARK) def. Brianna Lashway (MU) 4-6, 6-0, 6-3
5. Clare Raley (MU) def. Mia Jurasic (ARK) 2-6, 6-2, 6-4
6. Madison Rhyner (MU) def. Flavia Araujo (ARK) 6-4, 6-0
Doubles competition
1. Brianna Lashway/Brittany Lashway (MU) vs. #36 Yuliya Lysa/Shannon Hudson (ARK) no result
2. Madison Rhyner/Cassidy Spearman (MU) def. Mia Jurasic/Makenzie Craft (ARK) 8-5
3. Kelli Hine/Clare Raley (MU) def. Flavia Araujo/O. Shkorupeieva (ARK) 8-5
Match Notes:
(14) Missouri 9-17, 0-13 SEC
(11) Arkansas 16-14, 4-9 SEC; National ranking #36
Order of finish: Doubles (2,3); Singles (1,2,4,6,5,3)
SEC Tournament 1st Round