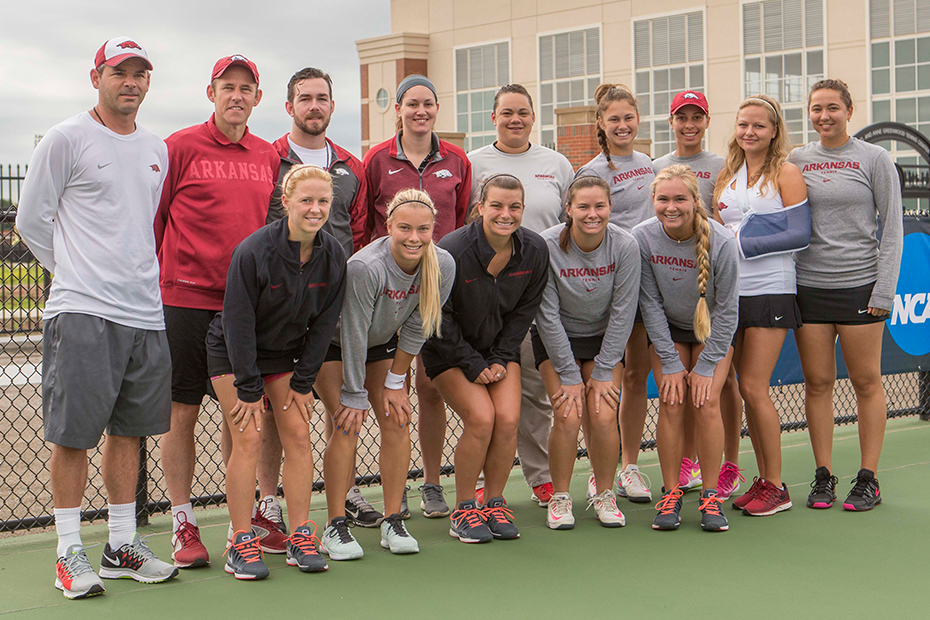 @RazorbackWTEN Knocked Off By No. 27 Arizona State In NCAA Tournament
STILLWATER, Okla. – In a match that started outside and finished on the indoor courts of the Greenwood Tennis Center due to weather, the No. 39 Arkansas women's tennis team fell 4-1 to the No. 27 Sun Devils of Arizona State on Saturday afternoon in the first round of the NCAA Tournament.
With the loss the Razorbacks finish the season with an overall record of 16-15, while ASU improves to 16-7 on the season and advances to face the winning team of Oklahoma State, Boston University match-up on Sunday, May 10.
"Congratulations to Arizona State," said head coach Michael Hegarty. "They are a classy program and they earned their way to the regional final tomorrow with a great performance. The level at times today was very high out there and I am very encouraged by our competitive level. We talked all year long about this being the biggest focus of our season."
"While it's always difficult in the aftermath of an NCAA tournament loss I am very proud of the nine players here today and the staff that prepared them all season long."
The Sun Devils got off to a good start and got on the board first in doubles, as they took two consecutive doubles matches and claimed the first team point. At court two the No. 49 duo of Kassidy Jump and Joanna Smith defeated Makenzie Craft and Mia Jurasic 8-2, while Ebony Panoho and Alex Osborne took down Sasha Shkorupeieva and Flavia Araujo 8-4.
In singles action, Joanna Smith defeated Shkorupeieva 6-2, 6-0 at No. 4 and Kassidy Jump got by Craft 6-4, 6-2 at court three to give Arizona State a 3-0 lead in the match.
After Yuliya Lysa, the No. 49 ranked singles player in the country, defeated No. 30 Desirae Krawczyk 7-5, 6-2 at the No. 1 spot, ASU clinched the match at court five when Ebony Panoho battled past Araujo 7-5, 6-0 to give the Sun Devils the 4-1 win.
As a team, the Razorbacks are done for the season, but Arkansas is still very much alive in the NCAA Tournament. Lysa earned an at-large singles bid to the 2015 NCAA Division I Women's Tennis championships, which will be held May 20-25 at the Hurd Tennis Center in Waco, Texas. The No. 32 doubles tandem of Lysa and Shannon Hudson was also selected as an alternate team (second alternates) for the 2015 NCAA doubles competition.
All matches for the singles and doubles competition will be the best-of-three sets. Regular scoring and a 12-point tiebreaker at six-games-all will be used for all matches.
For more information on Arkansas women's tennis, follow @RazorbackWTEN on Twitter.
#27 Arizona State 4, #39 Arkansas 1
5/9/2015 at Stillwater, Okla.
(Greenwood Tennis Center)
Singles competition
1. #49 Yuliya Lysa (ARK) def. #30 Desirae Krawczyk (ASU) 7-5, 6-2
2. Stephanie Vlad (ASU) vs. Shannon Hudson (ARK) 4-6, 3-2, unfinished
3. Kassidy Jump (ASU) def. Makenzie Craft (ARK) 6-4, 6-2
4. Joanna Smith (ASU) def. Sasha Shkorupeieva (ARK) 6-2, 6-0
5. Ebony Panoho (ASU) def. Flavia Araujo (ARK) 7-5, 6-0
6. Gussie O'Sullivan (ASU) vs. Mia Jurasic (ARK) 6-7 (5-7), 2-1, unfinished
Doubles competition
1. #26 Desirae Krawczyk/Stephanie Vlad (ASU) vs. #32 Shannon Hudson/Yuliya Lysa (ARK) 6-6, unfinished
2. #49 Kassidy Jump/Joanna Smith (ASU) def. Makenzie Craft/Mia Jurasic (ARK) 8-2
3. Ebony Panoho/Alex Osborne (ASU) def. Sasha Shkorupeieva/Flavia Araujo (ARK) 8-4
Match Notes:
Order of finish: Doubles (2,3); Singles (4,3,1,5)
Match was moved to the indoor courts of the Greenwood Tennis Center due to storm