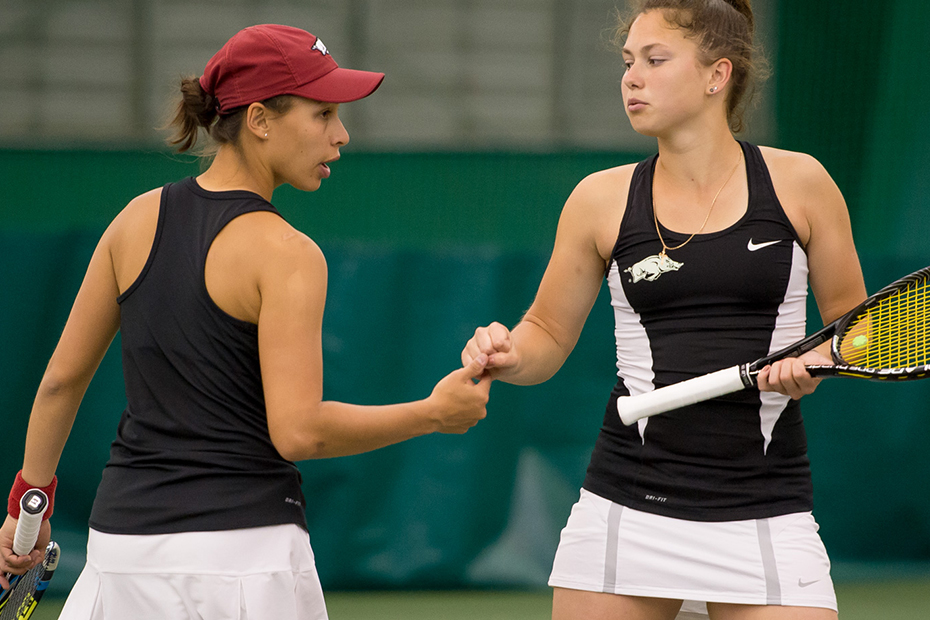 @RazorbackWTEN Set To Close Out Conference Play This Weekend
FAYETTEVILLE, Ark. – The No. 38 Arkansas women's tennis team (15-12, 3-8 SEC) will play the final two regular season matches of the 2015 spring slate this weekend as they travel to Alabama to take on No. 11 Alabama (April 10) and No. 44 Auburn (April 12).
MATCH INFORMATION

MATCH

No. 38 Arkansas (15-12, 3-8 SEC) vs. No. 44 Auburn (14-11, 2-9 SEC)

DATE | TIME

April 12, 2015 | 1 p.m. CT

VENUE

Yarbrough Tennis Center | Auburn, Ala.

LIVE RESULTS

AuburnTigers.com
QUICK HITS:
– The Razorbacks have won two of their last three matches.
– The Razorbacks are 2-6 on the road and 3-11 against nationally ranked
– Yuliya Lysa leads the team in singles wins (17).
– Lysa defeated a pair of ranked opponents last week.
– Lysa, Mia Jurasic, Shannon Hudson and Sasha Shkorupeieva each have 10+ wins on the season.
IN THE POLLS
In the April 7 ITA poll, the Razorbacks checked in at No. 38. Arkansas has been ranked in 126 consecutive weekly ITA polls dating back to 2008.
The duo of Shannon Hudson and Yuliya Lysa were ranked No. 69 as a doubles team, while Lysa was ranked No. 68 individually.
COACH'S CORNER
Arkansas women's tennis all-time winningest coach with a record of 162-141, Michael Hegarty (Auburn, '94) is in his 12th season as head coach of the Razorbacks. He has led the Hogs to seven NCAA Tournament appearances in his first 11 years.
ARAUJO HEADED TO NIKE
Junior Flavia Araujo was selected as a member of the Nike Internship Program. Araujo, a business management major (retail marketing minor) with a 3.87 cumulative grade point average, has been selected to intern in the summer program in Beaverton, Ore., home to the world headquarters of Nike, Inc.
In December, juniors and seniors who are interested in the internship are required to attend a virtual presentation with Nike representatives. After that candidates go through three other interviews before having the internship offer extended to them.
To qualify for the internship, the student-athletes, team managers and athletic department interns had to be juniors or seniors with at least a 3.0 GPA. Candidates were selected based on their applications, résumé, project and interviews.
The Nike Internship Program by many accounts is considered a Top-15 internship in the United States by any company. Araujo, the 2015 Red Tie Honoree for the Female Spirit of the Razorback Award, will serve as a NIKE Global Brand Marketing Intern, with some of her duties being to assist the Brand Director with seasonal marketing needs and to collaborate on Grand Slam operations for the US Open.
ARAUJO NAMED RED TIE HONOREE
Junior Flavia Araujo was named the 2015 Red Tie Honoree for the Female Spirit of the Razorback Award, as announced by the University of Arkansas Athletic Department and the Razorback Foundation on Dec. 31. Each year, the Razorbacks recognize student-athletes whose performance throughout his or her career serves to lift up their sport to new heights and whose character exemplifies the goals of the athletic department. The 18th annual Red Tie Dinner was held Feb. 21, 2015, in Rogers, Ark. A steady contributor on the court, Araujo was also named the 2013-14 Lee Spencer Individual champion for her community service endeavors and overall commitment to the university.
ROLL CALL
Fresh faces are abound in the George M. Billingsley Tennis Center this season. A total of eight newcomers come aboard for the Razorbacks this season. Here's a breakdown of the newcomers. Junior Makenzie Craft (Frisco, Texas) transferred in after spending her freshman season with Georgia and her sophomore season with Baylor. Craft certainly brings with her a championship pedigree as she was a part of Georgia's 2013 SEC Championship team and Baylor's 2014 Big 12 Championship team. She compiled a 27-22 overall singles record during her first two collegiate years. Junior Nicole Breaux (Lafayette, La.) comes to Fayetteville after transferring from Louisiana-Lafayette. Breaux competed at the top of the singles and doubles lineup for the Ragin' Cajuns, amassing a 28-34 singles record over two seasons. Junior Yuliya Lysa is in her first season and comes to Arkansas by way of Khmelnytsky, Ukraine. Sophomore Nastassia Rubel (Minsk, Belarus) is in her first season with the Razorbacks, bringing with her a world ranking of No. 188 on the ITF junior tour. Sophomore Elly Fryberger (Littleton, Colo.) is in her first season after transferring from Kansas. Freshmen Mia Jurasic (Ogulin, Croatia) and Peyton Jennings (Tulsa, Okla.) will both be competing in their first collegiate matches. Jurasic is the Croatian 16 and under national champion while Jennings claimed back-to-back Oklahoma state titles at No. 1 singles her junior and senior year.
The eighth newcomer is assistant coach Luc Godin. Godin joins Hegarty's staff and the Razorbacks after previously serving as the men's and women's assistant at Louisiana-Lafayette in 2013-14. He is familiar with the SEC, however, as he was an assistant for the Auburn women's team from 2011-13.
2013-14 OVERVIEW
The Razorbacks finished the 2013-14 season with a 13-16 overall mark, including 2-11 in SEC play. Arkansas finished the season ranked No. 59 in the final ITA poll.
Arkansas brings back three players from last year's squad. Returning are junior Flavia Araujo and sophomores Shannon Hudson and Oleksandra Shkorupeieva.
AT A GLANCE: 2014 FALL
The Razorbacks competed in six team tournaments throughout the fall schedule. Sophomore Oleksandra Shkorupeieva led the team in wins, posting a 12-2 record. Additionally, she won her flight championship at the Oklahoma Sooner Invitational and also won three straight matches at the ITA Central Regional Championships, advancing out of the qualifying bracket and into the main draw's Round of 32. Sophomore Shannon Hudson was selected to compete in the singles qualifying draw at the Riviera/ITA Women's All-American Championships and finished the fall with an 8-6 singles record. Junior Makenzie Craft posted an 8-7 fall singles record and advanced all the way to the Round of 16 at the ITA Central Regional.
For more information on Arkansas women's tennis, follow @RazorbackWTEN on Twitter.