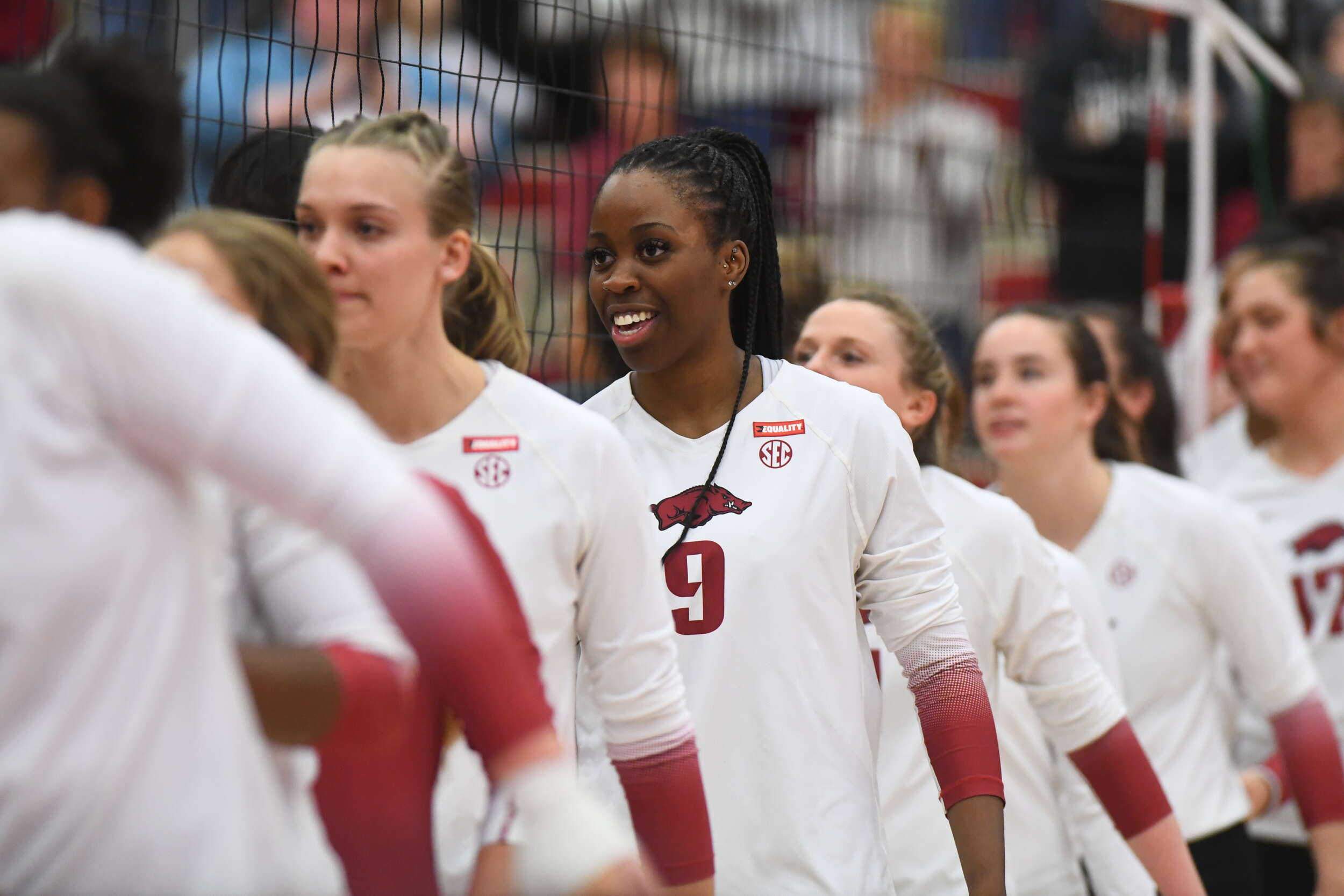 Regular Season Finale in Auburn Up Next for Hogs
The Razorbacks will wrap up regular season action on the road this weekend with two matches against the Tigers in Auburn, Ala.
The Hogs currently sit at 18-8 on the season and are 9-7 in the SEC. The Tigers are 21-5 and 10-5 in conference play. Auburn will play once before the series, as the Tigers take on the South Carolina Gamecocks in Columbia on Wednesday evening.
Friday's match between Arkansas and Auburn is set for 2 p.m. and Saturday's regular season finale will begin at 7 p.m. Both matches will be streamed live on SEC Network Plus.
The NCAA Volleyball Selection Show will air live on ESPNU at 6:30 p.m. on Sunday evening.
Last Time Out
The Razorbacks hosted the Alabama Crimson Tide last weekend for their final matches in Barnhill Arena and came away with two sweeps. Senior Jill Gillen led the offensive effort on the weekend with 28 total kills, and junior Taylor Head had a double-double in Saturday's match with 11 kills and 10 digs. Graduate middle Tatum Shipes had a stellar weekend for Arkansas' defense with 18 total blocks, which included a solo on Sunday's Senior Day that secured the Hogs' third consecutive sweep. Shipes was named SEC Defensive Player of the Week on Monday for her performance.
Scouting the Series: Auburn
Hogs haven't been to Auburn since 2018, haven't won in Auburn since 2014
Tigers went undefeated in non-conference play and conference losses have come against LSU, Missouri, Florida and Kentucky
Arkansas outranks Auburn in all statistical categories in the SEC except serving, Auburn comes in third with 1.64 aces/set
Three Auburn players come in the top three in conference: Chelsey Harmon in hitting percentage (.370), Jackie Barrett in assists/set (10.32) and Kendal Kemp in blocks/set (1.43)
Stat Leaders – Auburn
Kills/set: Akasha Anderson | 3.75 | 375
Assists/set: Jackie Barrett | 10.32 | 877
Digs/set: Sarah Morton | 3.85 | 377
Blocks/set: Kendal Kemp | 1.43 | 144
Stat Leaders – Arkansas
Kills/set: Jillian Gillen | 3.68 | 291
Assists/set: Hannah Hogue | 5.79 | 556
Digs/set: Courtney Jackson | 3.61 | 347
Blocks/set: Tatum Shipes | 1.47 | 141
More Information
Visit ArkansasRazorbacks.com for the latest information on all things Arkansas Volleyball. You can also find the Hogs on social media by liking us on Facebook (Arkansas Razorback Volleyball) and following us on Twitter and Instagram (@RazorbackVB).