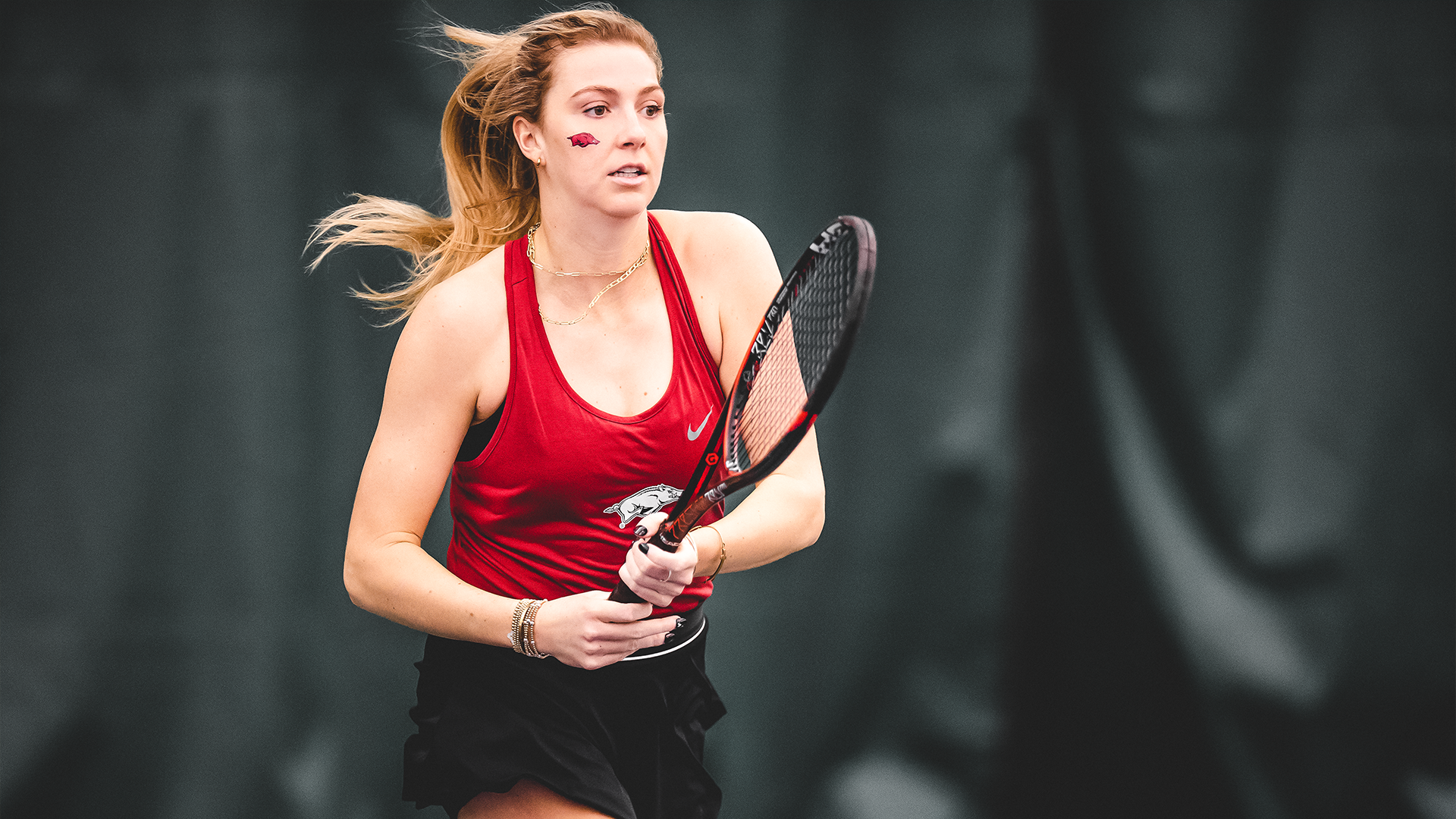 Rice Clinches 4-3 Win Over No. 39 Vanderbilt
NASHVILLE, Tenn. – The University of Arkansas women's tennis team defeated No. 39 Vanderbilt in a 4-3 decision on Friday afternoon with the match coming down to a final singles match in the third set.
In doubles, it was all Razorbacks with Indianna Spink and Kelly Keller defeating Cruz and Stevens 6-1 on court three. On courts one and two, it was a back and forth affair as Arkansas was looking for one win. The duo of Lenka Stara and Laura Rijkers won their fifth match at the No. 2 position to win the doubles point in a 6-3 victory over Commodores Lee/Staff. The No. 28 tandem of Tatum Rice and Morgan Cross were leading No. 78 Anna Ross and Yufei Long 5-4 before the doubles point was won.
In singles, the Commodores tied up the match at 1-1 with a 6-0, 6-2 win on court six over Laura Rijkers. Sophomore Morgan Cross quickly struck back to retake the lead on court five, defeating Vanderbilt's Amy Stevens in straight-sets 6-2, 6-4. Cross earns her fourth straight victory and her fifth in the No. 5 position.
It was back and forth again as the Commodores tied the match up at 2-2 on court two as Kelly Keller fell to No. 64 Anessa Lee in a tough 7-6, 6-4 two sets.
The remaining three courts all went into the third set with Arkansas looking for two wins to win the match. On court three, Indianna Spink battled back after dropping the first set to take the next two in a 4-6, 6-3, 6-2 decision to put the Razorbacks within one.
On court one, graduate student Tatum Rice earned her first ranked win over No. 46 Anna Ross, forcing a three-set tiebreaker 3-6, 6-3, 6-3 to clinch the match win for Arkansas. Rice improves to 5-3 in the No. 1 position and 8-9 overall this season.
The Razorbacks continue their road trip as they travel to Lexington to take on the Kentucky Wildcats on Sunday, March 13 with first serve set for 1 p.m. CT.
For the latest information on all things Arkansas Women's Tennis, follow the Hogs on social media by liking us on Facebook (Arkansas Razorback Women's Tennis) and following us on Twitter and Instagram (@RazorbackWTEN).