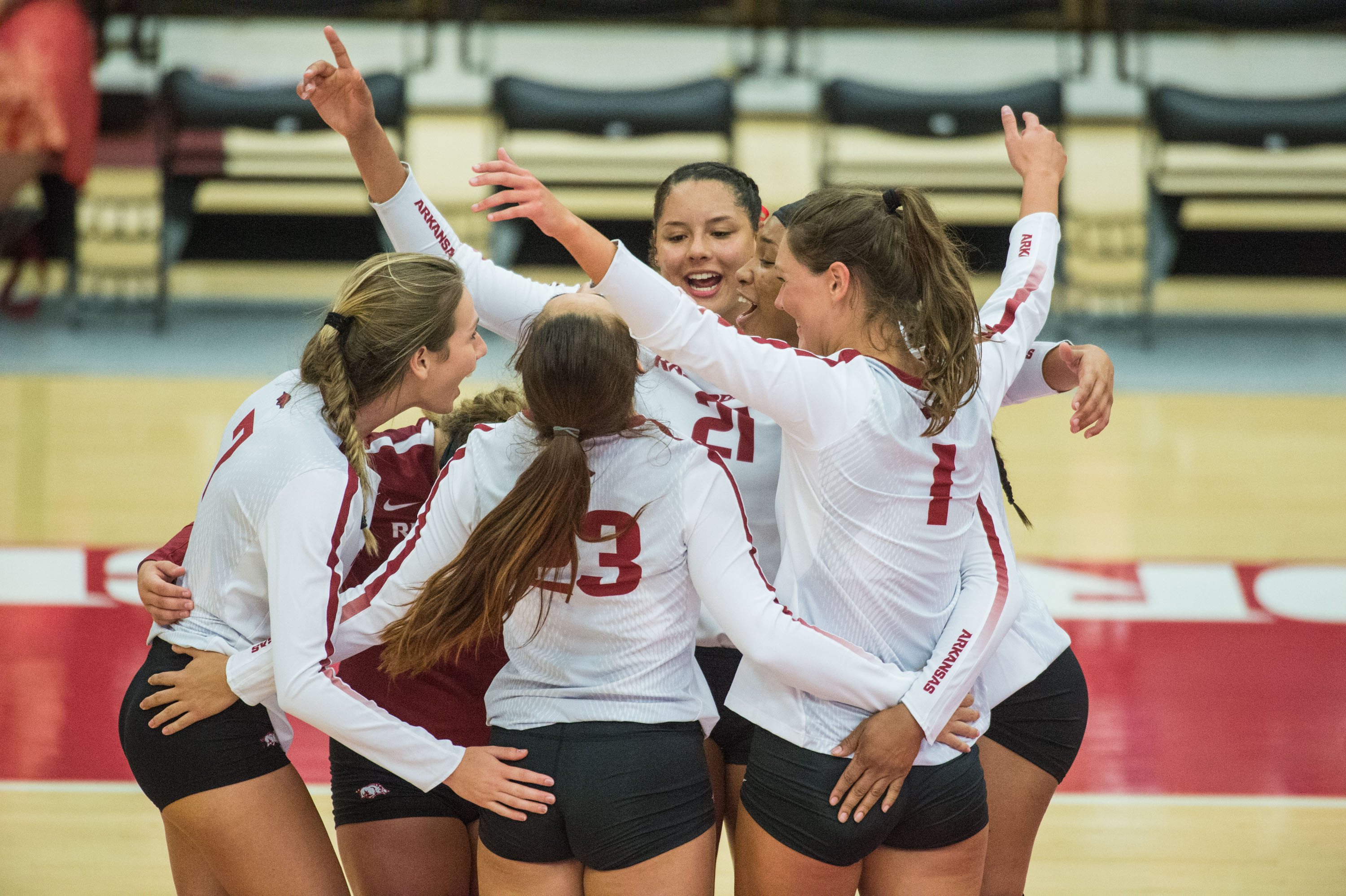 Road Rally Complete, Five-Set Win at Ole Miss
OXFORD, Miss. – Trailing 2-1 in the match and down by five points early in the fourth, the University of Arkansas volleyball team rallied for a 3-2 road win Sunday afternoon at Ole Miss. The Razorbacks hit .500 in the final frame on their way to their fifth five-set victory of the season. With the comeback, Arkansas improves to 16-7 overall with a 6-5 mark in SEC play.
The Razorbacks return to Barnhill Arena next weekend for two home matches beginning Friday, Nov. 3, against LSU. First serve of the match is scheduled for 7 p.m. (CT). Arkansas carries an 8-1 record on its home floor this season.
FINAL
Arkansas 3, Ole Miss 2 (25-21, 19-25, 16-25, 25-23, 15-11) | Box Score
Attendance: 682 | Time: 2:28
Gillom Center (Oxford, Miss.)
#RazorStats
Leaders at Ole Miss

Kills: Pilar Victoria – 26
Digs: Okiana Valle – 21
Blocks: Elizabeth Pamphile – 5.0 (3-2)
Redshirt senior Pilar Victoria registered the program's first 20-20 performance since the 2010 season, finishing the day with 26 kills and a career-high 20 digs. She was joined in double-figures by freshmen Hailey Dirrigl and Elizabeth Pamphile who put down 16 and 11 kills, respectively. Pamphile led all attackers with a .467 hitting percentage in the match. Setter Rachel Rippee matched her career high with 59 assists and moved into sixth on the program's all-time assists list.
Defensively, junior libero Okiana Valle collected a match-high 21 digs on her way to surpassing 1,200 career digs. Pamphile and Kelly O'Brien led the charge at the net with five and four total blocks, respectively.
Sunday's result marked the Razorbacks' fifth five-set win of the season, and second against Ole Miss. Coupled with its win against the Rebels earlier this year in Fayetteville (Oct. 6), Arkansas improve to 32-14 in the series between the programs. The win also represented the 225th career victory for head coach Jason Watson.
Playing from behind through the early stages of the fourth set and facing a three-point hole, Arkansas turned to Victoria who responded with four-consecutive kills for a 19-17 advantage. From 19-all, the score was tied five times down the stretch but at 23-23, sophomore Reagan Robinson registered consecutive kills to send the Razorbacks to their ninth five setter of the season. It marked the third time this season Arkansas erased a 2-1 match deficit to extend the match to a fifth.
The Razorbacks never trailed in the decisive frame, racing out to a 5-1 lead after a back-to-back kills by Victoria and O'Brien. Facing a stingy Ole Miss block throughout Sunday's match, Victoria came through with six kills and no errors on nine swings in the fifth. The teams switched sides at 8-3 after Dirrigl's 15th kill of the afternoon. Victoria went down the line for a kill and a handful of match points at 14-8, and secured the match with a roll shot that found the floor between Ole Miss defenders.
For more information about Arkansas Volleyball, follow @RazorbackVB on Instagram, Snapchat and Twitter.