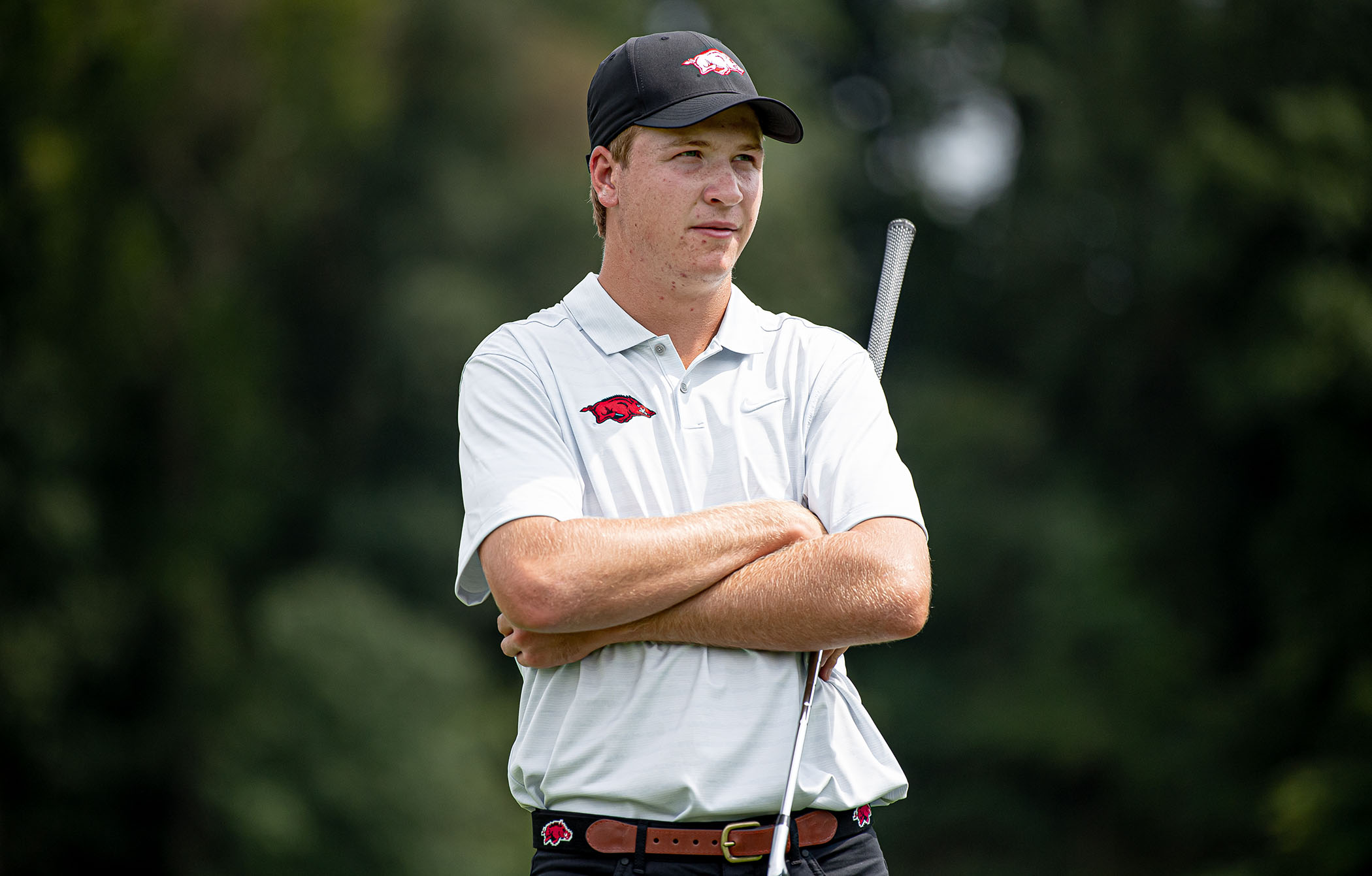 Rookie McDonald Leads #16 Hogs at Bearcat Invit.
CINCINNATI – Freshman William McDonald, making his first appearance in the Razorback starting lineup, had rounds of 69-69 and is tied for sixth with a 36-hole total of 138 (-4). Overall, Arkansas has three golfers inside the top 13 and stands in second place in the 13-team Bearcat Invitational, played at Coldstream Country Club (par 71, 7,111 yards).
Louisville leads the way as four of its golfers stand among the individual top five. The Cardinals shot a 22-under-par 546 through two rounds Monday. Arkansas had rounds of 281-278 (-9) and leads Penn State (565) by six strokes. Kentucky (569) and host Cincinnati (575) round out the top five.
McDonald did represent the Razorbacks at the Pioneer Creek Collegiate earlier this month but played as an individual. The Oklahoma City native posted 10 birdies Monday, which was the third-best total over two rounds. He opened the Invitational with a birdie on the par-5, 4th hole. He gave that shot back on the 6th hole before carding birdies on holes 8, 10 and 15 to get to 3-under. He reeled off six pars but ended the morning session with a bogey for a 2-under-par 69. His afternoon round started the same way with a birdie on the par-5, 4th hole. He traded four bogeys with four birdies and was 1-under through 15 holes. McDonald birdied his 17th hole – the par-3, 2nd – for a second straight round of 69.
Julian Perico is tied for eighth and is 3-under-par through two rounds (69-70=139). He started his day with a bogey, but rallied to go birdie, birdie, birdie, eagle over a five-hole span to briefly take the lead at -4. However, he had to settle for a 2-under-par 69 after a double bogey on the par-4, 15th. Perico's second round started with bogeys on two of his first three holes. The sophomore answered with birdies on holes 9 and 11 to get back to even for the round. After dropping a shot on the 14th hole, Perico rallied with birdies on holes 15 and 17 for a 1-under-par 70.
William Buhl posted rounds of 71-70 for a 36-hole score of 141 (-1) to stand in a tie for 13th. The senior's first round featured three bogeys and three birdies for an even-par 71. The afternoon session saw Buhl record six birdies as he finished with a 1-under-par 70.
In eight rounds this season, Buhl has shot par or better seven times and Perico has done so six times.
Luis Garza, playing as an individual, had a slow start as he shot a 4-over 74 in the morning. However, he fired his best round of the season – a 4-under 67 – to climb 38 spots in the standings into a tie for 16th with an even-par total of 142 (75-67). The senior's second round started with five pars and a bogey on the par-4, 3rd hole. Garza then finished his day with birdies on five of his last 11 holes. The 67 was Garza's best round since the second round of the 2019 SEC Championship.
Tyson Reeder and Mason Overstreet are tied for 32nd, each carding a 3-over 145. Reeder opened with a 76 and was in 62nd place. The senior responded with a 69 and climbed 30 spots into 32nd. Overstreet had rounds of 72-73 for his 145.
The third and final round will be played Tuesday.
NOTES:
Arkansas led the field in par-3 scoring (3.0 average).
Arkansas was second in the field with 35 birdies.
William McDonald led the Razorbacks and ranked second in the field in par-3 scoring (2.75)
Mason Overstreet led the Razorbacks and ranked third in the field with 28 pars.
There were 11 eagles on Monday including one each by Tyson Reeder and Julian Perico.