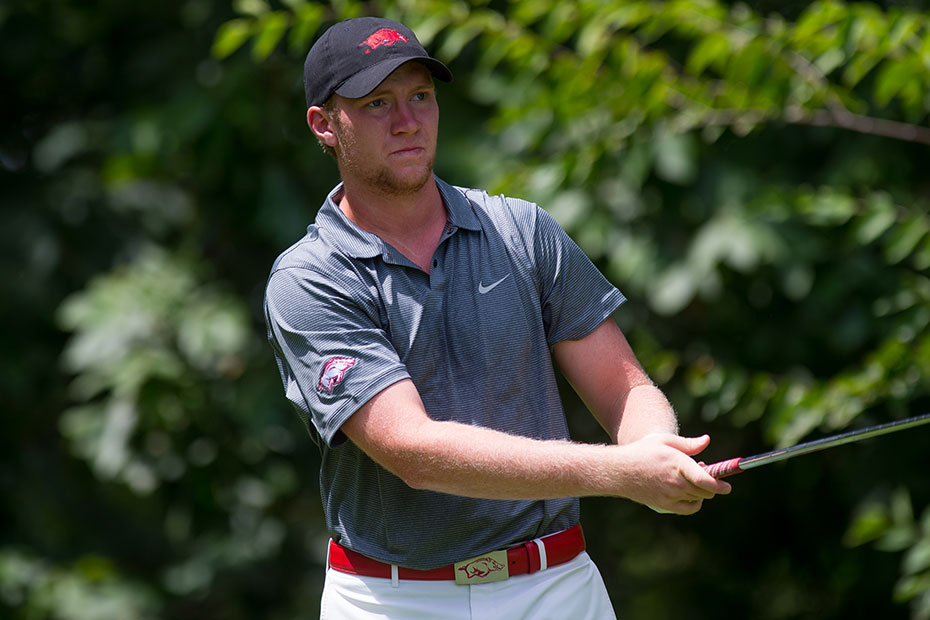 Strong Front Nine Boosts Razorbacks
STILLWATER, Okla. – A solid back nine in round one of the 2018 NCAA Championship was a much-needed boost for the University of Arkansas men's golf team at Karsten Creek Golf Club on Friday.
The Razorbacks were scheduled for a 7 a.m. start from hole No. 10 but heavy rain and lightning forced a delay. The first tee time came at 9:20 a.m. but players were called off the course after a second wave of bad weather moved through. The total delay was 3:28.
Arkansas opened its day on the back nine of the course and turned 13-over. Temperatures continued to rise throughout the round climbing from the mid-60s to the mid-80s as Arkansas made the turn. The Razorbacks played the second side 5-under par thanks to 3-under 33's by Alvaro Ortiz and William Buhl.
The Razorbacks finished the day 8-over shooting 296. Ortiz and Buhl both shot even par 72s. Ortiz turned plus-3 but carded an eagle on the par-5 No. 1 hole, the 10th hole of his afternoon. He added a birdie on No. 5 to finish even.
Buhl also turned 3-over after counting three consecutive bogeys on his seventh, eighth and ninth holes. Buhl birdied the first hole on the front side of the course. He added birdies on No. 3 and No. 9. Buhl was one of three Razorbacks to birdie the final hole of the day.
Mason Overstreet and Luis Garza also counted rounds on Friday with both players shooting 4-over 76s. Tyson Reeder rounded out the Razorback scores with a 5-over 77. Overstreet and Garza finished strong birding the 18th hole of the day.
Play was suspended for the night around 7:30 p.m. with half of the field, 15 teams, still on the course. The Razorbacks finished tied for 11th overall against the 15 teams who had completed their rounds. Play is scheduled to resume Tuesday morning at 7 a.m. for the completion of round one. Round two will begin at 8 a.m.
The Lineup

| PLACE | PLAYER | SCORE | TO PAR |
| --- | --- | --- | --- |
| - | Alvaro Ortiz (1) | 72 | E |
| - | Wiliam Buhl (2) | 72 | E |
| - | Mason Overstreet (3) | 76 | +4 |
| - | Luis Garza (5) | 76 | +4 |
| - | Tyson Reeder (4) | 77 | +5 |
*Places will be determined after the conclusion of the round.
From Coach Brad McMakin
"It wasn't ideal (starting and stopping play) but I'm glad we got to play with the weather the way it was. The players, they get in a rhythm and then stop and have to get back in that rhythm again. There is nothing you can do about that, so you just have to help them stay focused. The last nine holes of SECs and the last nine holes of Regionals are two of the most exciting rounds I've ever coached. We did that a bit today. We got out to a slow start, but we played the back nine five-under. We have to get out to a little bit better start the rest of the week."