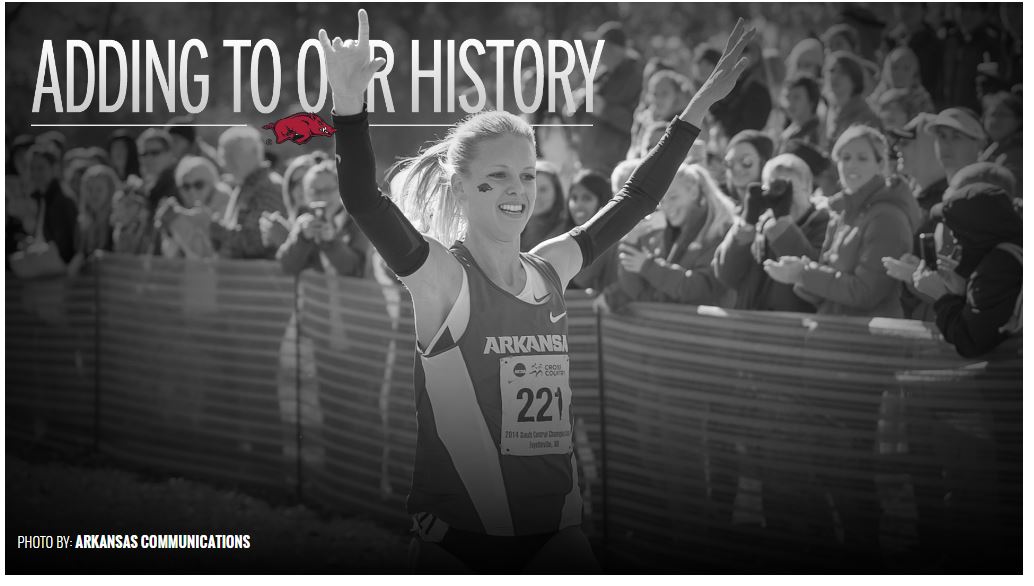 Scott Dominates as No. 4 @RazorbackTF Wins NCAA South Central Title
FAYETTEVILLE, Ark. – Redshirt junior Dominique Scott's remarkable 2014 season continued on Friday afternoon at Agri Park, as the South African native captured her first career NCAA South Central Regional Individual Title to lead the No. 4 Arkansas women's cross country team its fourth-straight NCAA South Central Regional Championship.
Scott dominated the 6-kilometer course, as she won pulled away from the pack in the final 2K to win the race in 19:43.80, 20.4 seconds faster than second-place Rachel Johnson of Baylor. The performance not only earned Scott her first NCAA Individual Regional Title, but it also marked the third time she earned NCAA All-Region honors.
It's been a remarkable 2014 season for Scott, as she began the campaign with three straight individual titles, setting a course record in each race. She was recently named the SEC Runner of the Year for the second-consecutive season, and today's victory marks the fifth individual title for the harrier this season.
Her performance paved the way for Arkansas to win its 19th NCAA Regional Championship and earn an automatic berth into next weekend's NCAA Cross Country Championship in Terre Haute, Ind. The Razorbacks had five runners place inside the top 11, helping the team pick up a score of 29 to win the race by 53 points over the Baylor Bears.
Of the seven runners head coach Lance Harter put out in today's race, six of them earned NCAA All-Regions honors.
Redshirt Grace Heymsfield was the second Razorback to complete the race, as she earned a fourth-place finish with her time of 20:12.30. Friday also marked the last time that the Elkins, Ark., native will race at Agri Park as a member of an amateur team. But she went out in style, earning her third NCAA All-Region honor.
Senior Jessica Kamilos also had a memorable Agri Park send off, as her time of 20:16.30 earned her a sixth-place finish and her second All-Region accolade. Redshirt junior Diane Robison finished just 0.20 seconds behind Kamilos to pick up a seventh-place finish and her third All-Region nod. Senior Shannon Klenke also earned her third All-Region honor on Friday, with an 11th-place finish.
Despite not making the scoring rotation, redshirt sophomore Samantha Mohler had a career day, as she not only picked up her first career NCAA All-Region award, but also set a new personal-record in a 6-kilometer race by finishing the course in 20:58.60 to place 20th overall.
Coach Harter Post-Race Sound
On his team's performance: "Well I think our kids followed our race plan. We let Dominique run out ahead of the group and go run in front with a of talented group of runners in this region. For the rest, we just wanted them to run together, pace well and kick it in the final portion and it played out perfectly. We are elated with our performance, our top five did what they normally do, but to have a local kid like Samantha Mohler come out here and earn All-Region is something special."
On having six athletes earn All-Region: "I'm elated that we had six. The top five we have are very special people and there was no doubt, unless something tragic happened, that they would earn all-region. But again, to have Samantha run up with that five and pick up all-region nod in her first NCAA Regional meet is remarkable."
On Dominique Scott's Performance: "She has had a phenomenal year. This is her fifth victory this sea-son and anybody that can have that kind of consistency is amazing. Today is proof that she is peaking at the right time and she will be truly ready for next weekend. She is fully capable of being in that top flight of runners at the NCAA Championships and if you can be inside that group anything can happen."
On preparing for this year's NCAA Championship: "There is no doubt we have a sour taste in our mouth after last year's performance. We panicked when we felt how cold it was and we did not have a racing mentality. Throughout this season, we've constantly been building on the idea of not letting that happen again and be prepared for the challenge that is at hand. This week is another stepping stone for that."
Dominique Scott Post-Race Sound
On her performance: "Today was a really exciting day, not only to win the individual title, but to help our team win another NCAA Regional Championship. We are strong as a team and went out there and ran well together on our home course. Today's weather was nice, a bit chilly, but it really prepped us for next week in Indiana."
On winning her fifth individual title of the season:  "I would have never guessed that I would be running this well. I can only thank Coach Harter for helping me raise my level of competition this year. He has guided me through every work out this season, and he has really helped me get better and stronger both mentally and physically."
Grace Heymsfield Post-Race Sound
On her performance today and running her final race at Agri: "Regionals is very unique, because the goal is to qualify for Nationals as a team, so it's a little different preparing for this race than others. It felt really good running with the team today and I think we are ready for next weekend. The goal all year was to get back to Nationals regardless of the course we were running on, so I've kept my focus on that more this week than this being my final race at Agri. But I am defiantly going to miss running here."
Top Five Teams
| | | |
| --- | --- | --- |
| Place | School | Score |
| 1st | Arkansas | 29 (1-4-6-7-11) |
| 2nd | Baylor | 82 (2-12-16-24-28) |
| 3rd | SMU | 113 (3-15-27-30-38) |
| 4th | Lamar | 140 (14-17-23-35-51) |
| 5th | Rice | 147 (5-18-21-45-58) |
Arkansas Results
| | | | |
| --- | --- | --- | --- |
| Runner | Place | Score | Time |
| Dominique Scott | 1st | 1 | 19:43.80 |
| Grace Heymsfield | 4th | 4 | 20:12.30 |
| Jessica Kamilos | 6th | 6 | 20:16.30 |
| Diane Robison | 7th | 7 | 20:16.50 |
| Shannon Klenke | 11th | 11 | 20:32.90 |
| Samantha Mohler | 20th | — | 20:58.80 (PR) |
| Valerie Reina | 37th | — | 21:33.50 |
NCAA All-Region
Dominique Scott
Grace Heymsfield
Jessica Kamilos
Diane Robison
Shannon Klenke
Samantha Mohler
For more information on Arkansas cross country, follow @RazorbackTF on Twitter.