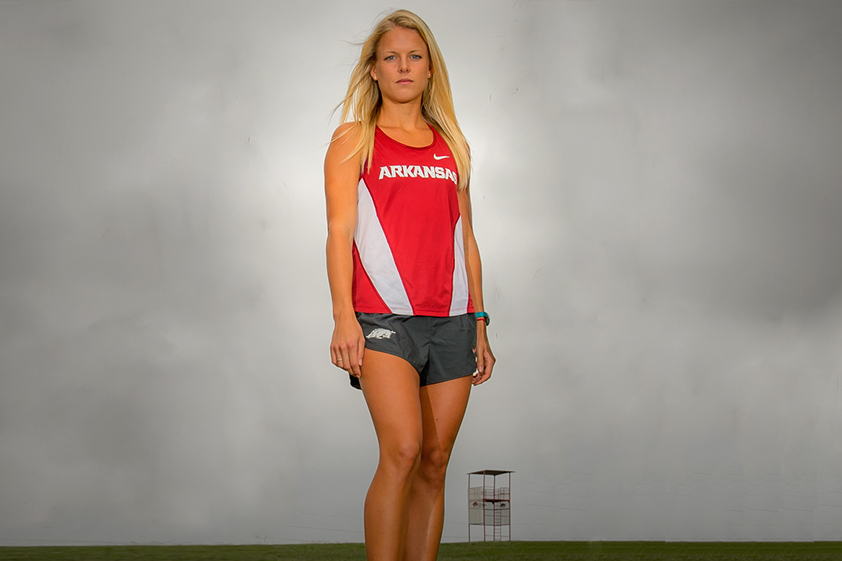 Scott Kicks Off Senior Campaign on Top
FAYETTEVILLE, Ark. – Arkansas senior Dominique Scott has been selected as the SEC Runner of the Week following a stellar performance at last weekend's Chile Pepper Festival.
The defending conference champion, Scott earned her sixth SEC Runner of the Week award after a season debut which saw her win the Chile Pepper Festival in dominating fashion. Opening her final cross country campaign in front of her home crowd, Scott amazed spectators running, 16:07.18 in her first race since July. Her performance paved the way for Arkansas to claim their fourth team title of the season with a score of 18 points. The Razorback standout owns the meet and 5K school record of 16:01.00 from the 2014 competition.
Scott received this honor previously for performances at the UCI adidas Invitational, Missouri Southern Stampede, Chile Pepper Festival and Wisconsin adidas Invitational during the 2014 season.
Arkansas travels to Madison, Wis. in two weeks for the Wisconsin adidas Invitational on Friday, Oct. 16 where they will get the chance to race against top-ranked schools and prepare for the postseason.
Chile Pepper Festival 5K Results – 1st of 17
1. Dominique Scott (1) – 16:07.18
2. Devin Clark (2) – 16:28.56
3. Kaitlin Flattmann (4)* – 16:38.81
4. Regan Ward (5)* – 16:39.98
5. Kelsey Schrader (6)* – 16:45.20
6. Valerie Reina (10)* – 16:54.59
7. Safee Belbina (12)* – 17:01.53
*division I scoring
For more information on Arkansas track and field including in-meet updates, follow @RazorbackTF on Twitter