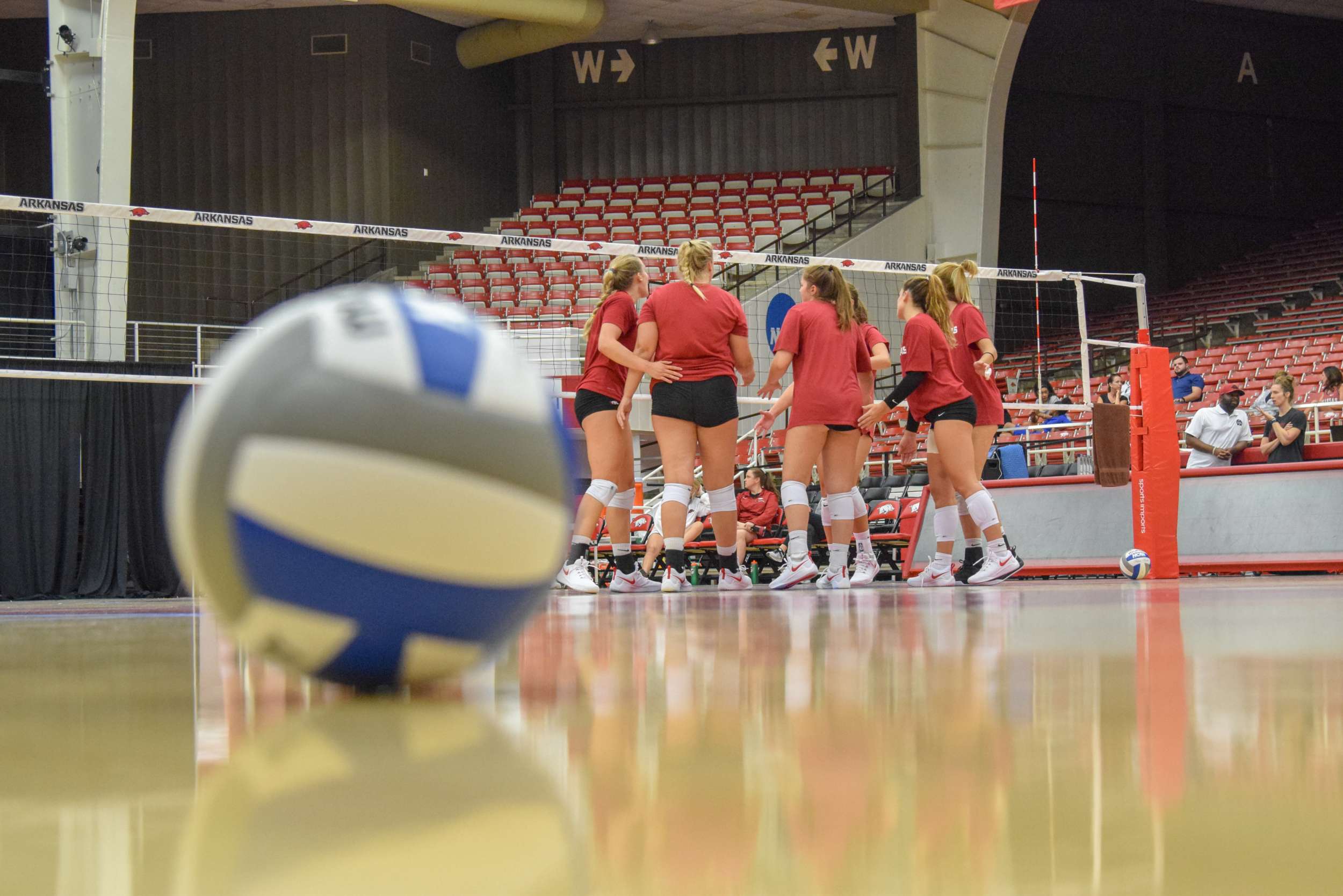 Season Opener on the Horizon for Razorback Volleyball
FAYETTEVILLE – The University of Arkansas volleyball team has returned to Barnhill Arena for the 2019 season, ready to open the slate at home for the eighth time in ten years. Led by fourth year head volleyball coach Jason Watson, the Hogs will look to make their way back to the NCAA Tournament for the 12th time in program history.
Arkansas will play host to three opponents over the course of two days, starting early Friday morning and going through Saturday afternoon. This year's classic includes Southland Conference opponent Northwestern State, as well as the Sun Belt's Little Rock Trojans and Montana State from the Big Sky Conference. The three visiting teams are 1-3 all time against Arkansas, with all three Hog victories coming against Northwestern State, and Montana State standing as the only victorious opponent. This will be the first meeting for all three teams in the Watson-era.
On Friday, only Arkansas matches will be ticketed. Both Saturday matches will be open to the public and free of charge. Single game tickets are on sale by phone, at the Razorback Ticket Center, or at the South Entrance of Barnhill Arena starting one hour prior to match time.
University of Arkansas students get into all Razorback home volleyball games free with their student ID. This weekend, all students in attendance will have the chance to win a pair of Apple air pods or have their textbook costs covered for the semester.
Tournament Schedule

Date
Time
Matchup
Live Scoring Link
Friday
10:00 a.m.
Montana State vs Little Rock
Stats
Noon
Arkansas vs Northwestern State
Stats
5:00 p.m.
Northwestern State vs Montana State
Stats
7:00 p.m.
Arkansas vs Little Rock
Stats
Saturday
11:00 a.m.
Arkansas vs Montana State
Stats
1:00 p.m.
Little Rock vs Northwestern State
Stats
On the Home Front
Arkansas saw the most success at home last season, recording seven wins, including a sweep of its Arkansas Classic opponents and four conference wins. Of those seven home wins, only twice did the opposing team win multiple sets. Under Coach Watson, the Razorbacks are 21-17 at home.
Across the Net
This year's schedule features 13 home matches at Barnhill Arena and seven opponents that played in last year's NCAA Tournament. Arkansas will play 10 matches against eight teams that were ranked insde the final RPI Top 55; six of Arkansas' opponents participated in the 2018 NCAA Volleyball Tournament. The Hogs will also see four first-time opponents this season: Arkansas – Pine Bluff, Princeton, San Diego State and West Virginia.
Oh Captain, My Captain
By team vote, junior outside Hailey Dirrigl and sophomore setter Gracie Ryan will serve as the Razorbacks' captains.
Dirrigl finished the 2018 season leading the Hogs in kills, while Ryan covered the defensive side as the returning leader in digs per set at 1.87.
Record Breaking Rippe
Senior Rachel Rippee is getting ready to close the door on her career at Arkansas, but not before etching her name in the record book, over and over again. The Springfield, Mo. native is currently in the top five in Arkansas history for: assists, assists per set, service aces, service aces per set, and sets played.
Fresh Faces
Arkansas welcomes six newcomers-four freshmen and two transfer juniors-to this year's roster. The team's incoming class was named a Highest Honorable Mention group, just outside the top 30 by PrepVolleyball.com. Savannah Downing joined Arkansas from Iowa Western Junior College, where she played in all 84 matches during her time with the Reivers, Downing recorded 550 career digs to average 1.98 digs/set. Watson also added transfer Devyn Wheeler to the squad in December of 2018, a two-time ASUN Freshman of the Week, she was named to the 2017 ASUN All-Freshman Team in her first year at North Florida.
Sideline Additions
In early August, Coach Watson announced that Megan Wargo-Kearney, who enters her third season with Arkansas volleyball, had been promoted to associate head coach. Coach Watson also added Macey Gardner-Donathan (Arizona State '15) to the staff as an assistant coach and Lexi MacLean (TCU '18) as a graduate assistant.
Academic Success
For a third-straight year, Arkansas earned an AVCA Team Academic Award for the 2018-19 season, including a special spot on the AVCA Honor Roll as well. Returning Hogs, Lauren Evans, Maylin Garrett, and Gracie Ryan were also named to the SEC First-Year Academic Honor Roll earlier this summer.
Where They Rank
At the conclusion of the 2018 campaign, the Razorbacks sat in 11th place in the SEC and coming into the new season, the Hogs were predicted to finish 9th in the league as voted on by the conferences' coaches. The Razorbacks closed out the 2018 season 11-17 overall and 5-13 in SEC play. The Hogs will be looking to kick off the season with a win, to break a five-match losing streak that dates back to Nov. 9.
For more information about Arkansas volleyball, follow @RazorbackVB on Facebook, Instagram, Snapchat and Twitter.