#SideBySide Stories: Part One
Coaching high school basketball and mowing lawns – that was once the plan for Amber Shirey, the current Director of Operations for Arkansas Women's Basketball.
"Don't laugh," Shirey said. "But I was determined to own my own lawn-mowing service. Growing up, that's what my coaches did. I liked to do it. It just made sense."
Thankfully, for so many, Shirey's dream of cutting grass hasn't come true. Instead, after spending four years as one of Arkansas' best players, 26 years as a part of the Women's Basketball staff, and a lifetime as a Razorback, she now serves a different, and much more impactful role: her loyalty and longevity with the Arkansas Women's Basketball program has made her the bridge that connects the past and present.
"I do kind of see myself as the bridge between the generations," Shirey said. "Just because I have been here for so long. I have seen and been a small part of so many that have come through here."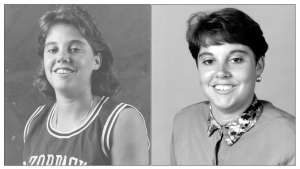 Shirey, formerly Amber Nicholas, grew up like many kids do: playing sports at every opportunity she had. The youngest of three girls, she could usually be found playing with her sisters or the boys in the neighborhood. Albeit, not with the kind of ball you'd expect.
"We grew up in a neighborhood full of boys," Shirey said. "We played something with a ball every day after school. Playing with the boys and watching my sisters is really where the love for athletics came from. Honestly, we didn't even play much basketball – we mostly played football or baseball. I think the competitive part lasted."
Though she spent time playing other sports in her younger years, it became apparent in high school that Nicholas was meant to be a basketball player. Even still, Nicholas was not completely convinced she was a lock to play college ball. That all changed when a team from Arkansas won the AAU National Tournament in Clovis, New Mexico, coming through the losers' bracket to do so.
"Being from a small town in Arkansas, honestly, I never thought much about playing ball in college," Shirey said. "So, we go to this tournament, and all of these college coaches are there, because this was really the only tournament they can go to in order to evaluate talent. That was a big motivator to me. And, of course, Coach Sutherland was there. We ended up winning the whole thing. Just some team from little Arkansas. We lost our very first game, and we had to go through the losers' bracket, which drew a lot of attention. After that tournament, Coach Sutherland, who really couldn't talk to me at the time, sent word – he wanted me to be a Razorback."
Boy, did he. Every coach has an ideal lead guard in mind when recruiting, and it turned out Nicholas was a perfect fit in Sutherland's system.
"Amber had all of the tools," Sutherland said. "She was exactly what I thought a point guard should be. Her skills combined with her cerebral style made it a perfect match for me. You knew she wasn't the best athlete in the world, but she made up for it with all of the intangible things she did so well."
Even though she was a Razorback at heart and was coveted by Sutherland and his staff, the point guard from Arkansas didn't immediately commit to spending her college days in Fayetteville. And with good reason it turned out: Louisiana Tech, one of the premier programs in Women's Basketball during that era, was looking to bring her in to run the show.
"In those days, when you were as good as Amber was, you went to Louisiana Tech," Dr. Bill Smith, Shirey's Media Relations Director at Arkansas, said. "But she chose Arkansas then. She's been choosing Arkansas ever since."
It was a close call, but Nicholas did end up choosing the Razorbacks. Louisiana Tech was great. Arkansas was home.
"I grew up a Razorback, through and through. I mean I cried when Sidney Moncrief and those guys lost to Larry Bird in the NCAA Tournament. (Louisiana) Tech was really prominent at that time, but I knew that Arkansas is where I wanted to be."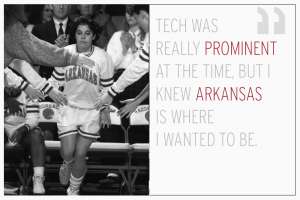 Once Nicholas was on campus, her game spoke for itself. Even if when it talked, it wasn't very loud. Her own description of her game? It's quieter, and humbler, than it should be.
"I was not flashy. Just solid. It was simple – my job was to get the ball to the people that needed it."
Those that watched her, though, knew there was more to it. If you thought she was one dimensional or tried to take away her passing lanes, she'd be quick to drop points on you.
"Amber's game was very steady," Smith said. "In a way, it almost lulled opponents into thinking she was just a ball distributor. If you didn't pay attention to her though, or if you tried to double off, she'd light you up. You always felt that there was no way you could lose with Amber Nicholas as your point guard."
Her teammates echoed those same sentiments. Whenever, wherever, and however the Razorbacks needed it, Nicholas always found a way to deliver.
"She was our general," Blair Savage-Lansden, Shirey's longtime teammate and roommate, said. "She was the one that never got rattled. She always put us in the position we needed to be in. She always came up with the big play, whether that was a basket, an assist or a steal."
The only critique of her game? Her coach wishes she would've shot the ball more. A lot more.
"Listen, Amber was an excellent passer, she always got us in the right sets and she was really good at pushing the ball," Sutherland said. "The things was, though, when she got here and looked around, she thought everyone was better than she was. I couldn't get her to shoot the dang thing because of it. I yelled at her for four years to shoot the ball more."
Even though it may not have come through in her apparent unwillingness to shoot, Nicholas' calm amid the chaos came from her confidence. That confidence was born from constant work. Despite her natural talent, Nicholas was always putting in the time, dating all the way back to her childhood days.
"My neighbors used to make fun of me," Shirey said. "Because at all hours of the day, they would hear the ball bouncing in my driveway. I think it kind of drove them crazy."
It really didn't matter what she was doing. Nicholas brought that kind of intense, conscious mindset to everything, and simply tried to dominate it. Whether it was her grades, her faith, or the ways she could improve on the hardwood, something was always on Nicholas' mind, and she was always working to be better.
"You just knew it was happening," Smith said. "She was just that gym rat, but it was in every facet of her life. She came early, stayed late. It was just her work ethic; It was just Amber. You didn't realize how special that was until you met others that didn't have that commitment and love for the game. It's what made her stand out. I don't think there's any doubt what made her an All-Conference basketball player is the same thing that made her an academic All-American and an All-World person."
Though Nicholas was known for her hard work, Savage-Lansden, who was a great player for Arkansas in her own right, wanted something to be very clear: her general was as talented as they came.
"Don't get it twisted," Savage-Lansden said. "Amber was one of the most talented players I ever played with. She had a God-given skill set."
More importantly than perhaps anything else, though, was how Nicholas' personality impacted the people around her. There were few that could match her legendary work ethic. There were fewer still who did what she did the way she did it: with a smile on her face and kindness in her heart.
"She's just a really good person," Savage-Lansden said. "She is just so kind. She was always doing the little things for her teammates. For our conditioning, we used to have to run up and down what we called Cleveland Hill. We ran it on Mondays and if you didn't get it done in time, you'd have to do it again some other day that week. Amber, even though she made it every Monday, would come back the second day just to help set the pace for her teammates. Some days, she would literally drag them up and down that hill. She always had a way of lifting you up."
"She sure did," Sutherland said when asked about Nicholas coming back to Cleveland Hill. "I never saw her get on anyone. She never ran behind them yelling at them. She never ran in front making them feel bad. She ran with them, side by side. That, to me, is leadership."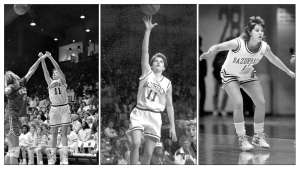 Over a career as decorated as Nicholas' was, there were many memorable moments that many fans will remember for a long time. However, there is one that stands above the rest: when Amber Nicholas' Hogs turned the lights on "The Drum" white, snapping Texas' now-unthinkable 183-game SWC winning streak.
"If there were one that all Razorbacks and Razorback fans remember, that was it," Smith said. "Because in 183 straight conference games, they never had to put those white lights up. People have a hard time wrapping their heads around that. No one, not UConn, not Baylor, not anyone, will ever approach a streak like that again. Amber's team is the one that went in there and snapped it."
"It's hard to describe," Savage-Lansden said. "They beat us for so many years in a row. Just being able to collectively as a unit win that game was amazing. We never doubted we could do it, maybe because we were so naïve. Just to open that door for others to follow. When they win those lights are orange. When we left that arena, it was white. When you see things like that you don't forget it."
"That was one of the greatest moments of my life," Sutherland said. "It was a special night. We got back to the hotel that night, and dang-it if they weren't replaying the whole thing on TV! We got a ton of pizzas and watched the game all over again as a team. It was like we beat Texas twice in one night."
When asked about it, Shirey gave a non-flashy, steady answer. One you'd expect.
"It was great to see that losing color after we left."
Though the triumph over Texas was the highlight of her career, wins against UCLA and Georgia in the NCAA Tournament also came to mind when Shirey was asked to recall her favorite moments as a player.
"I remember beating Georgia," Shirey said. "That was a big-time program, on their home floor in a NCAA Tournament game, too. We rolled in there, and they didn't think we had any chance of beating them, and we did. Just doing those things with your teammates, it was great."
"The UCLA game, we bid hard to get to host," Smith recalled. "So when we were down big early, it was in front of a big home crowd. For most of the first half, it was not looking good. But Amber was one of those players that could calm everyone down amid the chaos. She brought us all the way back, and then closed the game out in overtime. Pretty amazing to watch."
For Sutherland, Nicholas' crowning achievement as a player was her SWC Conference Tournament MVP performance back in 1991.
"That year, we had Delmonica DeHorney, one of the best bigs in the country. We had Blair, who had to be the most underrated four in basketball. You know who the MVP of that conference tournament was? Amber Nicholas. She came down after accepting that award and was like 'Aw shucks, I don't deserve this thing.' But she did, no doubt about it. I was never more proud of her. I gave her the biggest hug."
Nicholas' playing career was one of the finest ever put to hardwood by a Razorback. When all was said and done, she hung 'em up as the record-holder for career and single-season three-point percentage, career and single-season free throw percentage, career assists, all while being a member of the 1,000-point club. To this day, her marks in career free throw percentage and her career proficiency from deep still stand as Arkansas Women's Basketball records. Nicholas also played in 117 consecutive games, and according to her, missed just one practice in her four years playing.
But no amount of records could keep her from asking the question that all athletes must answer at some point: what's next?
"Yeah, it was hard at first," Shirey said. "It's what I had done all my life. There was a fine line for me when I was GA. Heck, my roommate was still on the team. Being away from the game, it's hard to know what to do."
So, instead of starting up the 'mower, Nicholas stayed on the Hill, running it back at Arkansas as a GA following the season in which she graduated. And she liked it. So, she decided to stick around some more, as she was hired onto the staff full time for the 1993-94 season. After a while it became clear: Nicholas wasn't going anywhere. And the Hogs reaped the benefits of adding the former star to their staff.
"If you are a head coach and you are putting together your staff, you need someone that has the intangibles Amber has, and you need someone that knows the state," Sutherland said. "She is so well respected there, and she cares about people. And goodnight, she knows the game. She flat-out knows how to win."
Once her roots were firmly stuck in the Fayetteville soil, Nicholas met her husband, Jason Shirey, in 1998. An assistant softball coach at the time, the two quickly fell for each other, getting married in 1999. Shortly after that, the newly minted Shireys welcomed their first child, a son named Ross, into the world in 2001. And the years continued to go quickly after that. No matter how much changed around her though, Shirey continued to lend her steady hand to the program she had helped build up. And the results are best illustrated by the words of those that have seen her impact.
"It's hard to think of someone else in the history of women's college sports that means more to their program than Amber Nicholas Shirey does to Arkansas Women's Basketball," Smith said. "She's been choosing Arkansas her whole life. She did it when she was playing, despite the fact those with her talent during that era normally went elsewhere. She's done it after her playing career too. Think of all the opportunities she's turned down. That kind of loyalty is rare."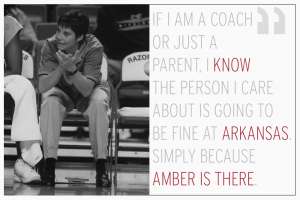 In the 26 years since she last laced them up, Nicholas has served as an assistant coach (1993-2007, 2012-2014) and as the team's director of operations (2007-12, 2014-present), but has also served as a symbol of loyalty and dedication. And that loyalty is still paying dividends according to those who are paying attention.
"In this day and age in Division I athletics, it's so rare to have someone play, and then stay on that same staff for this long," Savage-Lansden said. "It's even more remarkable to think of all the coaches that have come and gone during her time there. It speaks to her character. If I am a high school coach, a travel ball coach, or just a parent, I know the person I care about is going to be fine at Arkansas. Simply because Amber's there."
"Amber is great at building people," Sutherland said. "She can build their confidence. There is no compromising to her. When she talks, they listen, because they have respect for her. She just molds them as players and as people when few are watching. That's the impact that Amber has had. It's hard to see and hard to measure. But it's there."
Perhaps the better way to think about Shirey's enormous impact on the Arkansas Women's Basketball program is what would it be like had she not decided to come to Fayetteville all those years ago.
"I sometimes wonder 'What if she had not come to Fayetteville?'" Smith said. "Would there have been tournament runs? Would anyone have broken Texas' streak? Would there be Christy Smith or Amy Wright after her? The '98 Final Four? Without Amber walking through those doors and doing what she did, blazing that trail, you can't know for sure. What she's done over 30 years for her alma mater, it's crazy if you really think about it."
There might be a few more mowed lawns in the world had Shirey's original dream come true. But, it seems for those that played with her, cheered her on, learned from her, or have been touched by her kindness in the 30 years since she arrived in Fayetteville, that's a sacrifice they're willing to make.