#SideBySide Stories: Part Two
It's a Friday morning in October. The Basketball Performance Center on the campus of the University of Arkansas is mostly quiet, as neither the men's team or the women's team is practicing. Some of the members of the Razorback Women's Basketball coaching staff mull around the office. Pauline Love, the Recruiting Coordinator for the Hogs, is getting ready to eat lunch. However, she won't be going out alone today. Alexis Tolefree, a senior guard for the Razorbacks, will be joining her, as has become the new tradition for the duo.
"We actually do lunch once a week," Tolefree said.
It might seem like a simple thing, but the pair promises it's not. The two have a sort of shared history, despite a near 10-year age gap between them. Similar paths. Similar stories. And now, a sort of shared fate.
"Our relationship, it's bigger than basketball," Love said. "Because now, we have a forever relationship. I help her with her issues, and honestly, she helps me through mine.  I see myself in her."
***
From a young age, Pauline Love knew she could be pretty good at this whole basketball thing. How did she know? When people talked about her game, trying to compare her to other local talent, it was always juxtaposing her against the boys.
"I officially started playing basketball in the third grade," Love said. "Honestly, I always wanted to play with the boys. I really didn't know how good I was until the fifth grade. They used to always compare me to the boys that were really good in my hometown. That's when I knew I could be pretty good at this."
Throughout middle school, Love was always clearly the best player on the court. In high school, though, she got a rude awakening right away.
"I started playing in the state tournament in the summer of my ninth grade year," Love said. "It was an eye opener for me."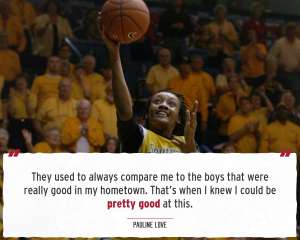 In one of the first games she played during the summer before her ninth grade year, Love had her eyes opened wide. Her team was in a close game, and the ball was in her hands late. All she had to do was hold it and let the clock run out. The freshman didn't do that though; she shot it instead. The opposing team took advantage, rebounding the ball, pushing it up court, and scoring on the other end to win the game.
"That humbled me REAL quick," Love said. "I thought I was a big deal. My auntie even bought me these Jordans that came in this shiny silver box. I thought I was big time. After it was over, I thought 'Everyone is going to be furious with me'. Those seniors actually came up to me and told me 'good game'. That was a good experience. It let me know that team is family."
Love's dominance at Rivercrest High School is well documented. What isn't, though, is all of the offers she received to play ball at the next level. Love didn't really have interest in any of that, though; what she wanted was simple. She wanted to stay close to home, and wanted to go somewhere she would feel she was going to be taken care of that. Coach Joye Lee McNelis, the coach at Memphis at the time, offered both of those things to the high school star.
"I am a homebody, and Memphis was only 45 minutes from my house," Love said. "I knew I was pretty good, but I didn't really care that big schools like Tennessee and NC State were recruiting me. I didn't know anything about it. I just knew that Joye Lee said she was going to take care of me. She was the best for somebody like me."
Then, as quickly as Love committed, things changed. McNelis informed Love that she had the opportunity of a lifetime: she was offered the chance to go home and coach at University of Southern Mississippi. Despite the distance, or even knowing where the university was located, Love kept her message to McNelis simple.
"I immediately told her that I was going wherever she was going," Love said.
With her college decision sewed up, it seemed like everything for Love was going according to plan. She arrived to Southern Miss the summer after she graduated from high school and was enrolled in summer school. However, academics didn't seem important to Love at the time; the focus was all on basketball. That mindset, as Love recalls, caused a lot of problems.
"When I first got there, I had to take certain classes during that summer because coming out of high school, I was a non-qualifier," Love said. "But I could qualify if I just did my summer work. Of course, I didn't do it. I remember, the point guard on our team, she offered to help me as much as she possibly could. But I didn't accept it. I ended up flunking out."
With her freshman season now all but over, Love began looking for alternatives. There was really only one option: junior college.
"Coach came to me and said 'you have to go to junior college'," Love said. "To be honest, I didn't even know what junior college was. I seriously didn't know what junior college meant. The only thing that really registered was when she said 'you get to play basketball right away'. And I was like 'Great!'."
 Love ended up going to Jones Country Junior College, a public community college in Ellisville, Mississippi. It soon became clear to her that what started off as her only option to play basketball was so much more.
"It was the best experience of my entire life," Love said. "If Jones would have been a four-year institution, it would have been hard for me to leave. I am telling you right now, the atmosphere it had was special."
On the court, it sure looked like Love was enjoying herself; in her lone season at Jones, Love became the first NJCAA All-American to come through the program in a decade.
 "Most of the time, I didn't keep up with stats," Love said. "I just knew I wanted that double-double or at least double-digit rebounds. That's all I cared about. Apparently, me being the first All-American there in a decade was a big deal. Again, I didn't know that at the time. I just liked playing."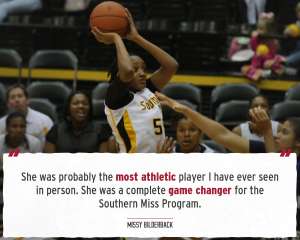 After a year at Jones, Love returned to Southern Miss, putting together arguably the most prolific playing career in the history of the program. When all was said and done, Love had completely rewritten the Southern Miss record books during her time in school, finishing in the Top-10 in program history in nine different categories, including second in rebounding average (11.1), third in rebounding (1,051), fourth in scoring average (16.6), fifth in field goals made (648) and field goals attempted (1,436), sixth in scoring (1,576), seventh in 3-point goals made (94) and attempted (307), and 10th in minutes played (3,188). Her senior season, Love was one of the best players in the country, averaging marks upwards of 18 points per game and 12 rebounds per game.
"Pauline was just so versatile as a player," Missy Bilderback, the Head Coach at Jones County Community College, said. "She was probably the most athletic player I have ever seen in person. She could make shots, had a high motor and always found herself around the ball. She was a complete game changer for the Southern Miss program."
Even after all she accomplished on the floor, though, Love knew what she had learned at Jones and Southern Miss about how to act was way more valuable than what she had done on the court. The unconventional route she took to college basketball stardom made those lessons sink in even deeper. And it helped propel her forward in her journey.
"I wouldn't change anything," Love said. "The things that I went through at Jones and at Southern helped me get to a point where I was ready for whatever came my way. Those were two strong minded women I played for. Basketball came last to them. It was about how I carried myself outside the game that mattered to them. It was about what I wanted to do with my life, and how I needed to act to get there. They helped me grow up."
***
Five years after Love scorched the Southern Miss record books, Alexis Tolefree had a decision to make. After walking away from playing at the University of Central Arkansas, and having her scholarship pulled, she seemed to be out of options.
Or so she thought.
"My assistant coach at the time had worked at UCA as an assistant," Bilderback said. "One day she came to me and said 'there is this kid that just quit at UCA and we need to find a way to get her here'. I had no idea who Lex was, and I wasn't super familiar with Little Rock or Conway. I saw one clip of her playing and was immediately sold. She hadn't really heard of junior college, and didn't really see it as an option. We got her on campus, and we got her signed."
Sound familiar? It should. Just like Love before her, Tolefree, an Arkansas kid, showed up to Jones just looking for a place to play.
And just like Love, she found so much more during her time in Ellisville.
"If Jones was a four-year place I for sure would have stayed," Tolefree said. "I loved it there. It was really, really great. I met some really great people that I still stay in contact with."
It was a symbiotic relationship. Jones gave Tolefree a home, a family and a place to play. In return, Tolefree put the junior college on the map.
"She helped take our program to a national level," Bilderback said. "Jones was always good at the state level. They had never won at the regional level. Her first two years, we won two regional championships. People would come from a long way just to watch her play, because she was just so fun to watch. Lex made it cool to play here."
During her time at Jones, Tolefree frequently put on a show. There was her game against Meridian, a game in which she dropped 42 points, despite being one of just seven players suited up.
"We were worried about scoring," Bilderback said. "Then she went out and dropped 42."
Or that time Tolefree dropped 50 points in the region championship game.
"I honestly didn't even realize she had that many," Bilderback said. "I pulled her out because we were up so big. The bench reminded me, though, and I put her back in. She had done so much for our program, so I just wanted her to have that personal milestone."
Maybe the most emblematic performance during her time at Jones was the second game against Copiah-Lincoln Community College during her freshman season.
"I remember, I shot it horribly at the beginning of that game," Tolefree said.
That didn't matter though, because Tolefree kept on shooting. She would hit the game-winner from deep to give the Lady Bobcats a 68-66 victory.
"She just plays with so much confidence, and that game showed why," Bilderback said. "She could struggle, but she would bounce back. She went 0-6 to start, but then went 4-5 and hit the game winner. She always worked so hard on her game. That's why the belief was always there."
When her two years were up at Jones, she had taken the program to heights it had never reached before. They reached the NJCAA tournament during both of her seasons, and pulled off one of the biggest upsets in recent memory when Tolefree's 35 points propelled JCJC over Hutchinson in the Elite Eight.
Despite all of the team success, though, there were some individual records she didn't posses after her time at Jones. They belonged to someone named Pauline Love.
"I didn't like 'know her know her'," Tolefree said. "But I knew of her. She set a lot of the records at Jones."
It was once again decision time for Tolefree. Her two years at Jones were done, and she had just decommitted from Ole Miss after their coach had been fired. Several programs had the NJCAA star on their radars, but only one stood out to Tolefree: Arkansas.
It was a chance for her to go home.
"I took a visit to Mississippi State one weekend, and then visited Arkansas the Monday after that", Tolefree said. "I made my decision while I was on Arkansas' campus. I knew right away. I had wanted to be a Razorback since the sixth grade. It's my home state. Being at home was important to me."
The Razorbacks had just recently made a coaching change of their own, bringing in Mike Neighbors from Washington. Just like Tolefree, Neighbors' decision to come to Fayetteville was a homecoming. And just like the two of them, Love couldn't resist the chance to help the program in her home state, too.
"The proudest moment of my life is when Mike Neighbors called and offered me the job here," Love said. "I never thought I would get an opportunity to coach at home."
So, when Tolefree stepped on campus, the fate of the pair crossed once again. Two Arkansas kids. Two people who thought junior college was their only option. Two people who found a home at Jones.
Two people who made the most of their opportunity when they could've given up.
"Lex and I clicked instantly once she got on campus," Love said.
The reason? You guessed it.
"We had an immediate relationship because of the Jones Connection," Love said. "She understands. She loves JCJC just as much as I do. We relate on that. We talk about who's there now, how good are they going to be, all that kind of stuff. It's a sisterhood once you've been through there."
"History-wise, she was a kid that needed that same kind of investment that I need," Tolefree said. "So I think she sees that in me. She takes that role in my life. She shows me that extra love and attention that I might not get elsewhere."
All of these years later, two Jones Country Junior College kids are making a big difference at the University of Arkansas. But for both of them, their time at Jones did more than prepare them for the next step in their basketball journeys; it helped prepare them for life.
For Tolefree, that has meant valuing all of the relationships she makes.
"I learned Basketball has an end to it," Tolefree said. "The relationships, what people invest in each other, that's real. You need to make good impressions on people. I learned that this game won't be there forever. So you need to have people you can rely on. I have been back to Jones a couple of times. Every time I go, people are excited to see me. Coaches, teachers, friends, all that. Those relationships are important and I learned that while I was there. They really care about me, and I care about them."
For Love, it means being a mentor.
"I can sit and talk to a kid and tell them 'I have been there. I know what you're going through. I know what you're thinking'.," Love said. "I can tell them the scenarios based on my days playing. They respect it more I think. When I recruit kids out of JUCO, I know there's a reason they are there. I am a firm believer in second chances. I can just tell them 'You gotta earn your respect'. I will forever be a JUCO kid. And I am certain that I will find another Pauline Love someday. She's out there."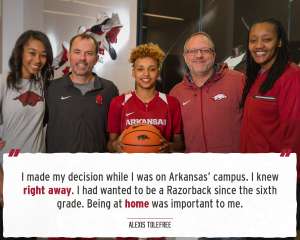 The duo often uses their lunch to look back, but both are a big part of the Razorbacks' immediate future. Tolefree, a senior, will be looking to help propel the Arkansas Women's Basketball program to heights it hasn't seen since the late '90s. Love will be right there to make sure her confidence stays high. No matter what happens though, the two Jones products have already left their mark.
"I am very thankful that Lex is playing for Pauline," Bilderback said. "She is a great mentor for her. Anytime anyone comes through JCJC, seeing them continue and have success, it makes us very proud here. We are just so thankful we have an opportunity to follow them and continue to have great relationships with both of them. We're grateful to be a part of their stories."