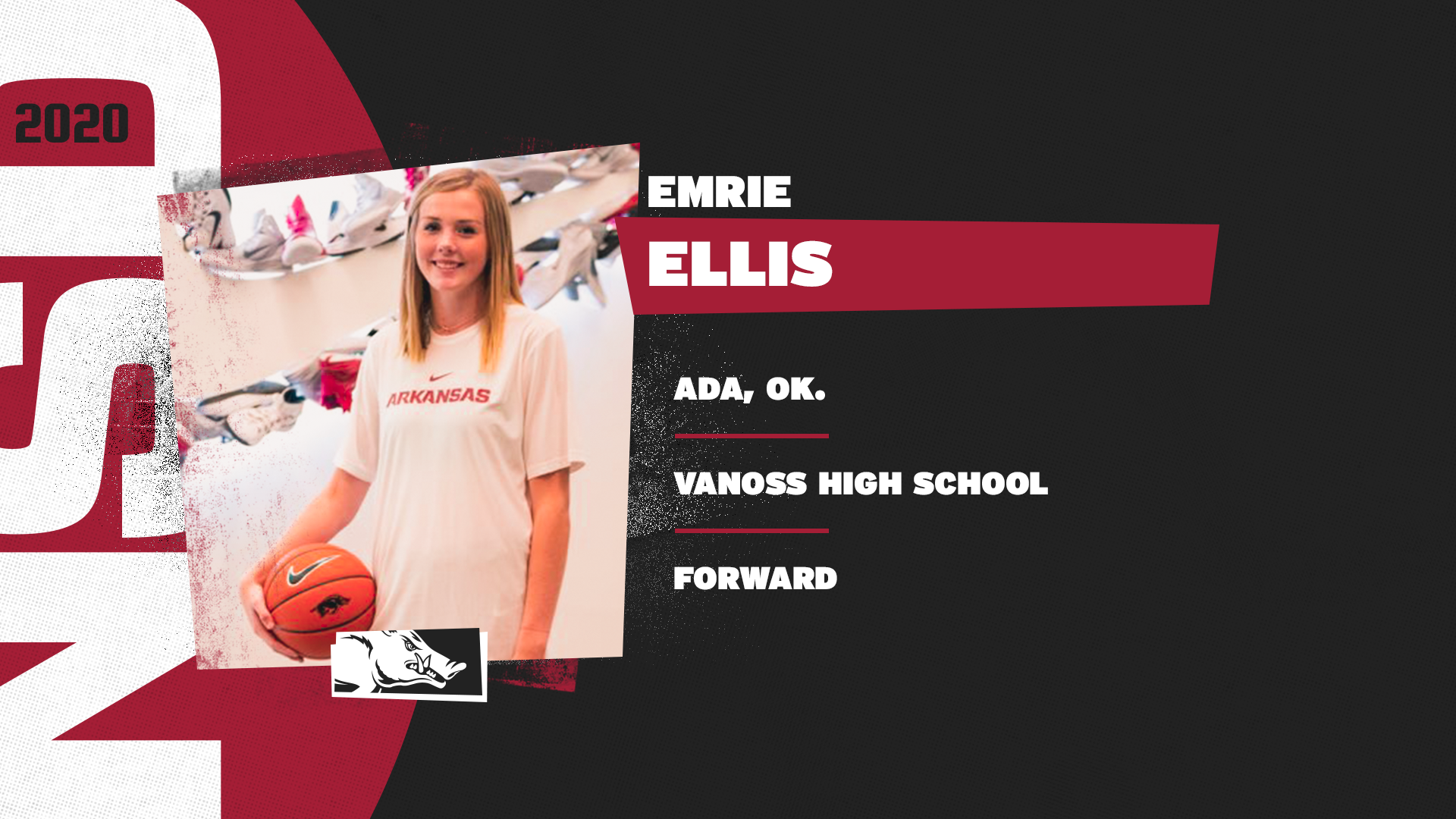 #SigningStories: Emrie Ellis
Emrie Ellis | F | 6-3 | Ada, Okla. | #48 in Class (ASGR)
Her Signing Story, as Told by Coach Neighbors:
Rumors are traditionally associated with negative things. Growing up in a small town, that had certainly been my experience. Someone at church would hear details of something that happened the night before, and that story would be retold by someone at the store onto someone else at the Pizza Barn that night. By Monday at school? It was all over. Well, this rumor ends up with a future Razorback rather than a viral story.
Lacey Goldwire, our former recruiting coordinator, began hearing tidbits of a 6-3 shot-blocking machine in southeastern Oklahoma near where she had attended college. Former classmates of hers at East Central College were telling tales of a walking triple-double who was also blocking 20 shots a game. Rumor had it coaches of the region's top programs were charting a course to Vanoss High School to see Coach Jon Hurts' prospect.
Luckily for us, Hurts was one of Lacey's classmates. Lacey set a September date to evaluate this now somewhat mythical prospect on our recruiting board. We use the term 'mythical' because, in 2019, it is unprecedented for a 6-3, extremely skilled, great student with a great family to be an unknown. How could a player like that be a mystery to evaluators across the country? Well, it turns out she had broken her wrist exactly three minutes into her first summer game entering her freshman summer, and she chose not to play the summer after that. Could we really be this lucky?
The practice we attended started at 3:30. By 3:45, I got the following message: Rumors aren't right. Dreams of a future Hog shot-blocker sank. Then, a second message: She's even better than everyone said. That second text led to a visit to campus for a football game with her family and friends. Our luck continued – her family loved the Razorbacks, and she even drove a Razorback red car. Before they left, she had a full-ride offer. Two months later, while attending the Arizona State game in Bud Walton Arena, Emrie committed.
The Accolades: VYPE Top 100 (2020, 2019, 2018) | Pontotoc County All-Conference (2020, 2019, 2018) | Ada Evening News Player of the Year (2020, 2018) | Mid American Invitational All-Tournament Team (2020, 2019) | Led Her Team to a No. 1 Ranking Before the COVID-19 shutdown | Led the state of Oklahoma in rebounds & blocks (2018)
The Coaches: Jim Perinovic, Oklahoma Swarm | Jon Hurt & Randy Ellis, Vanoss High School