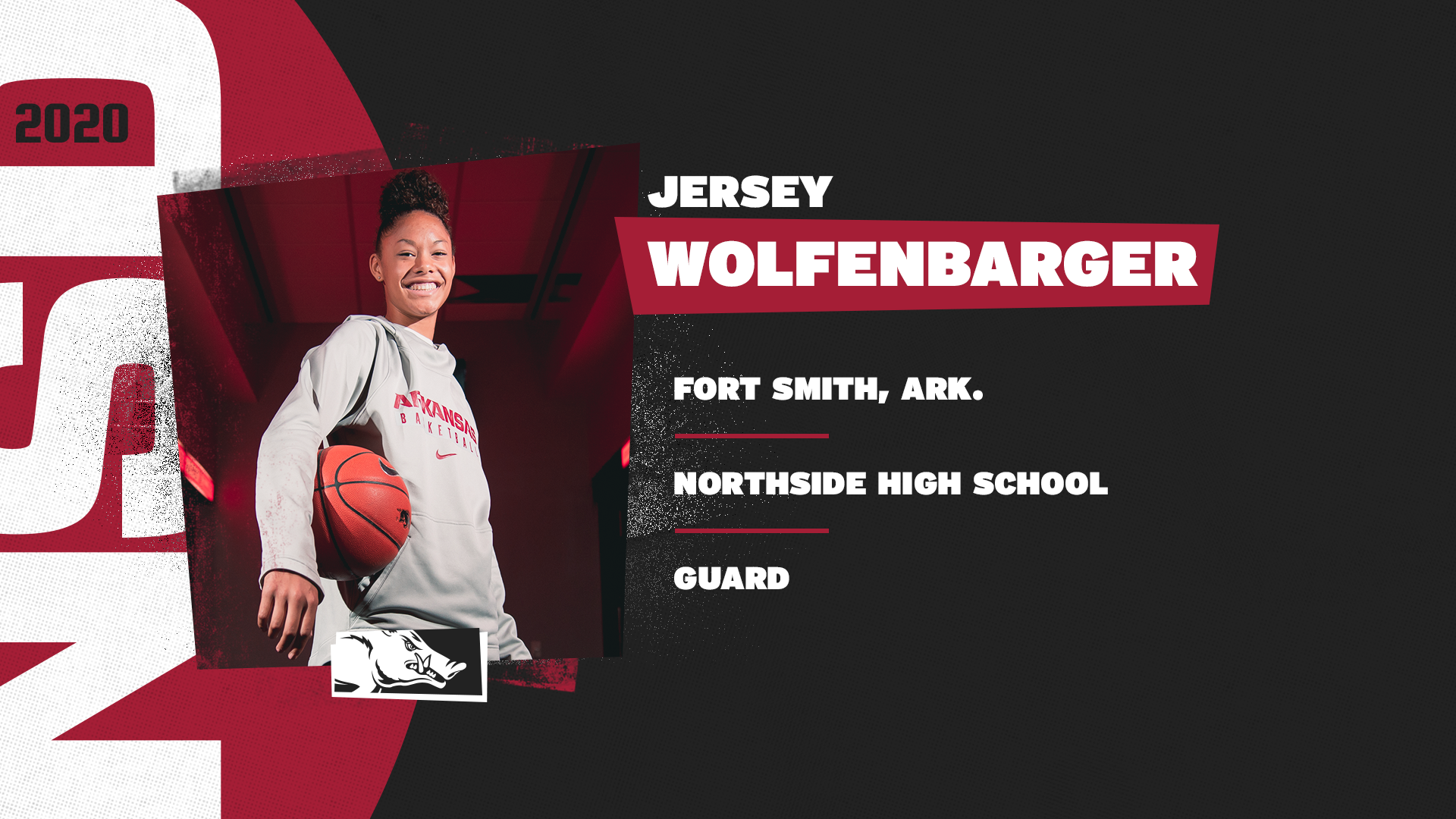 #SigningStories: Jersey Wolfenbarger
Jersey Wolfenbarger | G | 6-5 | Fort Smith, Ark. | #7 In Class (ESPN) | Five Star Recruit (ESPN)
Her Signing Story, as told by Coach Neighbors: 
Phone Calls to the basketball office about '5-6 guards who love the game' are what we call '10-12's – a dime a dozen. So, when this particular call in the summer of 2017 came in, it was a pretty typical day. But, like with all calls that people are kind enough to make, we followed up on it. After some work, we found the team, the Missouri Phenom-SUG, to be playing in Chicago, on court 56 of the Nike event. She was being coached by Fayetteville High School Legend Nick Bradford, so we made arrangements to evaluate this one prospect.
The game began, and our prospect didn't start. The first round of subs came and went, and she was still on the bench. Pretty typical of a '10-12′ call. Many times, this is where we would find another game to watch. But, we stayed and shortly before halftime, we got our first look at the 5-6, 85-pound guard we had come to see: Jersey Wolfenbarger. And my first note? 5-6?? Maybe! Then, she started playing. She was so fearless attacking the basket, challenging those who had matured earlier than she had. She was relentless as she pinballed off bodies and fought (unsuccessfully) for rebounds and loose balls. She spent more time on the ground than she did on her feet during the first evaluation. My final note from that game read: Colt? Thoroughbred?  We watched her the rest of that summer and learned she'd be moving to Fort Smith, Arkansas, and would be playing for Coach Rickey Smith. Having recruited and coached his former players at Tulsa, Colorado, Xavier and at Washington, I knew she would be challenged and developed to her fullest potential.
With the way NCAA rules are, we can see things early, but can't have conversations or contacts until much later. The Colt/Thoroughbred question was answered the minute she and her family stepped on campus – this girl was a Thoroughbred. Her words were wise beyond her years, as she expressed to our staff her dreams, laying out her blueprint on how to achieve them. In only 15 years, her mothers had raised a young person that was mature unlike anything I'd ever seen. On top of this, Coach Smith told us she worked harder at the game than any player he had ever coached. That, paired with what we had seen on the court, was enough for us – we offered the then-5-9, 98 pound Jersey Wolfenbarger a scholarship to be a Razorback.
The Accolades: Arkansas Gatorade Player of the Year (2020) | USA Today First-Team All-American (2020) | Max Preps Fourth-Team All-American (2020) | Arkansas Democrat Gazette Player of the Year (2020) | Jersey Mike's Naismith High School All-American Honorable Mention (2020) | 6A State Most Valuable Player (2019) | State Champion (2019)
The Coaches: Nate Sadler, Lee Shannon & Brian Morgan, Arkansas Banshees | Rickey Smith & Scott Thompson, Northside High School